(in english below)
Olen Sara, 23-vuotias
vintageharrastaja Pohjois-Karjalasta. Olen kouluttautunut vaatetusompelijaksi vuonna 2014.
Unelmani olisi
matkustaa Irlantiin, omistaa upein hattukokoelma, saada lapsia ja elää onnellisessa avioliitossa asuen vanhassa puutalossa.

Otan paljon vaikutteita tyyliini vanhoista elokuvista, valokuvista ja muilta blogaajilta. Rakastan erityisesti 40- ja 50-lukuja, ja yhdistelen paljon vanhaa ja uutta vaatekertaa. Kaikki vaatteeni ovat second handia ja vintagea. Käyn todella paljon myös paikallisilla rock n' roll keikoilla ja rakastan illanistujaisia ja karaokea.
Minut saa hymyilemään
: historia, Irlanti, rockabilly keikat, burlesque, karaoke, kirpputorit, ikivihreät kappaleet, pukudraamat, sukkanauhaliivit, poikaystäväni, suudelmat, vanhojen kirjojen tuoksu, irlantilainen pubikulttuuri, taidemuseot, edwardiaaninen aika, antiikkiset huonekalut, romantiikka, hyvä kahvi, kellomekot, kohteliaisuudet, opiskelijaolut, kissani Nelson, aidosti hymyilevät ihmiset ja ystäväni.
Jos Sinä haluat esittää kysymyksiäsi minulle, ole hyvä ja tee se.
Vastaan melkein mihin vain!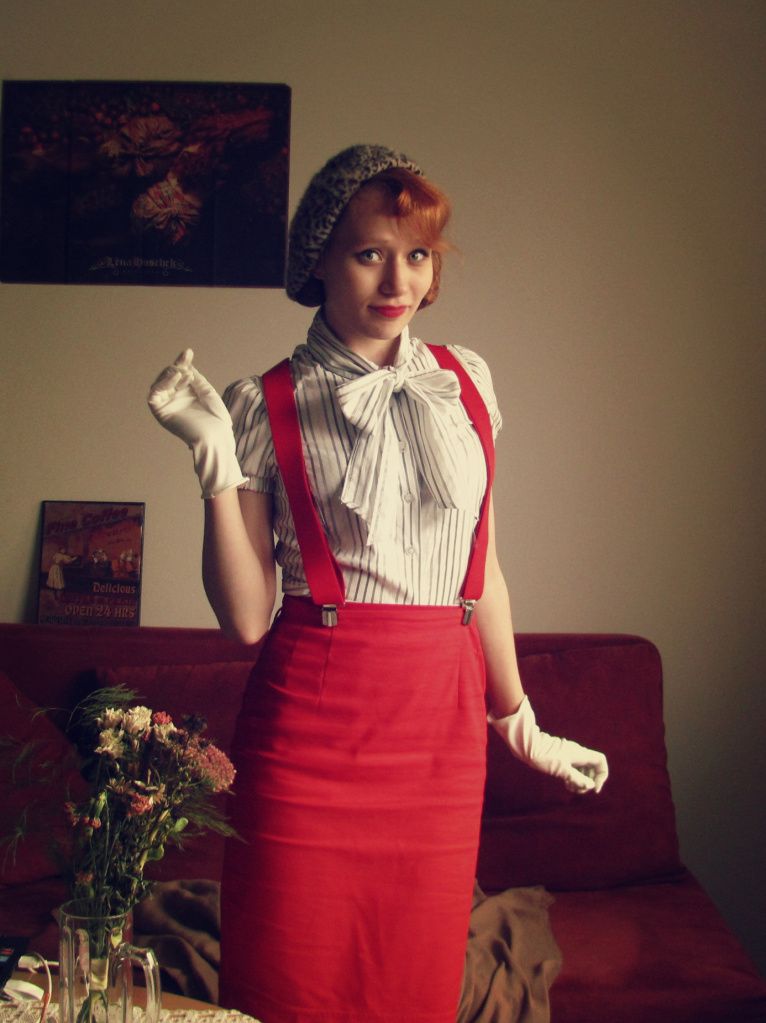 (Translation: I am Sara, 23 years old vintage enthusiast from Northern Ka

relia

. I graduated as a seamstress in 2014.
My dream is to travel to Ireland, own the most perfect hat collection, have kids and happy marriage and live in an old wooden house.
I take inspirations from old movies, photos and other bloggers. I love

especially

40s and 50s fashion, and I often mix vintage and modern. All my clothes are vintage and second hand. I go to listen local rock n' roll bands as much as I can, and I love parties and karaoke.
Things that make me smile: history, Ireland, rockabilly gigs, burlesque, karaoke, thrifting, evergreen songs, girdles, true gentlemen, costume dramas, my boyfriend, kisses, smell of old books, irish pub culture, art museums, Edwardian era, romanticism, good coffee, antique furnitures, my cat Nelson, compliments, cheap beer, circle dresses, naturally smiling people and friends.
If You wanna ask any questions about me, feel free to do it.
I will answer almost anything!)
e-mail:
sara_h12 (at) windowslive.com
My widgets:
thank you Bella Q of the Citizen Rosebud for the widgets!:)