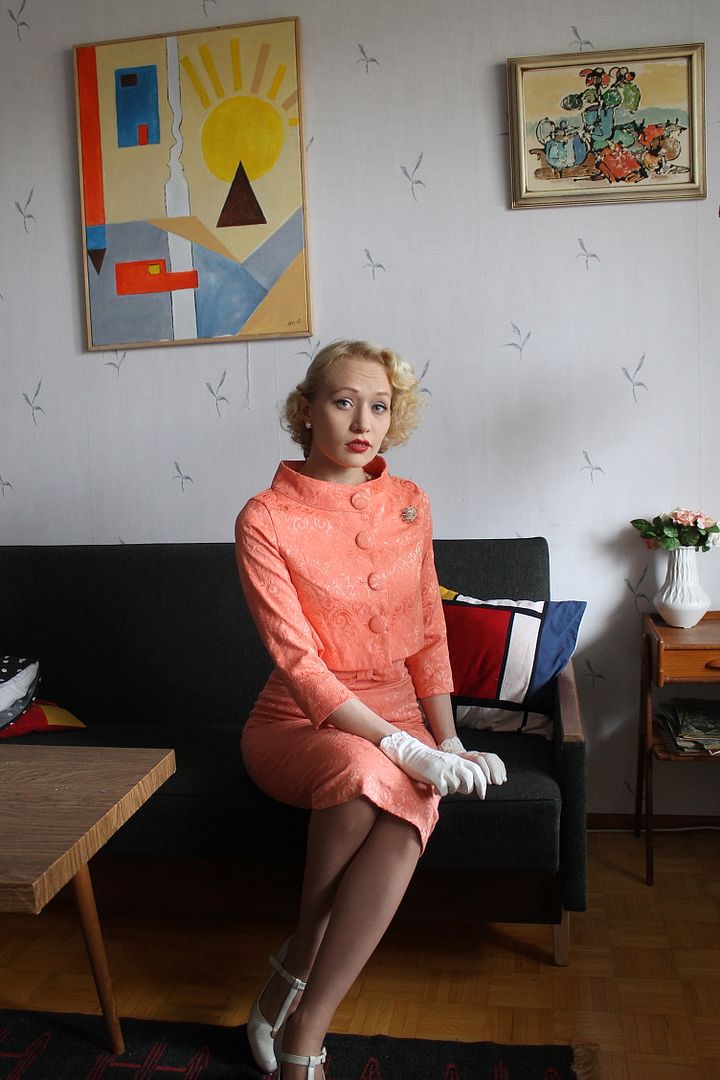 En ole ehtinyt kirjoitella hirveästi blogiin (tai en ole jaksanut avata tietokonetta), sillä mie luin niin kovasti pääsykokeisiin. Molemmat pääsykokeet ovat tosiaan nyt ohitse, sekä Tampereelle että Joensuuhun. Joensuun pääsykoe meni mielestäni jopa ihan hyvin, ja toivon, että nappaisi tällä kertaa. Hain siis historiaa lukemaan yliopistoon. Onneksi on töitä, jos en kouluun vielä pääsekään.
Muutama viikko sitten oltiin ystävien häissä Artun kanssa. Häät olivat kerrassan hauskat ja romanttiset. Tykättiin kovasti. Arttu toimi bestmanina seremoniamestarina ja suoriutui tehtävästään erinomaisesti. Pukeuduin häihin tähän persikanväriseen Maybelle-pukuun Lindy Bopilta. Tykkään tästä todella paljon, joskin vuorikangas on huonoa. En uskaltanut laittaa vintagea ylle, ja olihan se ihan hyvä ideakin olla laittamatta. Tanssin tuoksinassa olisi voinut hauras puku repeytyä tai olisin saattanut kaataa viiniä syliini.
(I haven't had time to write my blog lately (also I have been lazy to open my computer), because I studied to entrance exams. Both of the exams in Tampere and in Joensuu are now over. I think the exam in Joensuu went quite well, and I really hope I get in this time. I took the exam of history in university. Luckily I have a job, if I don't succeed.
Few weeks ago we attended a friends' wedding with Arttu. Wedding was splendid and romantic. We enjoyed ourselves a lot! Arttu was a best man and a master of ceremonies, and he was great! I wore this peach Maybelle -suit from Lindy Bop. I really love it, even though linen is horrible fabric. I was not so keen of the idea of wearing vintage, because I was afraid I would ruin old garment with wine or tear it during dancing. )