En oo kerennyt opintojeni takia kirjoittelemaan aiemmin tätä vuosikatsausta, mutta parempi myöhään kuin ei milloinkaan. Mun vuosi 2016 oli sekä mukava, että myös osin hyvin raskas. Tajusin, kuinka korvaamaton Arttu on mulle, tutustuin hienoihin uusiin ihmisiin, ja sairastuttuani tein loppuvuodesta tärkeitä päätöksiä elämäni suhteen.
(I haven't had time to write this 2016 review because of my studies, but better late than never. Year 2016 was quite okay, yet very tough too. I realized how indispensable Arttu is for me, I got to know new great people, and after suffering with mental problems I made important decisions with my life.)
Alkuvuosi meni siivoushommia tehdessä, pääsykokeisiin lukiessa ahkerasti ja haaveillessa yhteenmuutosta poikaystävän kanssa. Mulla oli vielä lyhyet hiukset tuolloin ja innostuin tosi paljon 60-luvun mod-tyylistä. Ja Instagramin mukaan söin tosi paljon kakkua ja ostin todella paljon vintagea :D

(First months of 2016 I worked a lot, read for entrance exam and dreamed of moving together with my bf. I had short hair back then and I got so excited about 1960s mod style. And according to Instagram, I ate loads of cake and bought vintage more than ever :D)
Huhtikuussa täytin 24 vuotta, ja juhlin synttärini Artun kanssa kaksin menemällä tanssimaan lavatansseihin! Ilta oli todella romanttinen, ja parhaat synttärini koskaan. Valssattiin aamuyöhön asti. Päivällä tarjosin toki kakkukahvit halukkaille, mutta vieraita ei poikennut kovin montaa. Olin vähän harmissani.
(In April I turned 24 and I celebrated my birthday with my dear Arttu, by going to a ball. Night was spectacularly romantic, it was the best birthday ever. We danced waltz through the night. By day I of course served some coffee and cake for my friends, but not many guests arrived. I was a little upset about it.)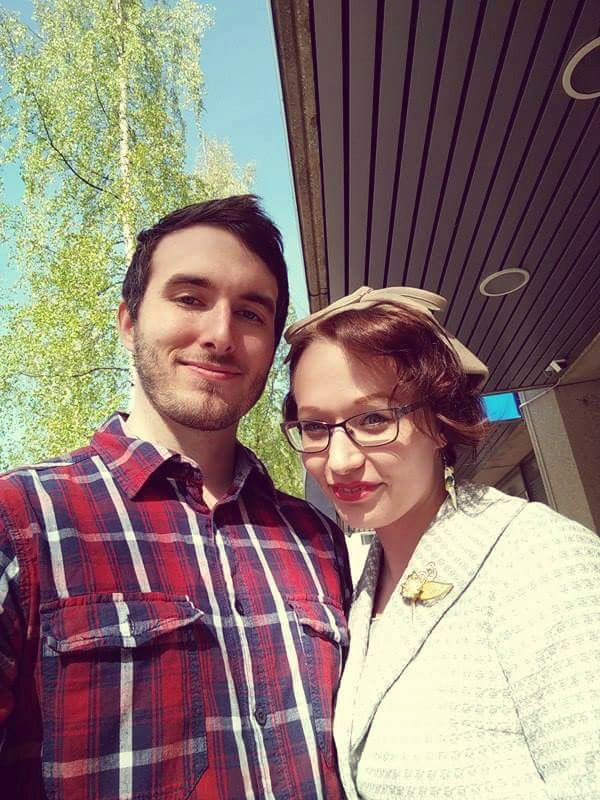 Toukokuussa juhlittiin minun ja Artun yksivuotispäivää! Käytiin syömässä ravintolassa, ja mentiin myöhemmin kahdestaan puistoon juomaan viiniä. Oli ihana ilta kertakaikkiaan. Toukokuu oli rakkauden täyteinen kuukausi, sillä oltiin vieraina myös häissä, joissa tunnelma oli kovin romanttinen.
(In May Arttu and I celebrated our first anniversary! We went to a fancy restaurant and then drank a bottle of wine in the park. What a fun evening it was. May was filled with love; we also attended a wedding, which was so romantic.)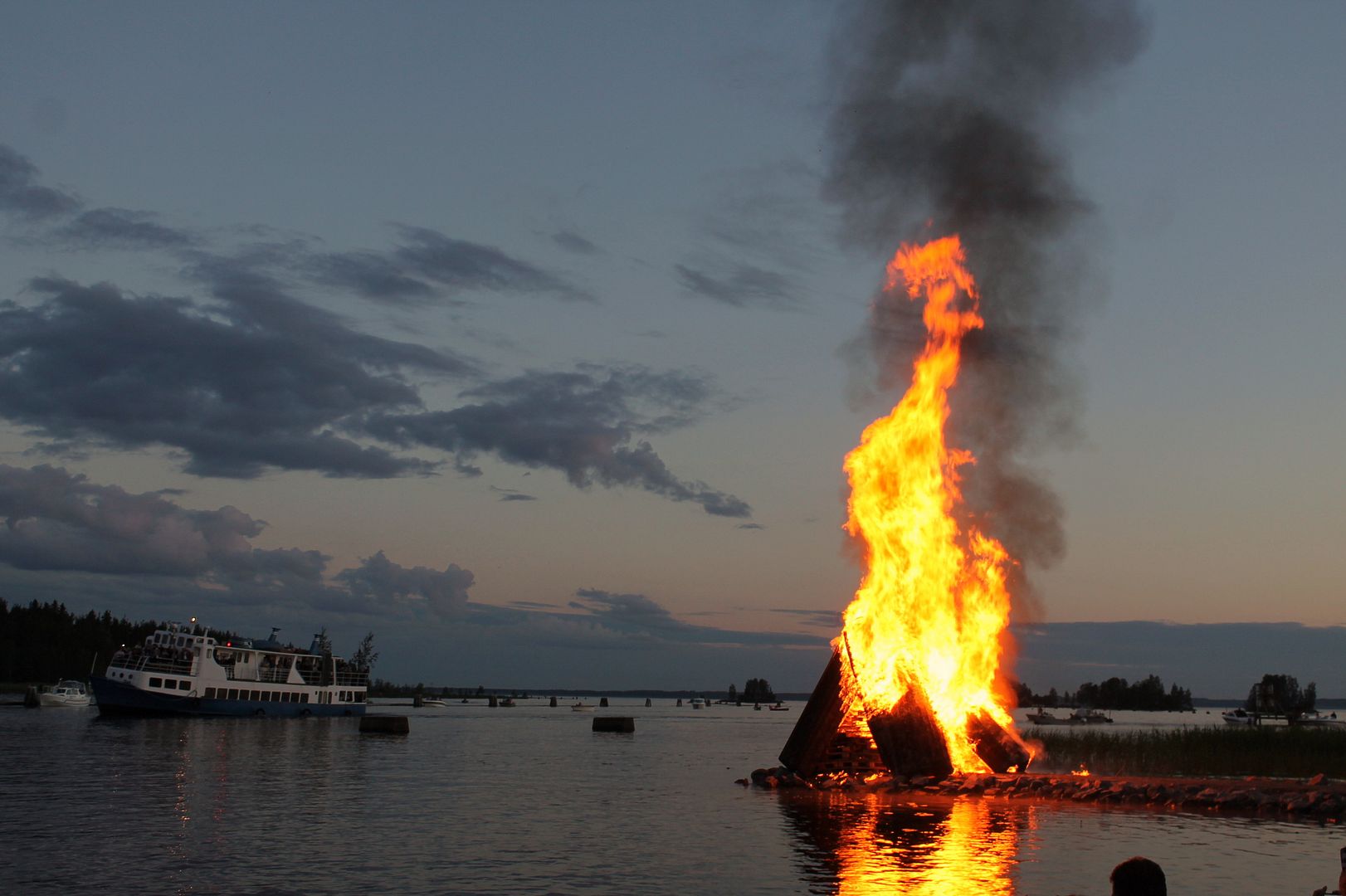 Kesäkuu oli sateinen ja kylmä suurimmaksi osaksi, mutta muutama lämmin, ihana päiväkin koettiin. Juhannukselle sattui hyvä keli; oltiin kaverin luona grillailemassa, jonka jälkeen suunnattiin katsomaan juhannuskokkoa. Loppukuusta löydettiin Artun kanssa meidän ensimmäinen, yhteinen asuntomme, voi sitä onnea!
(June was mostly cold and rainy, but there were few warmer days too. Midsummer eve's weather was splendid; we had a barbeque, and after that we went to admire Midsummer's bonfire. By the end of the month me and Arttu found our very first apartment and we moved in together. Boy, I was so happy!)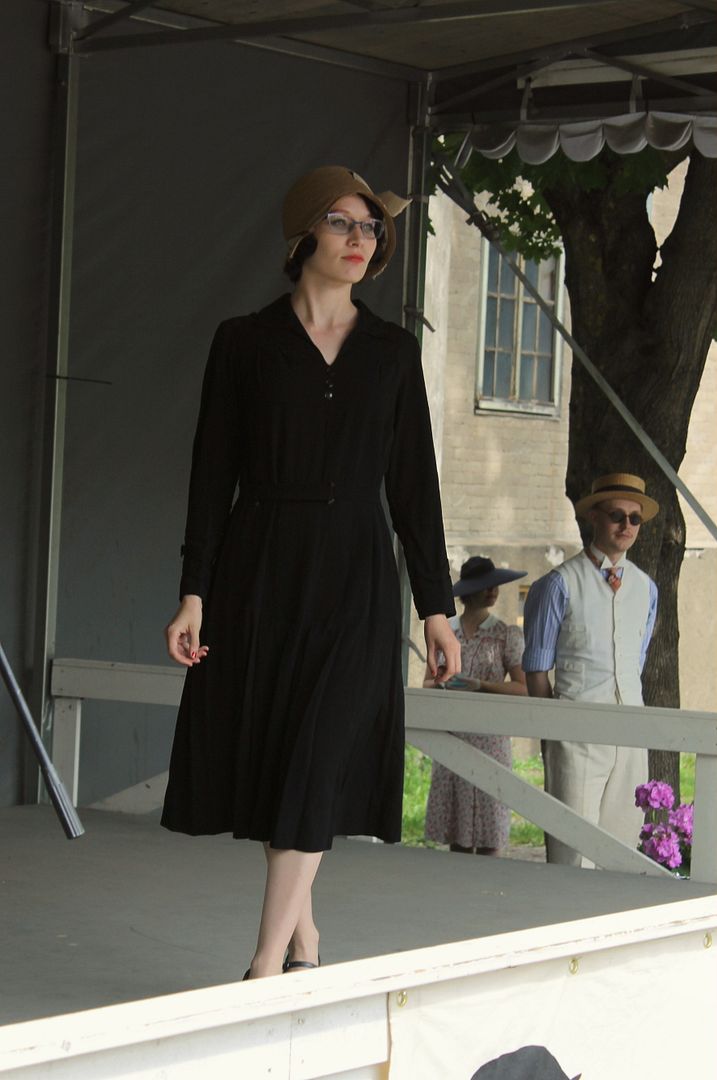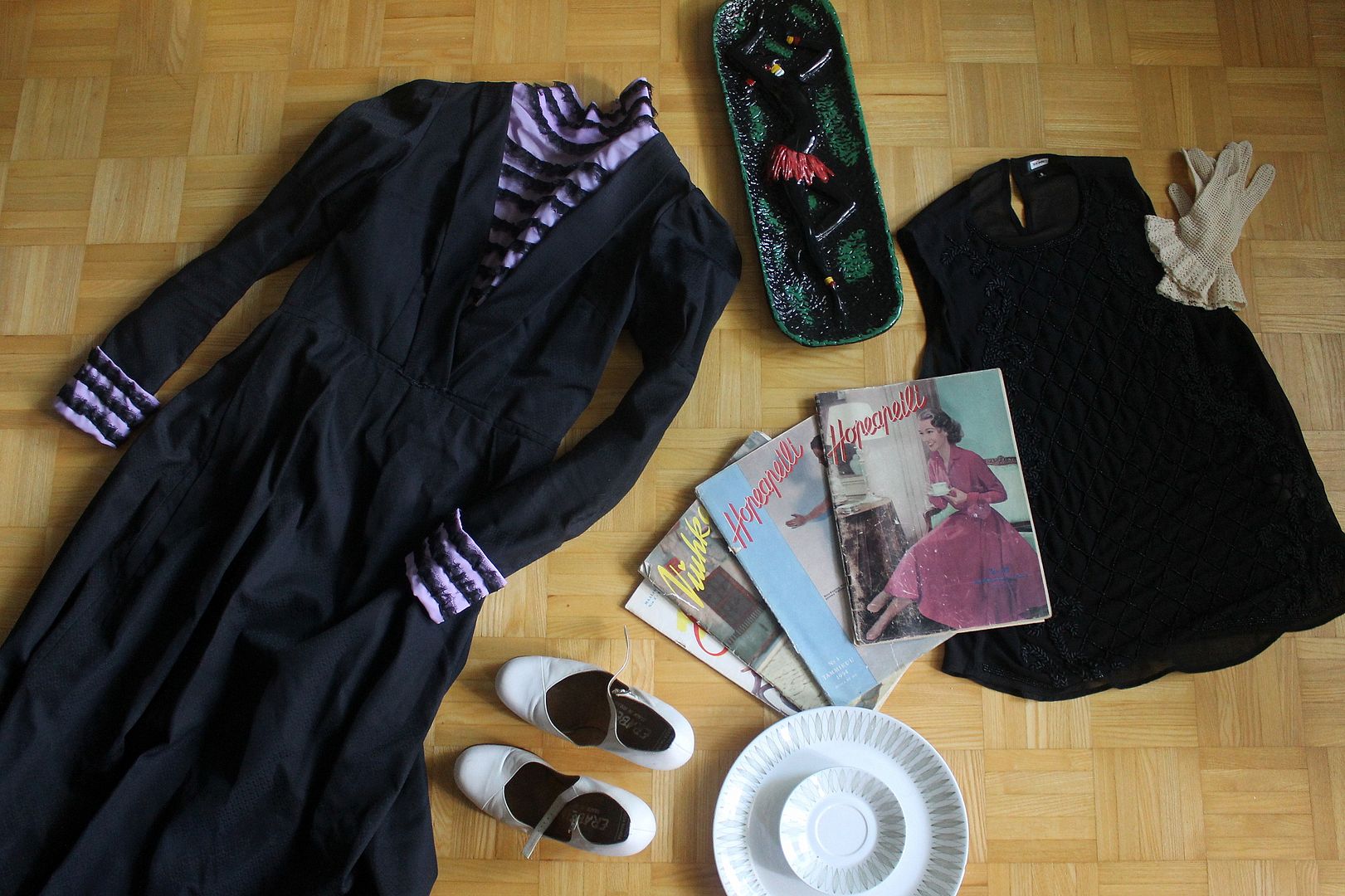 Kesällä kävin Tampereella Suvi-Vintage -tapahtumassa, ja olin jälleen mallina muotinäytöksessä. Käytiin myös perinteisesti katsomassa burleskia Teerenpelissä. Oltiin Artun kanssa yöt hotellissa ja vietettiin ikimuistoinen viikonloppu! Kesällä taisin ostaa todella paljon kaikkea lomarahoillani :D
(In July we went to Suvi-Vintage fair in Tampere, and I was a model in a fashion show again. We also went to see burlesque in Teerenpeli bar. We stayed our nights in a hotel and had a marvellous weekend. I bought lots of new vintage stuff with my bonus holiday payment :D)
Syksyn lähentyessä otettiin Artun kanssa uusi kissanpentu meidän talouteen Nelsonin kaveriksi. Nimettiin ihana musta pentu Napoleoniksi, ja näistä kahdesta tuli aika nopeasti kuin veljekset! Painivat paljon, mutta osoittavat myös rakkautta toisilleen. Syksyllä aloitin uuden koulun sisustusrakentajana ja jätin vakipaikkani töissä ja siirryin sijaiseksi. Jotenkin tämä yhdistelmä ja muut asiat siihen päälle saivat miut voimaan taaaas tosi huonosti. Olin ihan maassa. Olin jatkuvasti väsynyt kun unta ei saanut, joten jouduin hakemaan apua. Lukujärjestystä kevennettiin ja lopetin työt. Piristysruiskeena toimi kuitenkin yhdet kuvaukset, joihin minut Pauli Järviluoto pyysi 20-luvun henkisellä asullani.
(When autumn came, we adopted a new kitten. We named him Napoleon, and he has become like a brother for our older cat Nelson. They fight a lot, but then they show affection. I can't even imagine life without Napoleon anymore, he is so precious. I also started to study decor & draping in autumn, and started to do temporary posts alongside school. Somehow this combo among other things made me feel bad, yet again. I was so depressed. I was tired 24/7 because I could not sleep, so I had to get help. They lightened my school timetable and I had to give up my job. One thing that made me feel better for a while was when photographer Pauli Järviluoto asked me to model for photos, in 20s style.)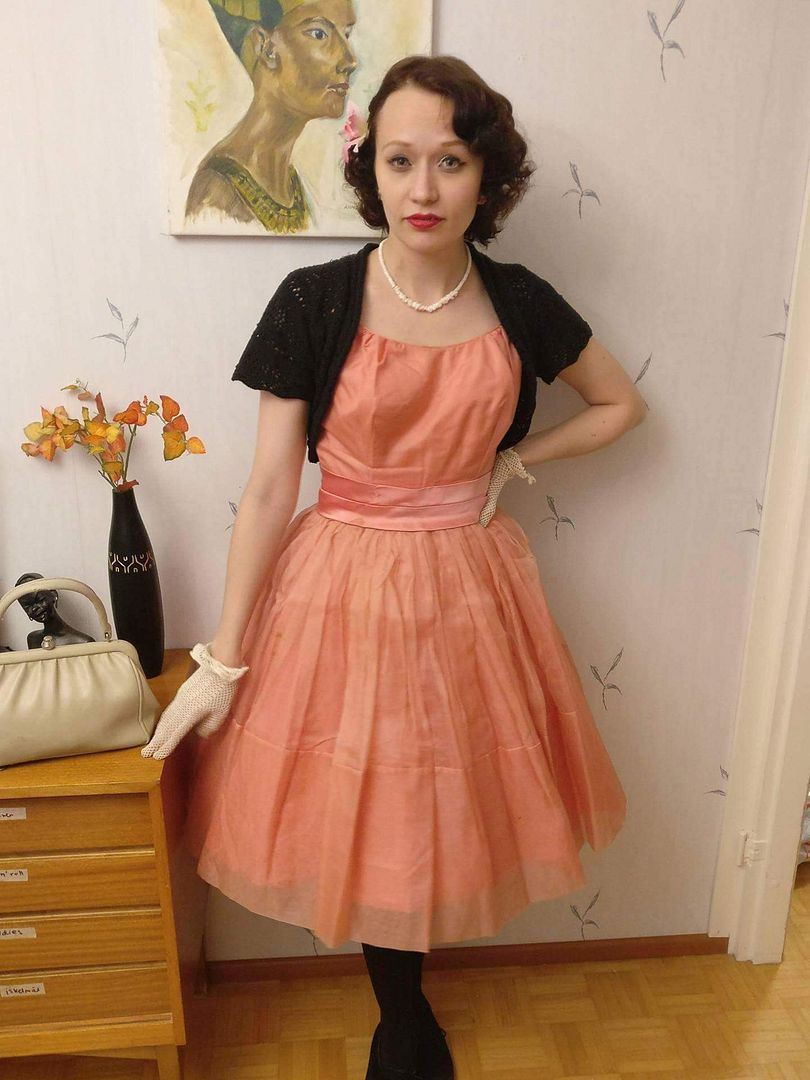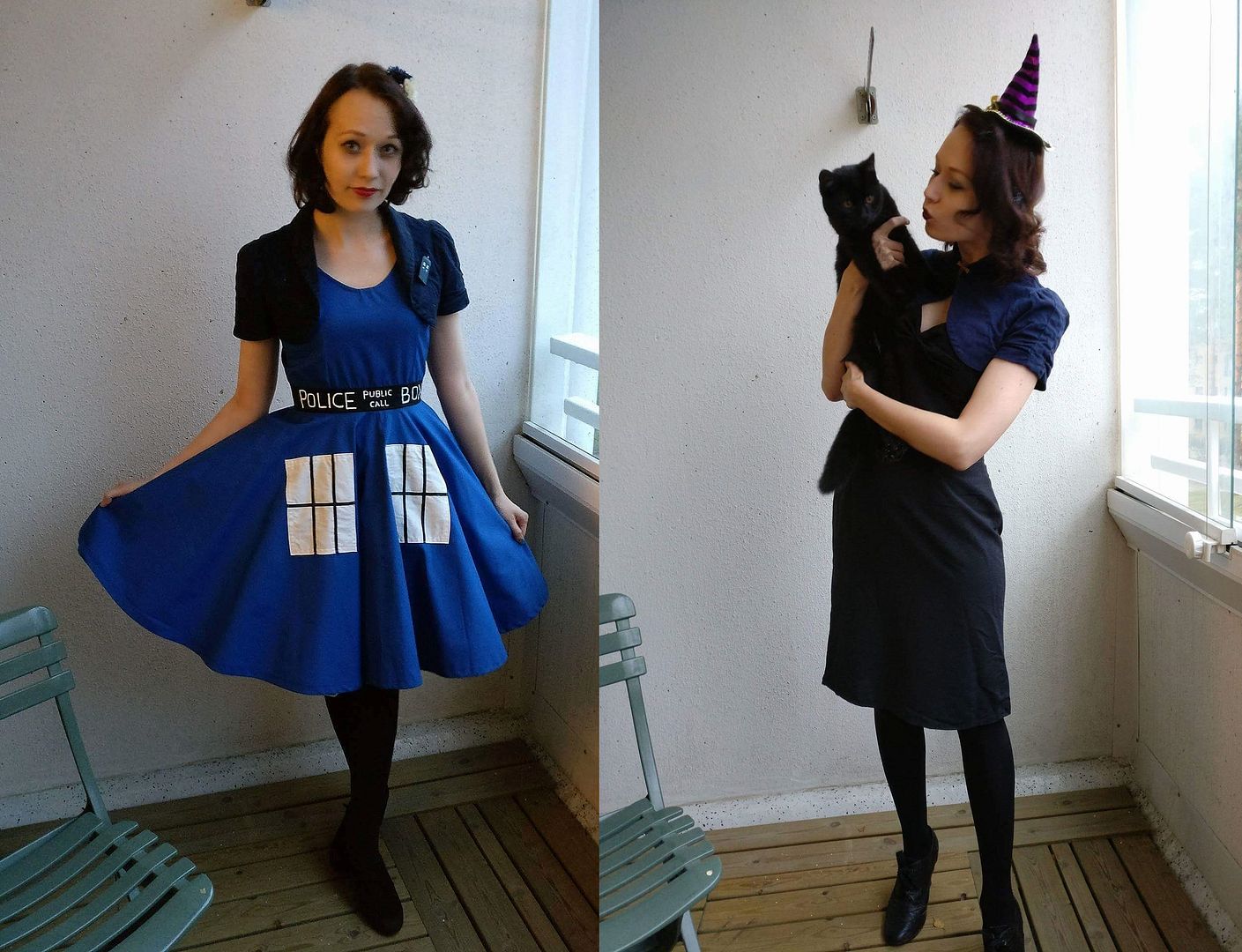 Halloweenina pukeuduin Tardikseksi ja noidaksi. Olin tosi ylpeä tuosta Tardis-mekosta, jonka ompelin itse.
(On Halloween I dressed up as a Tardis and a witch. I was so proud of my Tardis dress, which I sewed myself.)
Vaikka loppuvuosi oli mulle henkisesti todella raskas, oli se myös opettavainen ja sai miut lopulta tekemään hyviä ratkaisuja. Tein joulukuussa päätöksen lopettaa ammattikoulun, ja palata töihin. Sain Artulta joululahjaksi 25 opintopisteen opinnot Avoimeen yliopistoon lukemaan historiaa, ja se on saanut mun nyt ihan mielettömän motivoituneeksi ja iloiseksi, ja aion hakeutua yliopistoon. Oon pystynyt tekemään töitäkin ja ansaitsen enemmän rahaa, eikä tarvitse kituutella niinku opintotuella. Odotukset vuodelle 2017 ovat todella suuret, ainakin vuosi on alkanut aika hyvin! Haaveissa olis myös muutto pois Joensuusta tänä vuonna.. Saa nähä mitä vuosi tuokaan tullessaan!
(Even though the end of 2016 was so harsh, it was also "educational" and made me do good choices in the end. I decided to drop out from vocational school and go back to work. Arttu also bought me 25 course credit studies in Open university to read history. I have never been this motivated and happy before, and I am going to apply into university this spring. I have also been working a lot and earning money, so I don't have to count every single coin I have. My expectations for 2017 are very high, at least it has started well. I also dream of moving away from Joensuu.. We'll see what this year brings!)