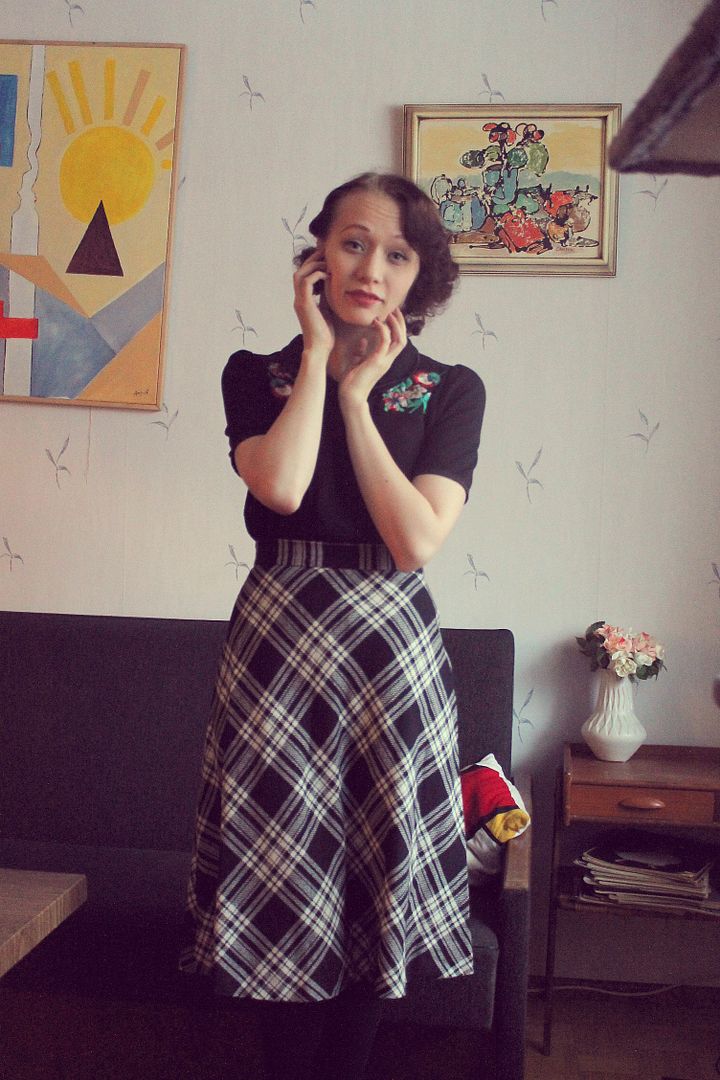 Oon ollut todella kiireinen viime viikkoina opiskelujen osalta, kun oon sijaisuuksiakin tehnyt samalla. Siivousfirmassa töitä tuntuu kivasti riittävän, enkä siis valita. Saapipahan ainakin rahaa. Aloitin vuoden vaihteessa historian perusopinnot avoimessa yliopistossa. Mulla on kiireinen aikataulu, ja ensimmäinen tenttini on helmikuun alussa. En oo ehtinyt ainakaan nyt loppukuusta tekemään juuri mitään muuta, kuin opiskelemaan, mutta ei se mitään. Opiskelu on ollut ihan antoisaa! Joskin tottumista vaativaa. Kun vielä ehtisi pääsykokeisiinkin lukea jossain välissä.. :D Aion pistää hakupaperit maaliskuussa Tampereen ja Joensuun yliopistoihin.
Nämä asukuvat on aika vanhoja, en ole ehtinyt niitä postailemaan aikaisemmin. Laatukin huono, sillä luonnonvaloa ei riittänyt. Olin koko viime viikon kovassa kuumeessa eikä yskä ole hellittänyt vieläkään. Koko päivät meni ihan zombina, ja sairastelu vei tehokkaasti kyllä opiskeluinnosta mehut...
Enpä ehdi pidempää postausta nyt tekemäänkään, kun pitää jatkaa muistiinpanojen kirjoittelua :D
(I have been so busy while studying during these past few weeks. I have also been working as a substitute when ever I am needed in cleaning company. At least I get some money. I started my history studies in open university this month. I have a busy schedule and my first exam is in two weeks. I don't have much time for anything else, but I don't mind. I kinda enjoy studying. I just wish I had time to study more for entrance exams. I am going to apply into universities in Tampere and Joensuu.
These outfit shots are old, I haven't had time to post them before. Quality is bad, because of lack of daylight. Last week I was sick, with high fever and I still have pretty bad cough. I didn't have much strength to study during those days :(
Well, I have to continue my studying. See you later!)