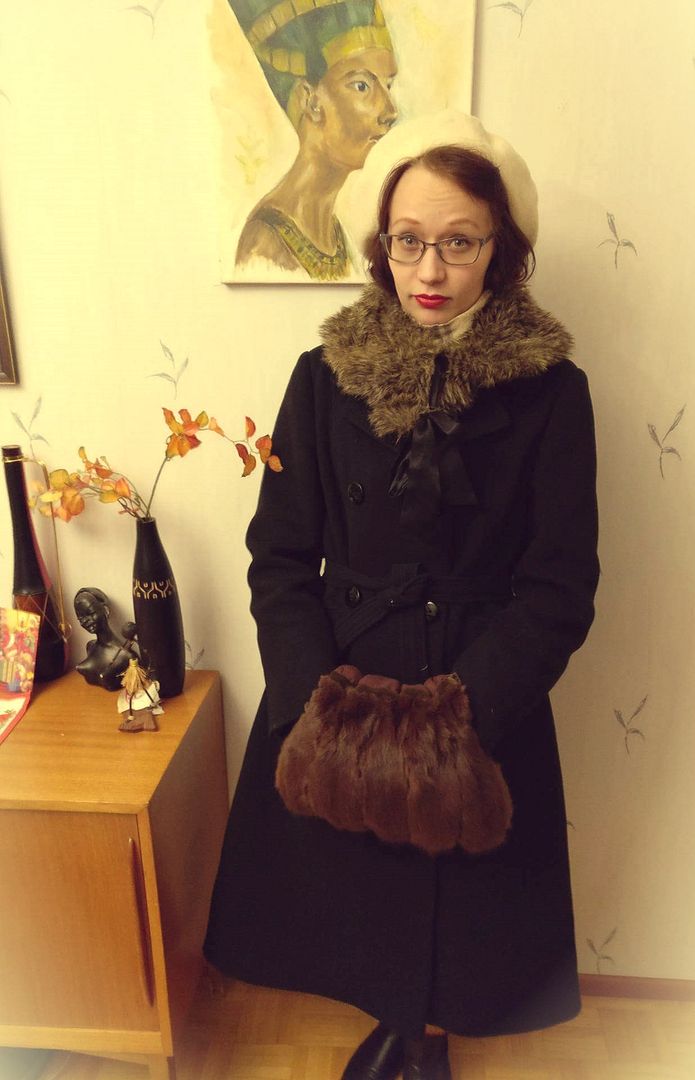 Jouluun on enää kolme yötä, mutta en ole tajunnut ollenkaan ajankulua. Oon stressannu niin paljon muista asioista. Hankin jo joulukuun alussa Lahdesta kaikki joululahjat, joten ei tarvitse enää niitä miettiä. Onneksi. Huomenna nappaan kissat kainaloon ja lähden joulun viettoon Nurmekseen porukoille. Artun kanssa ei tätä joulua vietetä yhdessä, hän menee omien vanhempiensa luokse. Toivottavasti edes uusi vuosi voidaan olla ihan vain kahden kesken. Menemme kuuntelemaan klassisen musiikin konserttia uutena vuotena, ja oon niin innoissani siitä. Rakastan Straussia! Pääsen kans pukemaan vähän hienommin ylle.
Tämä talvinen asukokonaisuus mulla oli yllä sunnuntaina. Tuo muhvi on niin ihanan lämmin! Siskokin laittoi oman muhvinsa käsien lämmikkeeksi, kun käveltiin sunnuntai-iltana kirkkoon kuuntelemaan kauneimpia joululauluja. Me vaan myöhästyttiin siitä aika paljon :D Sentään tehtiin se tyylikkäästi.
Viime viikolla allekirjoitin eropaperit ammattikoulusta. Aloitan tammikuussa opiskelemaan historiaa avoimessa yliopistossa, jonne ilmoittauduin heti joulukuun alussa. Jatkan samalla siivoustöiden sijaisuuksia. Oon niin innoissani, että pääsen nyt toteuttamaan mun unelmiani! Harmittaa toki vähän, että amiksen kanssa meni niin penkin alle sairastumisen ym takia, mutta tää historia on kuitenkin loppujen lopuks ollu jo pienestä asti sitä, mitä mä haluan lähteä opiskelemaan. Halpaa touhua ei avoin yliopisto oo, joten aion toki hakea sisälle kevään haussa. Jos ei nappaa, jatkan syksyllä avoimessa. Arttu halus maksaa mulle nuo perusopinnot joululahjaksi. Menin ihan sanattomaksi siitä, ja oon niiiiiin kiitollinen rakkaalleni tuesta!
(Only three nights left until Christmas eve. I haven't even noticed how fast time has flown. I have stressed so much about other things. I am glad I bought all the christmas presents quite early. Tomorrow I'll pack my clothes and cats and travel to Nurmes to spend Christmas eve with my family. Arttu will spend his Christmas with his own family, so we won't be together. I hope that at least we'll celebrate New Year's eve just the two of us. We'll go listen classical music concert on New Year's eve and I am so excited about it. I love Strauss! I get to wear something more formal too.
This wintery look is from Sunday. That muff is so warm! My sister wore his own muff too, when we walked to church to listen christmas songs. Unfortunately we were a bit too late from it, but at least we looked elegant :D
Last week I resigned from vocational school. I am going to start reading history on January in open university. I will also start my part-time cleaning job again. I am so excited about my plans! Though I am also sad that my studied in vocational school didn't work out because of my mental health etc, but history is something I have wanted to study ever since I was a kid. Open university is not cheap, so I'll apply to university again in spring. If I don't get in, I'll continue my studies in open university. Arttu wanted to pay the basic studies of history for me as a christmas present. I was so speechless, and I am forever grateful for my loved one for his support!)