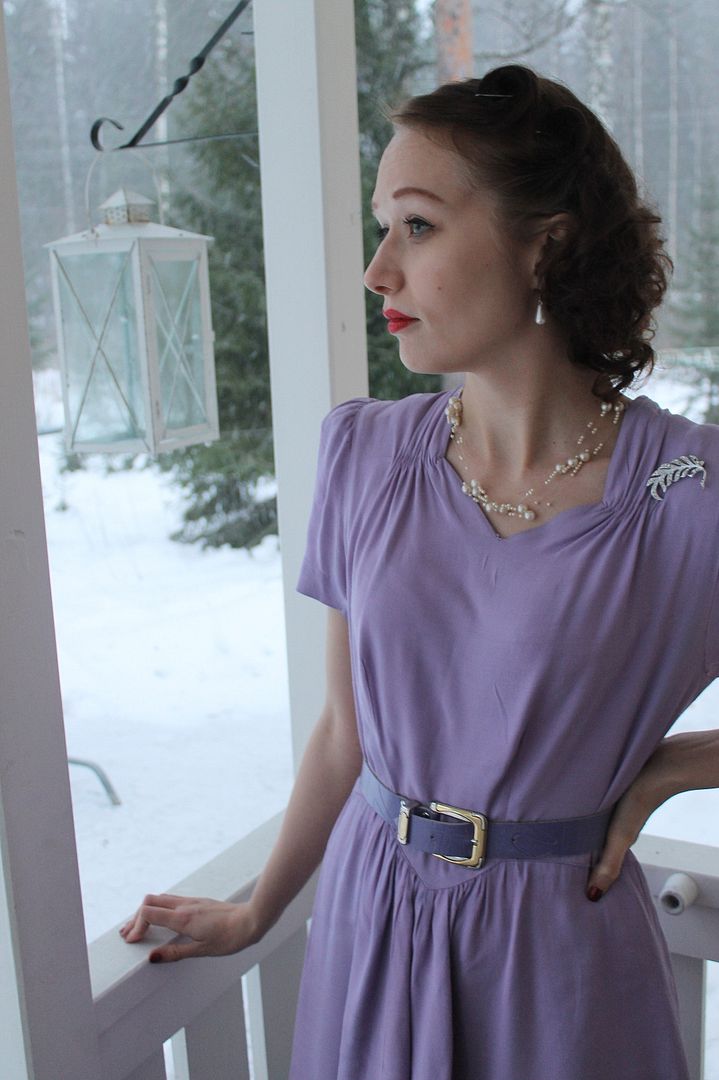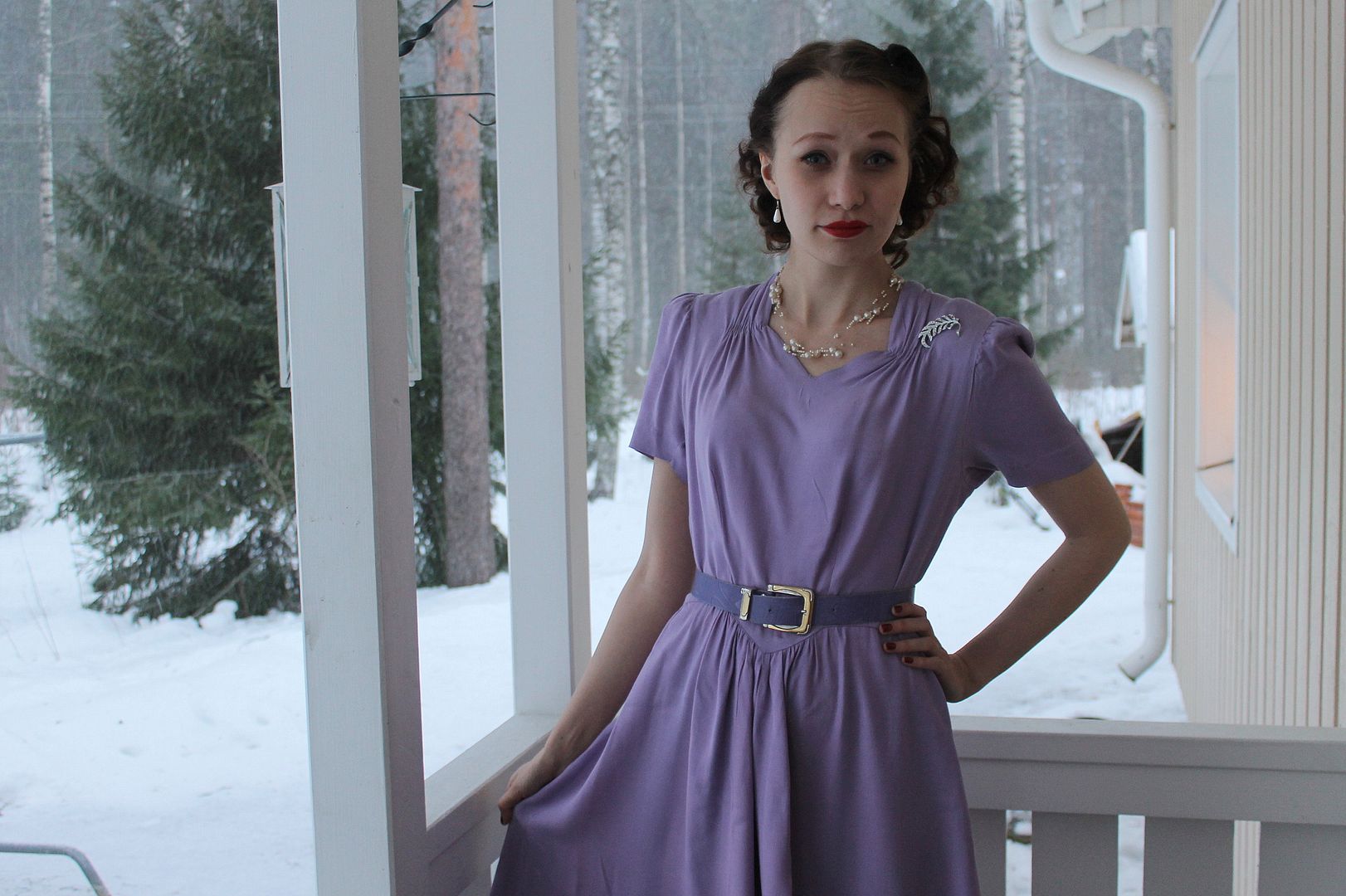 Jouluaatto oli oikein mukava, vaikka en sitä Artun kanssa voinutkaan viettää. Tämä taisi olla ensimmäinen aatto, etten käynyt hypistelemässä joululahjoja kuusen alla ja odottanut juuri sitä eniten. Keskityin enimmäkseen syömiseen ja kissojen leikittämiseen. Lahjoja kuitenkin sain enemmän kuin olin pyytänyt. En oikeastaan pyytänyt mitään lahjaksi tänä vuonna, mutta kai sitä on ollut niin kilttinä. Sain mm. siskon neulomat ratsastuslapaset, vanhan hatturasian, kameran jalustan, villasukkia ja kirjan "Aikamatkaajan opas historiaan: 18 aikamatkaa Vesuviuksen purkauksesta Woodstockin festivaaleille". Opas on ihan huippu, ja oon ahminut sitä jo ahkerasti. Tuon lähemmäksi en taidakaan aikamatkailua päästä. Kissatkin saivat paljon herkkuja ja leluja lahjaksi, ja ne simahtivat aika nopeasti uusilla leluilla leikkimisen jälkeen.
Aatoksi olin varannut mukaan laventelin värisen 1940-luvun käsintehdyn leningin. Väri on aivan ihana, samoin pääntie. Ostin tämän(kin) Facebookin vintagekirppikseltä. Yritin pukua silittää, mutta se on yllättävän helposti rypistyvää materiaalia..
(Christmas eve was so lovely, even though I didn't get to celebrate it with my dear Arttu. This was the first Christmas that I didn't think about presents all the time :D I mostly concentrated on eating and playing with my kitties. I got more presents than I hoped for. I didn't actually asked for any presents this year, which means I have been good I guess. I got for example knitted riding mittens from my sister, old hat box, camera stand, wool socks and a book "Time Travel Handbook: A Selections of Trips and Tours from Eruption Vesuvius to the Woodstock Festival". This handbook is awesome and I've been reading it a lot already. This is the closest I can get to time travelling! My cats got lots of presents this year, and they fell asleep after playing with their new toys.
This Christmas eve I wore my handmade 1940s lavender gown. I love this color, and neckline. I bought this (too) from FB's vintage trading group. I tried to iron it, but material wrinkles very easily..)