Viime viikon lauantaina minulla ja avopuolisollani oli treffi-ilta. Tein meille hyvää ruokaa ja lähdimme illalla Kerubiin katsomaan Melrocen ja Francinen keikkaa. Arttu valitsi mulle tämän lohenpunaisen 50-luvun juhlamekon kolmesta vaihtoehdostani. Puku on ostettu kuusi vuotta sitten toiselta bloggaajalta, ja se taisi olla jopa ensimmäinen 50-luvun mekkoni. Muistan, miten ylpeä olin tästä hankinnasta! Harmikseni tuo helman ohut päällikangas on repeillyt. En ole vielä keksinyt hyvää keinoa sen korjaamiseen..
En ollut kovin vaikuttunut Melrocesta (tiesin bändiltä etukäteen vain pari biisiä, ne kaikki kuulosti keikalla mun korviin ihan samoilta), mutta Francine oli yhtä loistava kuin viimekin kerralla. Meillä oli tosi mukava ilta Artun kanssa, ja oltiin koko ilta selvinpäin. Keikalta lähdettiin suoraan kotiin tekemään voileipiä iltapalaksi.
(Week ago on Saturday me and my boyfriend had a date night. I cooked us dinner and we headed to bar Kerubi to see Melroce and Francine's gigs. Arttu chose me this salmon red colored 1950s prom dress out of my three options. I bought this dress six years ago from a fellow blogger, and I think this might have been my first 1950s vintage dress. I remember how proud I was about this dress! Unfortunately the upper fabric of the skirt has ripped apart. I have not figured out yet how to fix it.
I was not that impressed by Melroce (I only knew two songs from them before seeing them live, and I think all of their songs sounded the same), but Francine was as fantastic as last time I saw them. We had a very nice evening with Arttu and we decided not to drink alcohol at all that night. We just went home afterwards to make us sandwiches before heading to sleep.)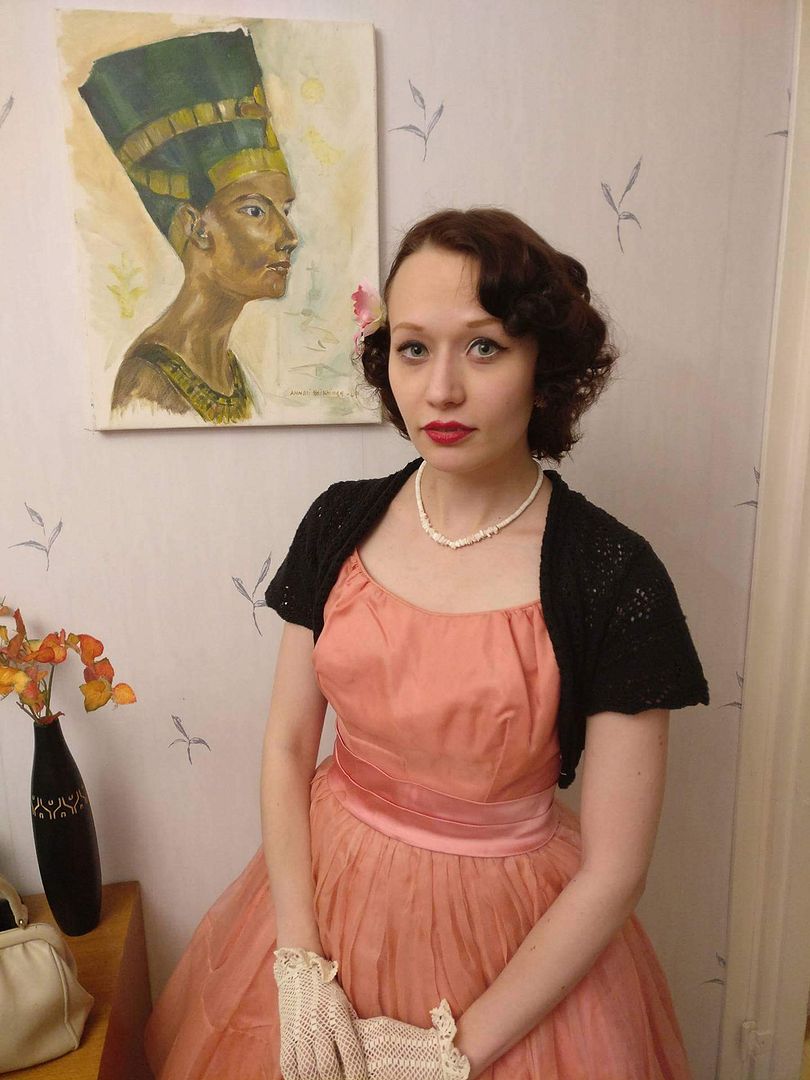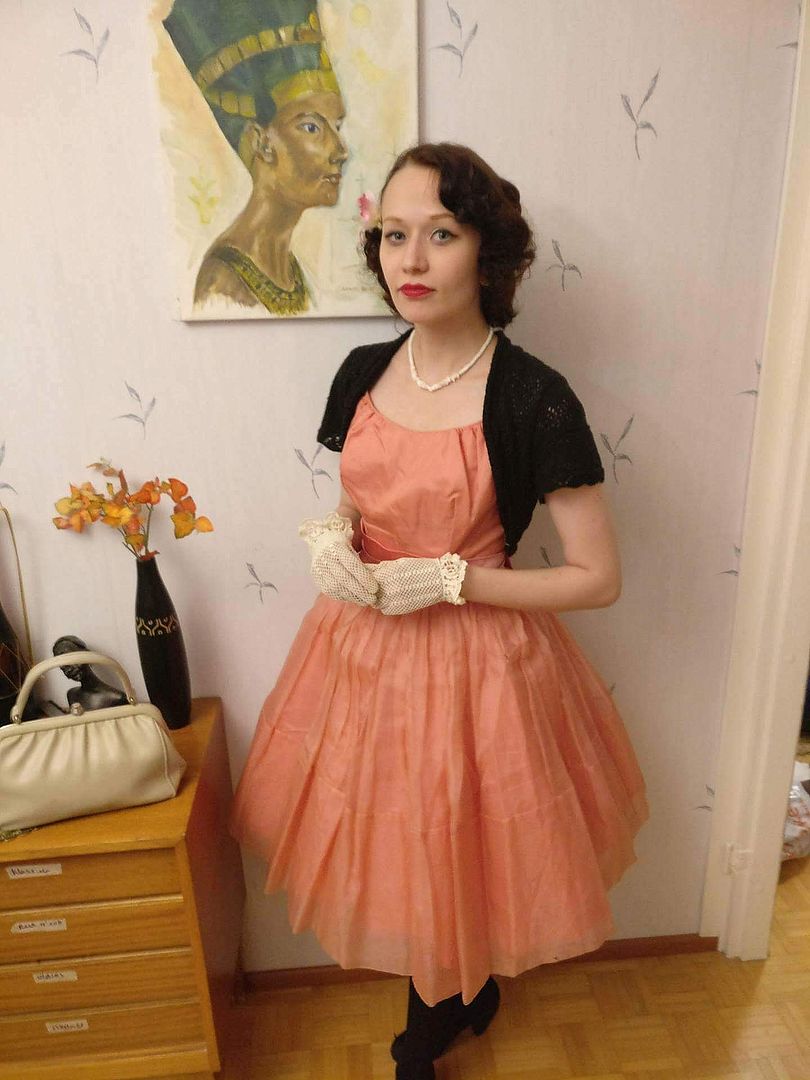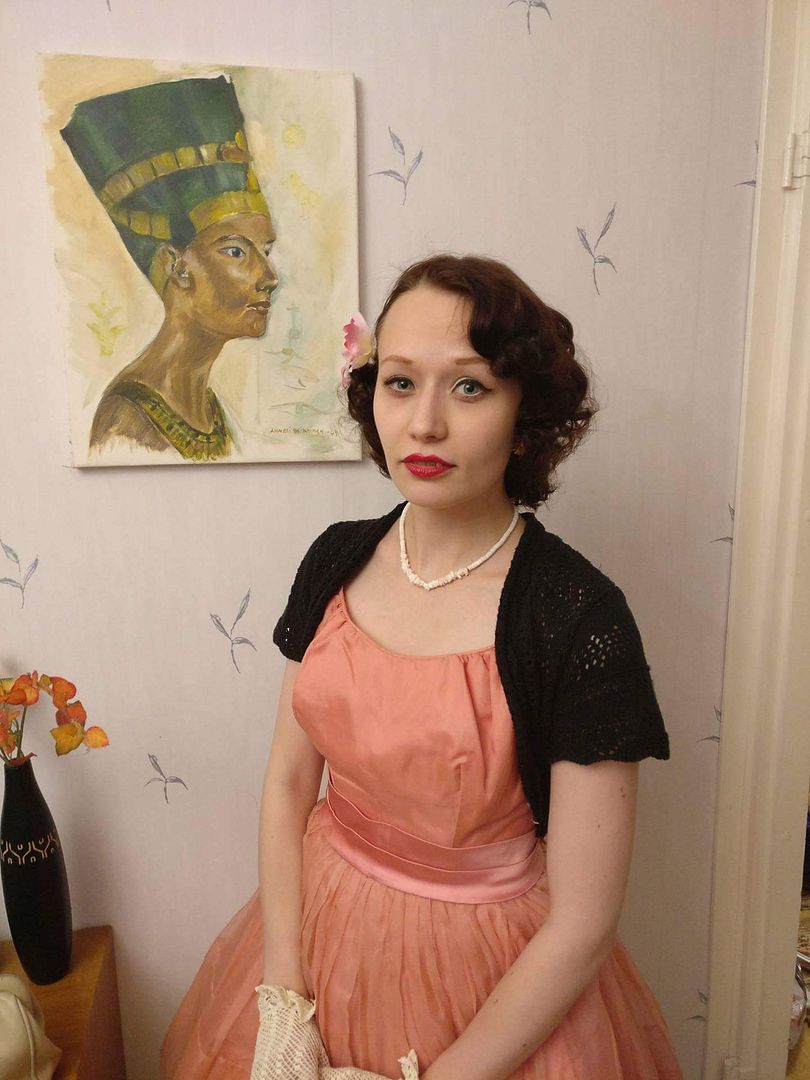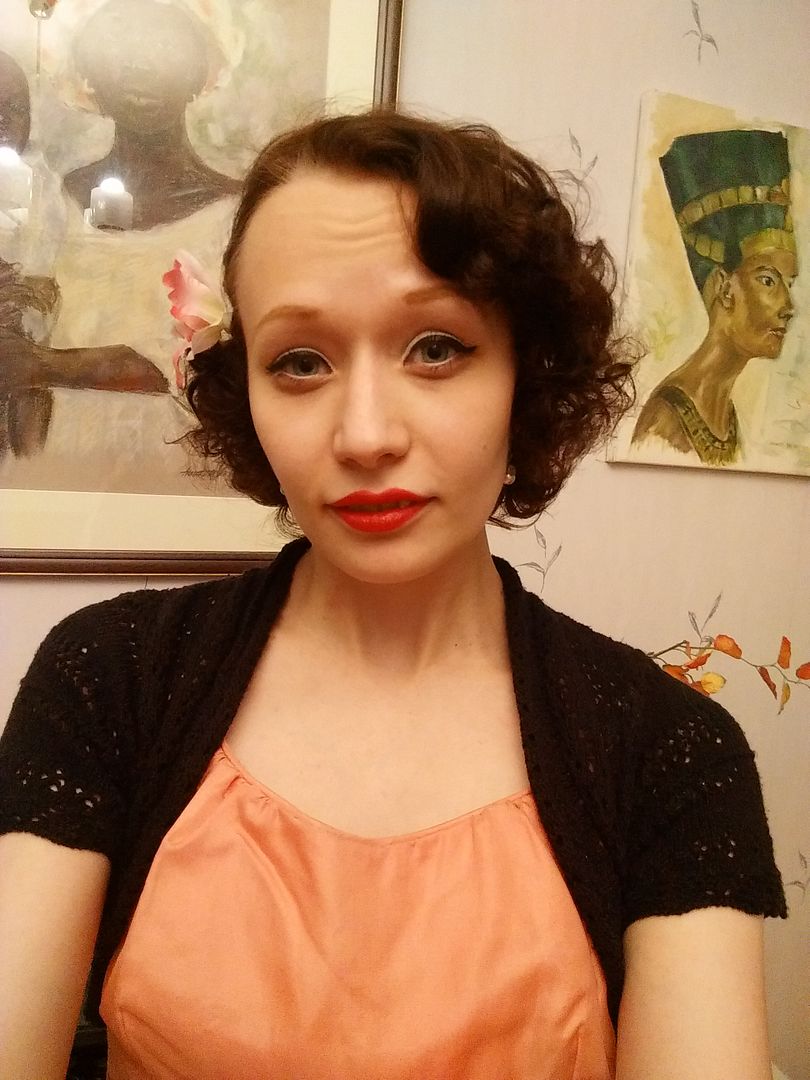 Viime viikon sunnuntaina koitti kauan odotettu päivä. Pääsin yksityiselle ratsastustunnille! Harrastin ratsastusta pari kolme vuotta ala-asteella, kunnes se piti lopettaa tuntihintojen nousun takia. Olin ratsastanu siis viimeks kymmenen vuotta sitten, joskus 14-vuotiaana tutun luona, joten totta kai tallille meno jännitti. Pyöräilin tallille kymmenen kilometriä, mulla oli tunnin mittainen ratsastustunti ja sitten takas ne samat kymmenen kilometriä pyöräilyä kotiin. Voin sanoa, että on ollu jalat ja selkä aika jumissa koko viikon :D Oli se sen arvoista.
Hevosen varustaminen muistui mieleen pikkuhiljaa näinkin monen vuoden jälkeen, ja kun ihanan suomenhevosen Liisan selkään pääsi, niin muisti vielä apujen käytönkin. Liisa on ihan huippuratsu, kuuntelee ja tekee pienestäkin avusta sen mitä ratsastaja haluaa (vaikka välillä vähä piti jekkuillakin :D). Ratsastaminen on tosiaan ku pyörällä ajo, sitä ei vaan unohda kun sen kerran oppii. Keventäminenki ravissa tuli automaattisesti! Laukata en vielä uskaltanut, mutta ehkä ensi kerralla. Ihanaa, että oon voinut nyt aloittaa kauan kaipaamani harrastuksen uudestaan. Mun haaveena on ollu kaikkien näiden vuosien jälkeenkin hankkia oma hevonen. Siihen voi mennä vielä aika monta vuotta, mutta se on unelma, jonka joskus tulevaisuudessa aion toteuttaa :)
(Last Sunday was a special one. I went to a private horse riding lesson! I used to ride horses when I was a little girl, I rode two or three years before I had to stop it because of higher lesson prices. It has been ten years since the last time I rode horses, so I was quite nervous at first on Sunday. I cycled ten kilometers to the stables, and then I rode one hour and then cycled back home again. You can imagine how my legs and my back have been hurting after that, but it was worth it :D
I think I remembered quite well how to groom and saddle a horse. I rode this beautiful finnhorse called Liisa, and it was surprising how well it went after these ten years. Liisa is such a great horse, she listens and she did what I wanted her to do (though she wanted to show some of her own tricks few times..:D) Riding horses is really like riding a bicycle. You just won't forget that after you have learned it. Posting while trotting was not difficult at all either, even though that made me nervous at first. I just did it automatically when trotting. I did not have the courage to canter yet, but perhaps next time. I am so happy that I have now started riding again, I have missed it so much. My dream is to own a horse one day. It will take many, many years, but hopefully it will happen in the future.)