Oon ihan poikki. Sunnuntaina oli ratsastustunti ja mun reidet huutaa hallelujaa, ettei kävelykään luonnistu kunnolla. Tallille pyöräilystä lumituiskussa ja pakkasessa taisi myös flunssakin iskeä. Olo on aika voimaton, mutta ratsastelu oli todellakin kaiken tän kärsimyksen arvoista! Pääsin kokeilemaan laukkaakin ihanalla suomenhevosella. Silloin lapsena en juurikaan laukannut kuin poneilla, joten vauhti oli huomattavan erilaista tällä kertaa :D Mulla on vielä paljon opittavaa ja mieliinmuisteltavaa ratsastuksesta, mutta onneks oon löytäny tämän ihanan harrastuksen uudelleen.
En oo nyt ollu koulussa tän flunssan takia, joten tänään ajattelin tappaa aikaani laittautumalla. Oon niin kyllästyny kulkemaan pelkkä aamutakki ja villasukat yllä kotona. Kukkakuvioisen vintagepuseron ostin viime kuun puolella Facebookin vintagekirppikseltä. Tajusin, etten ole marraskuun puolella ostanut yhtään vaatekappaletta! Jos nyt ei lasketa mukaan ratsastuskamppeita. Oon aika ylpeä itsestäni. Oon kirppareillaki käynyt vaan kaksi kertaa eikä mukaani ole tarttunut mitään muuta ku iso kasa vanhoja Hevoshulluja (=kirjekaveripalstat on koomisinta luettavaa).
(I am so exhausted. On Sunday I had my second riding lesson and my thighs are killing me. I can't even walk. I rode by bike to the stables in heavy snow rain and frost, so I got a flu. I feel strengthless, but riding horses was definitely worth all this suffering! On Sunday I tried out cantering with a Finnhorse (my favourite breed). When I was a kid, I cantered only with Shetland ponies, so speed was a lot different this time :D I still have a lot to learn about riding and horses, but I am glad I found this hobby again.
I have not been at school because of my flu, so today I decided to kill time by dressing up. I am so bored to stay at home and wear only my morning robe and wool socks. I found this floral vintage blouse last month in FB's vintage selling group. I also realized that I have not bought clothes at all this November! If one doesn't count riding equipment.. I am quite proud of myself. I have been to flea markets couple of times but I have not bought anything else but a huge pile of old riding magazines.)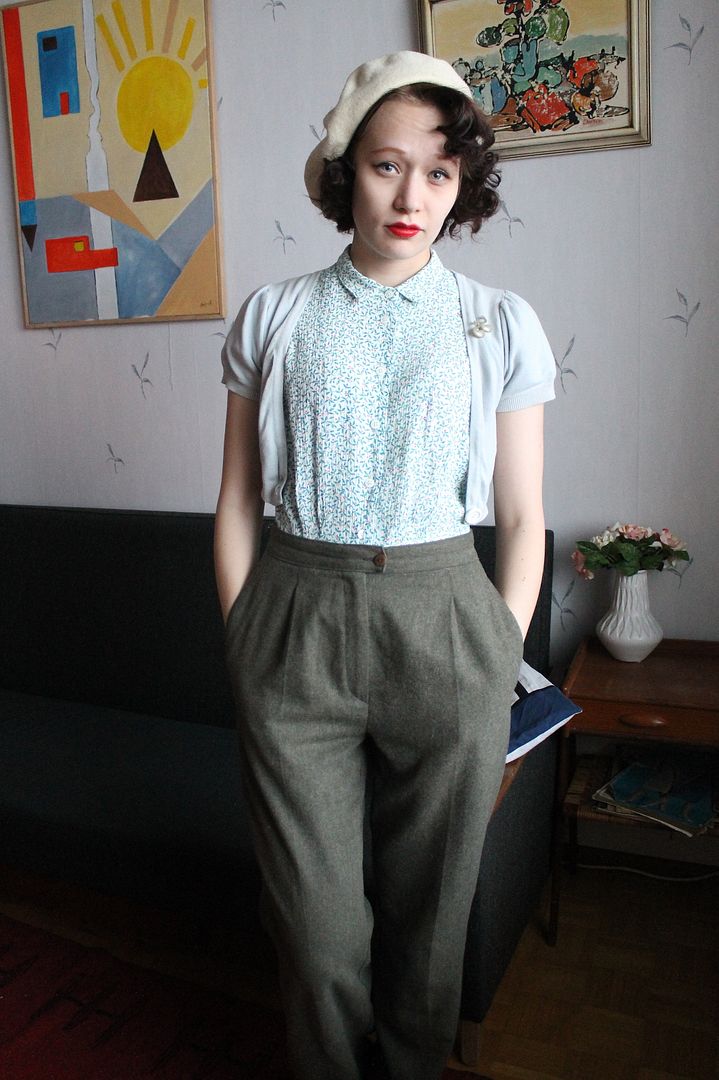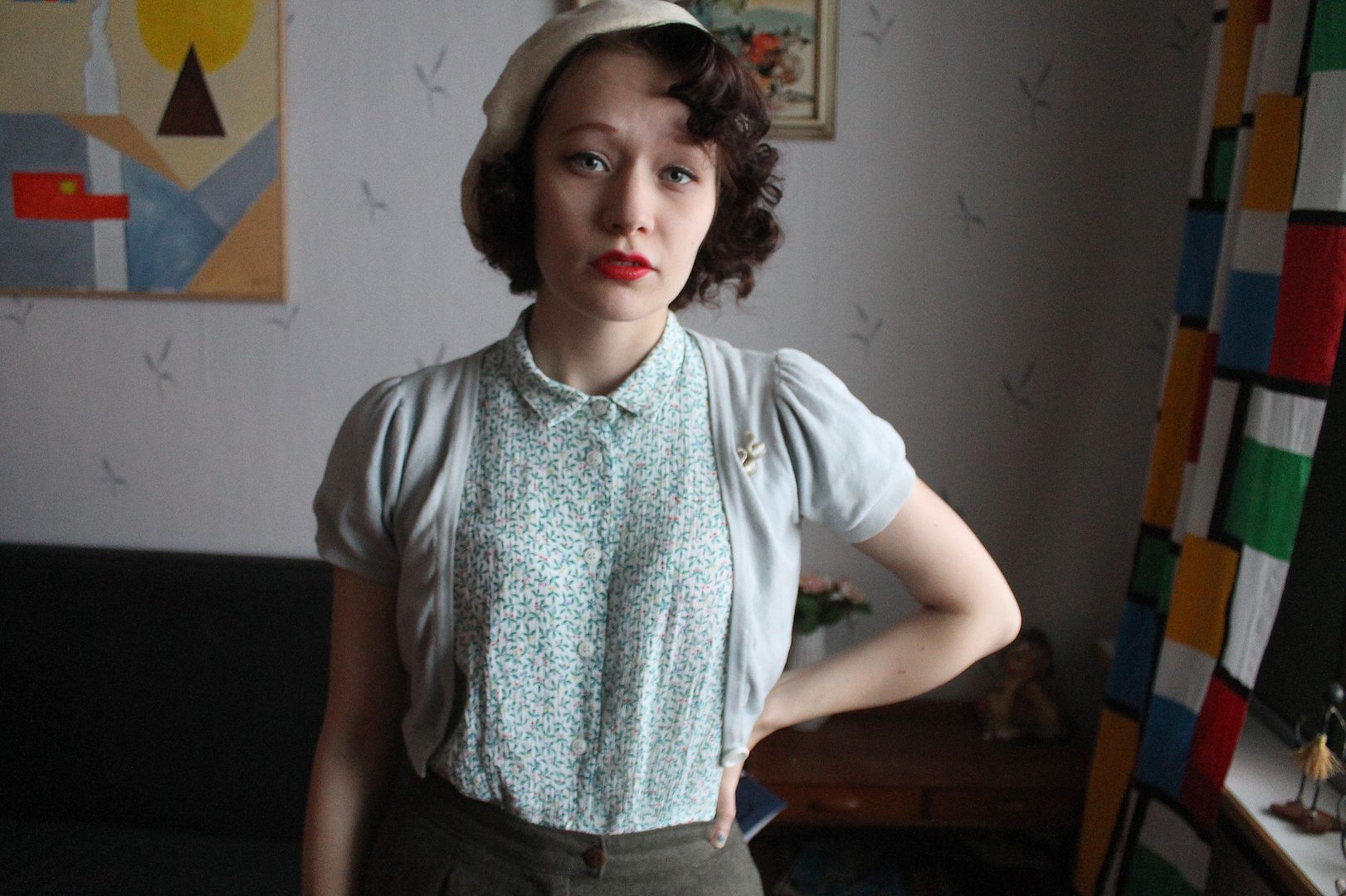 Pian koittaa myös joulukuu, ja voin sanoa, että se stressaa mua ihan vietävästi. Olin aikoinani jouluhössöttäjä, ja kuuntelin joululauluja jo tyyliin lokakuussa, mutta parin viime vuoden aikana oon alkanut vaan inhoamaan joulua. Kaikki se stressi joululahjoista, budjetista ja missä joulun viettää.. ja ärsyttävät jenkkien joulurenkutukset jotka soi liian aikaisin kaupoissa. En vaan kestä. Mä haluaisin joskus viettää perinteisen joulun maalla. Käydä kirkossa kuuntelemassa kauneimpia joululauluja, syödä hyvin ja oikeasti rentoutua lähimmäisten kanssa. En mä mitään joululahjojakaan ole tarvinnut aikoihin. Ei mun mielestä stressaamisen pitäis kuulua lainkaan joulun aikaan, mutta valitettavasti se vaan nykyään kuuluu.
(Soon it will be December, and I am so stressed out. I used to love Christmas and listened x-mas carols already in October, but nowadays I am not really enthusiastic about it. All that stressing about gifts, budget and where I am going to stay this Christmas.. and annoying American X-mas songs that I hear in the mall way too soon. Can't stand it. It's all too commercial. I would love to have a traditional Christmas in the countryside. Go to Christmas church, eat well and properly relax with my family. I don't need any kind of presents either. I don't think stressing should be associated in any way with Christmas, but that's the way it is nowadays.)