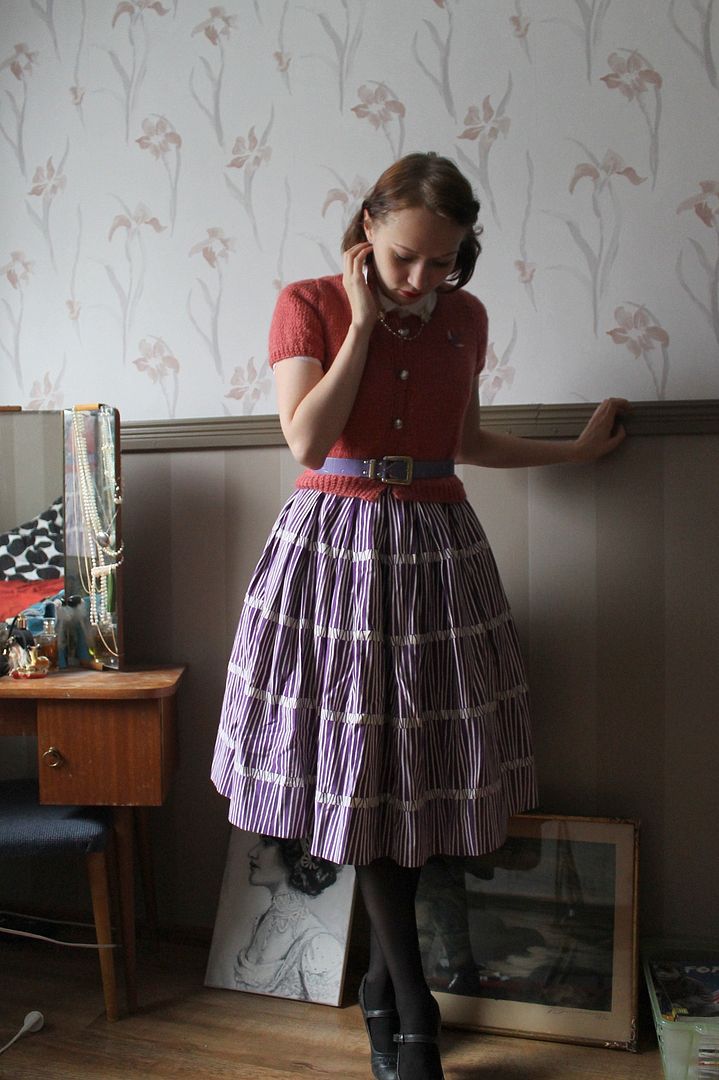 Kävin tänään koululla ompelemassa tietotekniikan tuntien jälkeen Halloween -asuni loppuun. Miusta on todella mukavaa, että koulun ompelukoneita saa hyödyntää muutkin, kuin alaa opiskelevat - joskin olen kyllä valmistunut itsekin siltä alalta 2014. Olen tosi tyytyväinen tämän vuoden asuuni! Mulla on itseasiassa kaksi asua tälle vuodelle, jos tulee tarvetta lähteä kaksiin Halloween -pirskeisiin.
Tämä asu muotoutui aika nopeasti ja mulla oli todella huono hiuspäivä. Eipä ollut mikään hyvä päivä muutenkaan. Neule on siskoni tekemä ja hame on 1950-lukua. Luonnonvalo alkaa häivetä syksyn tullen, ja mua ärsyttää, että meidän kämppä on niin pimeä! Seuraavan asunnon on parempi olla valoisa isoine ikkunoineen... Kokeilin uutta kuvausnurkkaa näille asukuville (etsin siis valoisampaa spottia kuin olohuone), ja nämä epäonnistuivat täysin. En jaksanut/ehtinyt ottaa siltikään uusia, joten tässä tulos.
(After my Excel/Word exam I went to finish my Halloween costume in our school's sewing classroom. I think it is fantastic that it is allowed for a non seamstress student to use the sewing machines at school - well at least I am a graduated seamstress from 2014 so I know how to use them. I am very excited about my costume! I have actually two costumes again this year, if I decide to go to two different Halloween parties.
I created this outfit very quickly and I had a bad hair day. This wasn't a great day anyways. Sweater is knitted by my sister and my skirt is 1950s. When autumn comes there is not enough sun light, and I am so irritated because our flat is so dark! Next apartment has to have huge windows so there's more light in darker seasons.. I tried a new photoshooting spot (tried to search for lighter part other than our living room) but these pictures failed badly. I did not have enough time to take new ones so here's the result.)