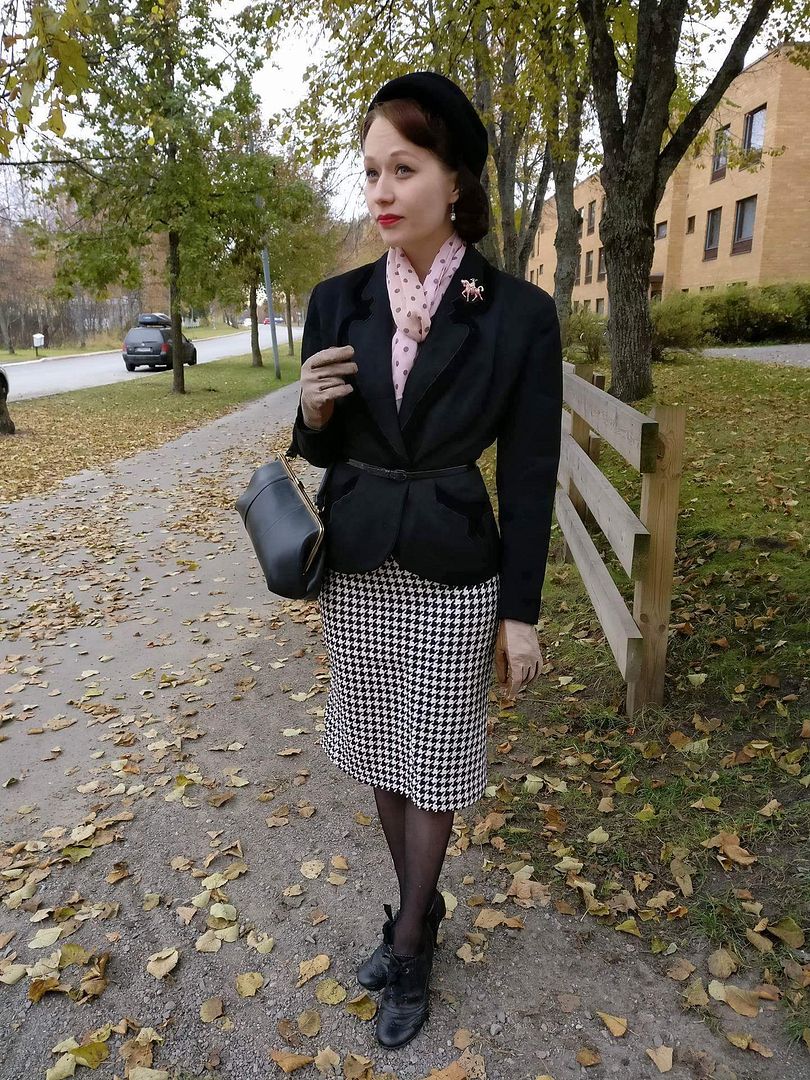 Halloween lähestyy ja odotan sitä tosi innolla! Joskin pelkään todella paljon törmääväni tappajapelleihin.. Pelkään kyllä näkeväni pellejä aina kaikissa Halloween-juhlissakin.. :D Mulla on paha klovnipelko ja mua ei saisi esim. sirkukseen lähtemään ikinä! En ymmärrä noiden pelottelijoiden ajatusmaailmaa. Sairasta!
Eilen olin jo yksissä Halloween -juhlissa, ja näytän sen asukokonaisuuden myöhemmin. Oon vähän myöhässä taas ollut postausten kanssa (en oo omaa tietokonettani jaksanut avata pariin viikkoon), ja tämäkin 1950-luvun asukokonaisuus on keskiviikolta. Mulla on yllä 1950-luvun hattu, vintagelaukku, 50-luvun musta jakku samettisin yksityiskohdin ja kaikki muu on reproa. Jakun ostin joku aika sitten Facebookin vintagekirppikseltä ja se on kyllä hieno löytö.
Oon päättänyt että yritän nyt olla ostelematta vaatteita vähään aikaan ja myydä pois taas kaikkea turhaa. On ollu vaikea totutella siihen, että opiskelijana ei enää olekaan niin paljon rahaa kuin työssäkäyvänä. En siis tee tällä hetkellä töitä opintojeni ohella, mutta jatkan sitä heti kun pystyn. Harkitsin tosin myös opiskelujeni lopettamista, mutta en ihan vielä halua luovuttaa sen suhteen. Saa nähdä!
Kuvat on ottanut Arttu puhelimella, ei sattunut järkkäriä mukaan.
(Halloween is getting closer and I am so excited! Even though I am scared as hell because of all the killer clowns that have been wandering around lately.. I'm even scared to see clown costumes in Halloween parties too... :D I have a coulrophobia and one could never ever take me to a circus! I don't understand those people who are scaring others. It's so sick!
Yesterday I attended a Halloween party already but I will show my costume vol. 1 later. I am a bit late with my posting (I have not been opening my computer for like two weeks), and this 1950s look is from Wednesday. I am wearing vintage 1950s hat, vintage purse, 1950s jacket with velvet details and everything else is reproduction. I bought that jacket from Facebook's vintage trading group a while ago and it is such a good find.
I have decided not to buy much new clothes for awhile and sell away all the thing I do not need. It has been harsh to get used to being a student with not much money after being a worker for a year. I don't do any work at the moment beside my studies, but I will continue working when I feel better. I have also considered ending my studies but I don't want to give up quite yet. We'll see!
Arttu took these pictures with his phone. We did not have my camera with me.)