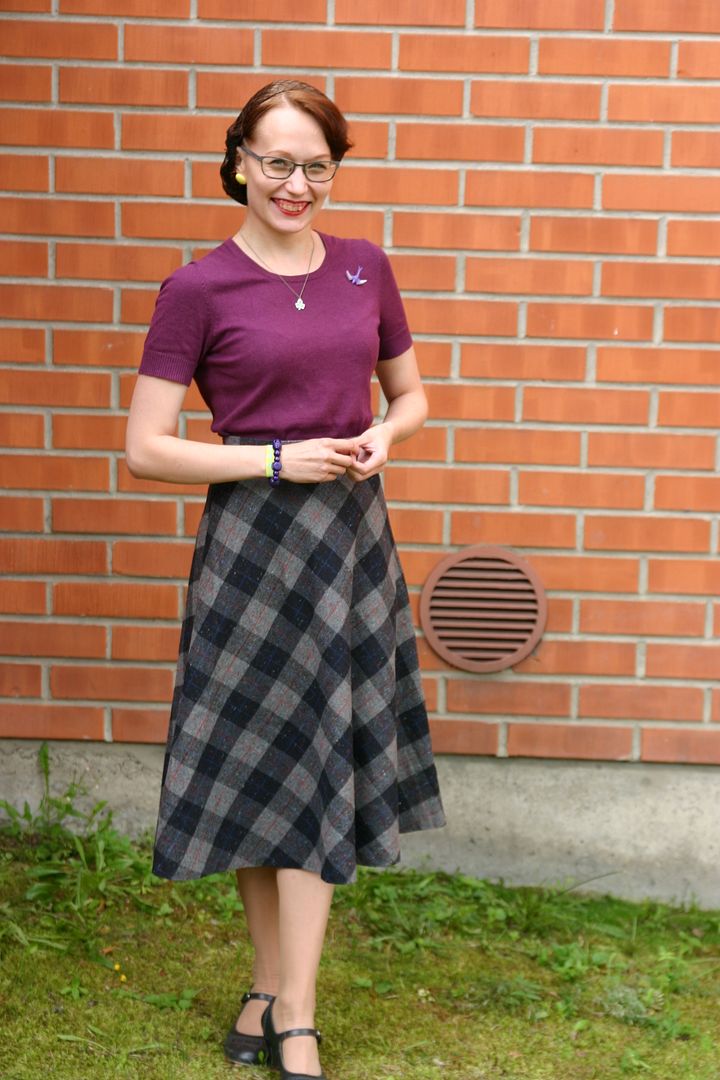 Olen tehnyt töitä koulun ohella aamuisin, joten olen ollut aika uupunut pitkien päivien jälkeen. Mulla on ollut aiemmin perjantait vapaana, mutta jatkossa ne täytetäänkin tunneilla..... Se ärsyttää näin työssäkäyvänä. Tuntuu, että aikaa ei jää ollenkaan hengähtämiseen ja oman ajan ottamiseen. Nämä kuvat on otettu pari tai kolme viikkoa sitten koululla, eli vanhoja asukuvia. En ole pystynyt koulun takia juuri laittautumaan, sillä meillä on oltava yleensä aina työvaatteet. Harmi, kun teoriatunteja on harvassa eikä lukkariin ole luottamista. En ole farkkuihmisiä..
Asuni oli tuona päivänä aika arkinen, mutta pidän kovasti tuosta ruutuhameesta. Se on niin ihanan simppeli, ja laskeutuu kauniisti. Kannan nykyään aina tuota apilakorua kaulassani. Se on muistuttamassa mua mun mahdollisuuksistani. Haaveilen lähteväni Irlantiin (tai vaihtoehtoisesti Isoon-Britanniaan) työssäoppimaan, enkä pääse sinne, jos en anna ihan kaikkeani koulussa. Koru toimii eräänlaisena motivaattorina. Ehkä se myös muistuttaa säästämään, säästämään, ja säästämään, että voin toteuttaa unelmani sinne lähdöstä. Onneksi lokakuussa on Oulun irkkufestivaalit, jossa tulen saamaan pienen annokseni irlantilaista kulttuuria pitkästä aikaa.
Mun on pakko nyt mennä nukkumaan, sillä huomenna on aikainen herätys; puoli seitsemäksi töihin. Töistä suoraan kahdeksaksi kouluun. Väsyttää jo ajatuskin.
(I've been working alongside school, so I have been exhausted after my long and rough days. I used to have Fridays off, but from now on they'll be filled with school courses..... I am quite pissed off as a part-time worker. I feel like I won't have much free time to relax and take my own time. I am too tired. These pictures were taken few weeks ago at school, so these shots are old. I haven't had a chance to wear my dresses because of school, as we have to use working clothes there. We don't have many theory classes and I cannot trust our timetable. It is a shame because I don't feel comfortable in jeans...
My outfit that day was quite casual, but I do like that plaid skirt. It's so simple. I have started to carry that shamrock necklace with me to remind me of my possibilities. I dream of going to Ireland (or UK if possible) to my on-the-job learning period and I cannot go if I won't give my very best at school. This necklace is some kind of a motivator. It also reminds me of saving money, so I can make that dream happen. Luckily there's Irish Festival of Oulu coming next month, so I will get at least a small doze of Irish culture and music.
Now I really need to go to sleep, my work starts at 06.30am and school at 08.00am. I am tired even from the idea.)