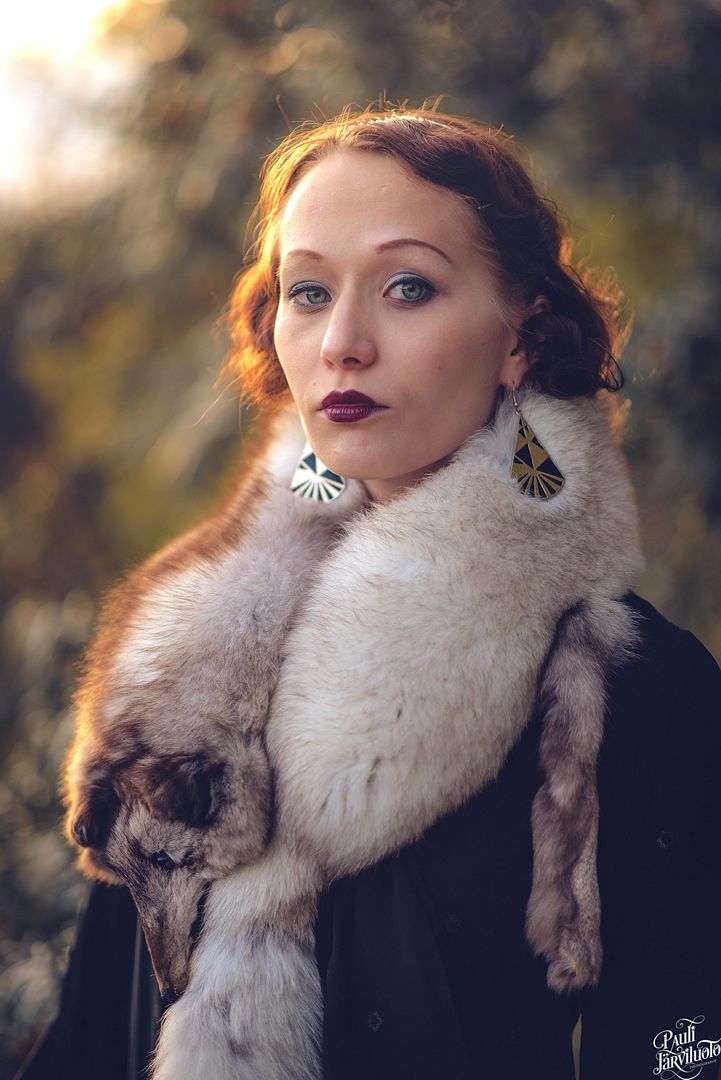 Olin hiljattain elämäni ensimmäistä kertaa kuvauksissa. Mua pyysi Instagramin kautta vintagehenkisiin kuviin huikea ammattivalokuvaaja,
Pauli Järviluoto
, ja olen iloinen, että suostuin lähtemään tähän! Epäröin ensin, sillä en ole tällaista ennen tehnyt. Normaalisti en ole osannut olla kuvissa, jos ne joku muu ottaa. Paulin kuvat ovat todella upeita, joten se oli ehkä osaltaan vaikuttamassa myöntymiseeni. Kuvista tuli - yllätysyllätys - kauniita ja mulla oli kuvauksissa hauskaa! Onneksi sain pitää kasvoillani tämän ainaisen vakavuuden, minä kun en mielelläni hymyile kuvissa :D Sain itse päättää stailauksesta, ja tiesin heti, että tämä viimeisin sijoitukseni, aito 1920-luvun art deco pukuni sopisi näihin kuviin todella hyvin. Puku on muuten miltei täydellisessä kunnossa ikäänsä nähden (yksi nappi puuttuu ja pari rispaantunutta nappia) ja sain sen suhteellisen edullisesti (no, satasen pintaan) Etsystä.
Näitä kuvia saan myöhemmin lisää, joten lisää näitä postauksia on tulossa :)
(Couple of days ago I was at my very first photoshoot. Photographer Pauli Järviluoto asked me via Instagram to model in vintage themed photos and I am glad I said yes! I hesitated at first because I have never done this before. Usually I don't feel comfortable to be in pictures taken by someone else. Photos taken by Pauli are absolutely beautiful, so that is one of the reasons I decided to do this. Finished photographs are - no surprise there - gorgeous and I had fun in the photoshoot! Great experience. Luckily I had a permission to keep my ever-so-serious face. I don't like smiling in photos :D I got to decide my own styling, and I new immediately that I want to wear this genuine 1920s art deco dress. I bought it last month and it is in perfect condition (one button missing and two buttons frayed) and I got it quite cheap (well, around 100 euros) from Etsy.
I will get more finished photographs later on, so one or two more posts about this photoshoot are coming :)