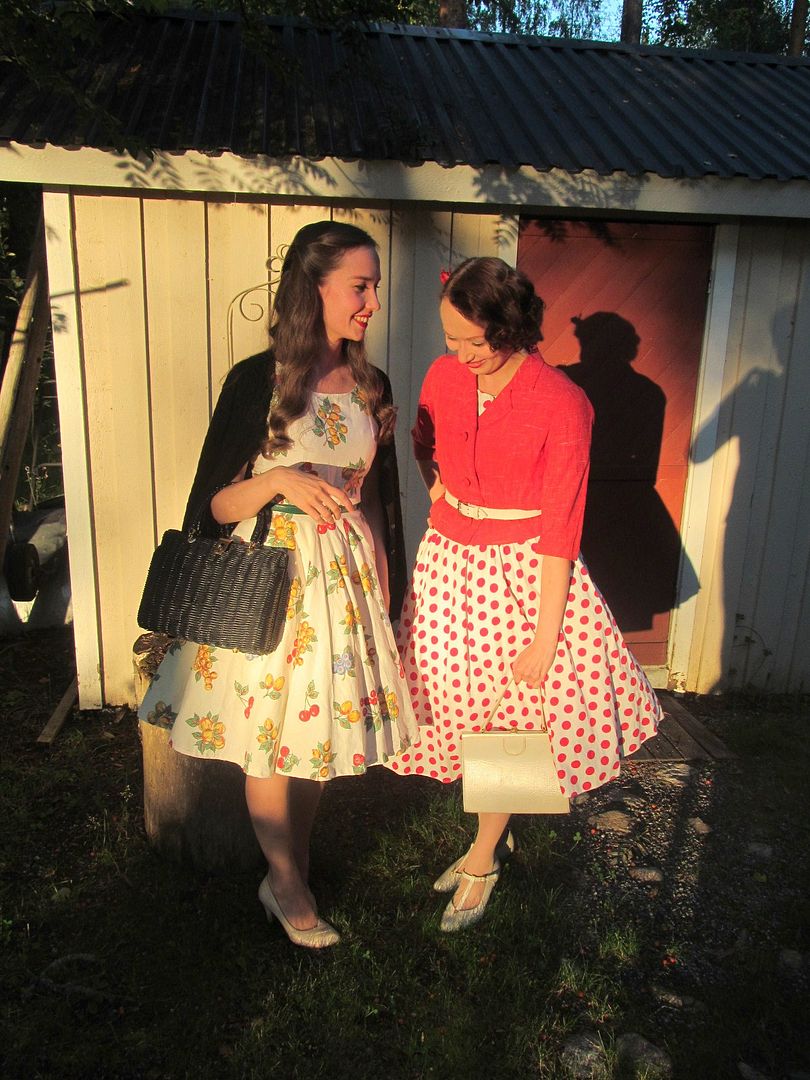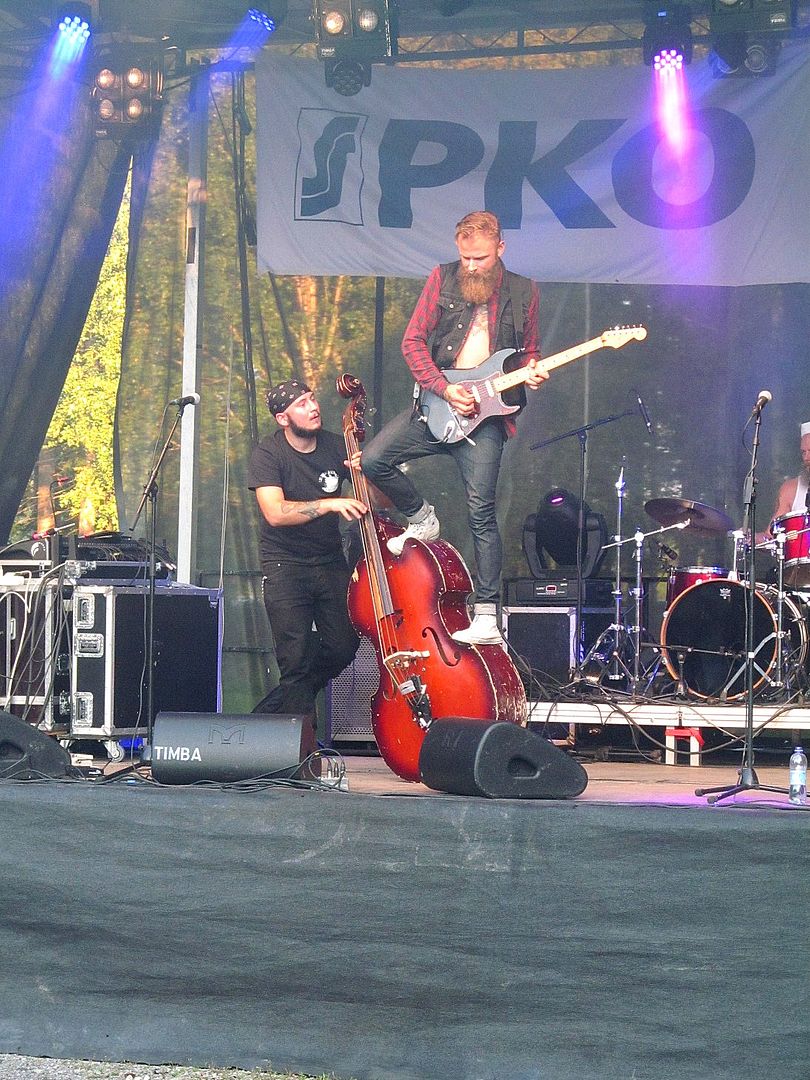 Rock n' roll! Vietettiin Lauran kanssa hauska siskosviikonloppu Nurmeksessa vanhempien tykönä. Tälle viikonlopulle sattui Nurmeksen oma kaksipäiväinen rokki- ja elokuvatapahtuma, Drive-in & Rock. Elokuva jätettiin väliin, mutta päätettiin mennä molempina päivinä katsomaan keikkoja. Sisko muuttaa pois Joensuusta piakkoin, joten tää viikonloppu sattui juuri sopivasti. Oli kiva viettää pitkästä aikaa siskojen keskistä aikaa, niinsanotusti viimeinen yhteinen viikonloppu ennen kuin sisko muuttaa pois. Oudolta tuntuu, kun oli tottunut, että toinen on samalla paikkakunnalla ja vieläpä naapurikerrostalossa.
Ensimmäisenä iltana perjantaina mulla oli päällä 1950-luvun pallomekko, jonka löysin Suvi-Vintagesta. Asukokonaisuus on näkynyt täällä blogin puolella ennenkin. Lauran hedelmämekko on miun ompelema joskus kolme vuotta sitten, ja se koristaa nyt siskon vaatekaappia. Perjantain odotetuin keikka oli mulla Rock-Ola, mutta voinen myöntää, että The Troubled Three (ruotsalainen yhtye) teki vaikutuksen.. :D
(Rock n' roll! We had a great weekend in Nurmes with my sister Laura. There was this annual rockabilly and movie event Drive-in & rock. We skipped the movie but went to see the gigs on both days. My sister will move away from Joensuu, so this weekend was very much needed. It was so nice to spend time with my sister alone, this was like our last weekend before she moves away. It feels weird, cause I have used to that she lives in the neighborhood.
On Friday night I wore this 1950s vintage polka dot dress, which I found from Suvi-Vintage fair. I have been wearing this outfit before few times. Laura's fruit dress was sewed by me three years ago, and now it hangs in her wardrobe. On Friday the most waited gig was Rock-Ola, but I must say, I was quite impressed with The Troubled Three (SWE) too .. :D)
The Troubled Three (SWE)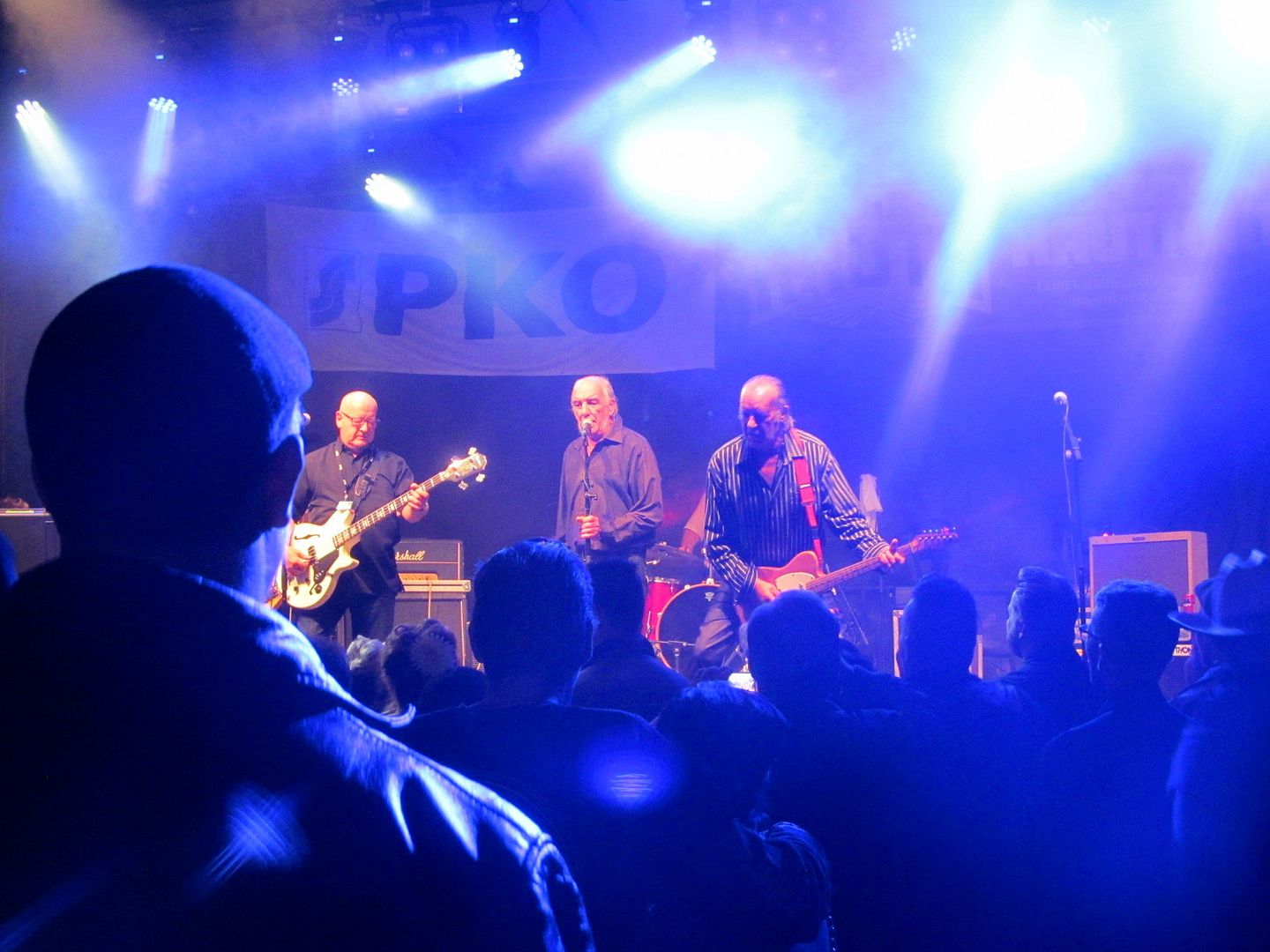 The Crazy Cavan n' the Rhythm Rockers (UK)
Lauantaille Laura kokeili mulle uutta hiustyyliä. Tosi yllättävää, että mun lyhyisiin hiuksiin sai oikein kivan poodle -kampauksen! Täytyy opetella tekemään tämä itse, on niin kiva. Ylle valitsin 1950-luvun mekon, jonka takana olevat liehukkeet solmin eteen. Siitä tuli hyvin "sarongimainen". Tässähän oli tosiaan ennen hihat, mutta on niin paljon sievempi ilman hihoja - ja huomattavasti helpompaa liikkua ja tanssia. Lauran mekko on Lindy Bopilta.
(On Saturday Laura tried a new hair style for me. It was surprising how well poodle updo worked with my short hair! I must learn to do this myself. I put on 1950s vintage coctail dress, and I tied train panels from the back to infront, so it looks like sarong dress. This dress used to have sleeves, but I had to remove them. So much easier to move and dance. Laura's dress is from Lindy Bop.)