Eräänä päivänä juuri toisiinsa tutustuneet kissanpojat päättivät yhdessä paeta isoon suureen maailmaan. He olivat yhdessä vahvempia, ja heidän suunnitelmissaan oli syöstä nuo kaksijalkaiset vallasta. Pienempi musta kissa oli vähän yksinkertaisempi tapaus, mutta vanhempi tarvitsi sen apua. Kaksin tämä parivaljakko onnistuisi todennäköisesti paremmin, kuin yksin. Ensin he kokeilivat parvekkeen kautta.
"Tässä on jokin näkymätön voimakenttä... Kuinka läpäisemme sen?"
"Typerä pentu.. Se on vain lasia. Katson, jatkuuko se tuonne toisellekin puolelle."
(One day these two cats decided to escape from their owners to the great big world outside. They knew they were stronger together and they had planned to take over the kingdom and enslave all the hoomans. Smaller black kitten was more simple minded, but his big brother needed his help. Together they would succeed better than alone. First they tried the balcony.
"There's some invisible force field... How do we get through it?"
"Stupid kitten.. It's just glass. I go to see if it goes on to that other side.)
"Viekkaita ketkuja,
tämäkin puoli on läpäisemätön.

Meidän täytyy keksiä jotain muuta."
"Emmekö voisi kynsiä tietämme ulos?"

"Älä ole tyhmä ja kuluta kynsiäsi turhaan, tulemme tarvitsemaan niitä vallankaappauksessamme. Meidän täytyy olla ovelampia ja olla jättämättä jälkiä."

(

"Oh, they are so good.. This side is also impermeable. We need to make a new plan."

"Can't we just claw our way out? "

Don't be daft, you would just dull your claws for nothing. We are going to need them in our revolution. We need to be cleverer and leave no trace."

)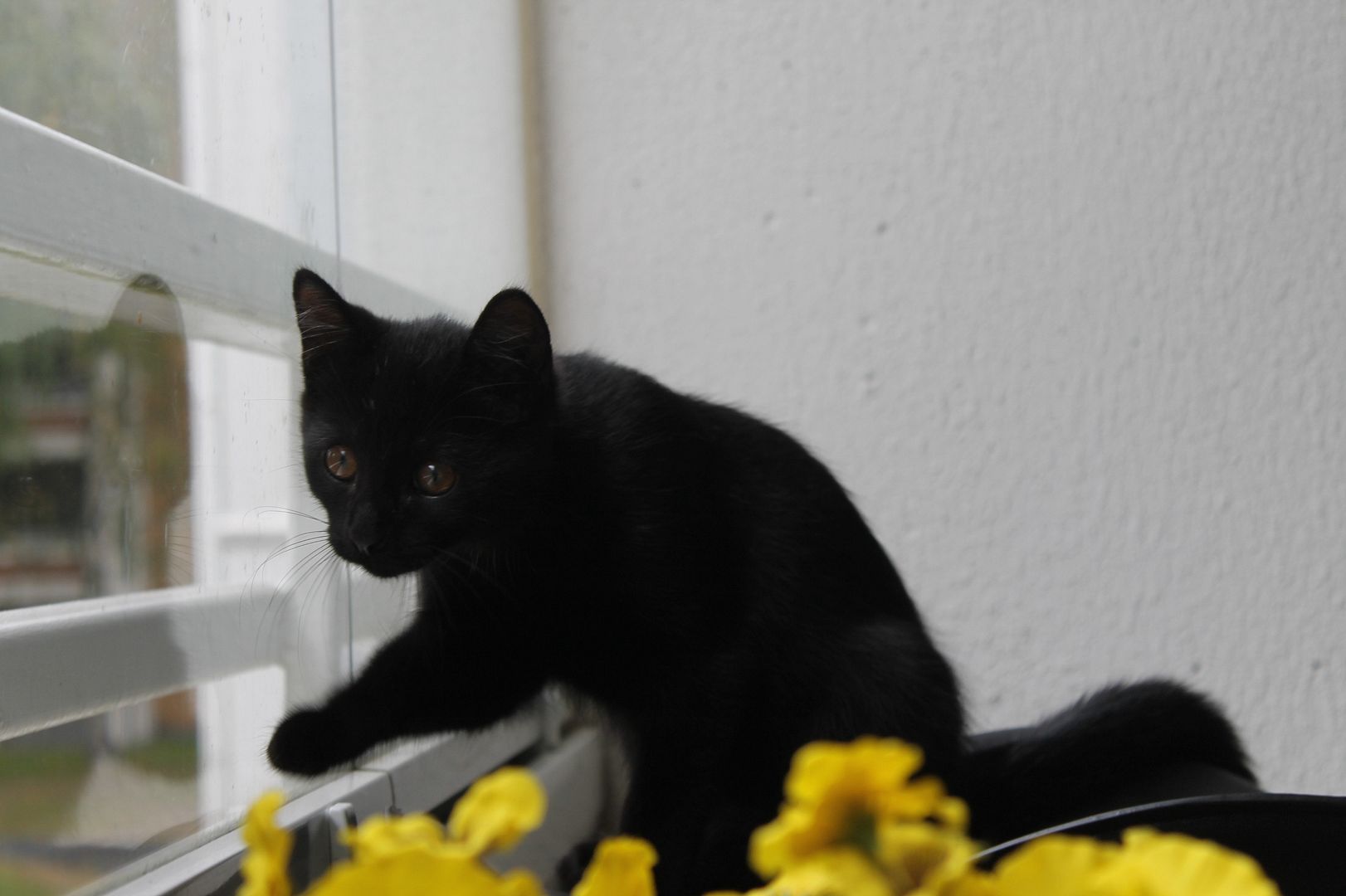 "Pitäisikö meidän kokeilla sitä luukkua, josta ne kaksijalkaisetkin aina katoavat ulos? Yhdessä voisimme saada sen auki."
"Olin kyllä ehdottamassa sitä juuri, rääpäle."
(Shouldn't we try that huge door, where hoomans disappear to the world outside? Together we could get it open."
"I was just coming on to that, you weakling."
"Pidä sinä vahtia, minä tutkin tämän luukun."
("You keep watch, I will try to figure out how this door works.)
"Tämä vipu täytyisi varmaan avata jotenkin.. Se on kovin hankala!"
"I bet it opens from this knob. It is so very hard to use!"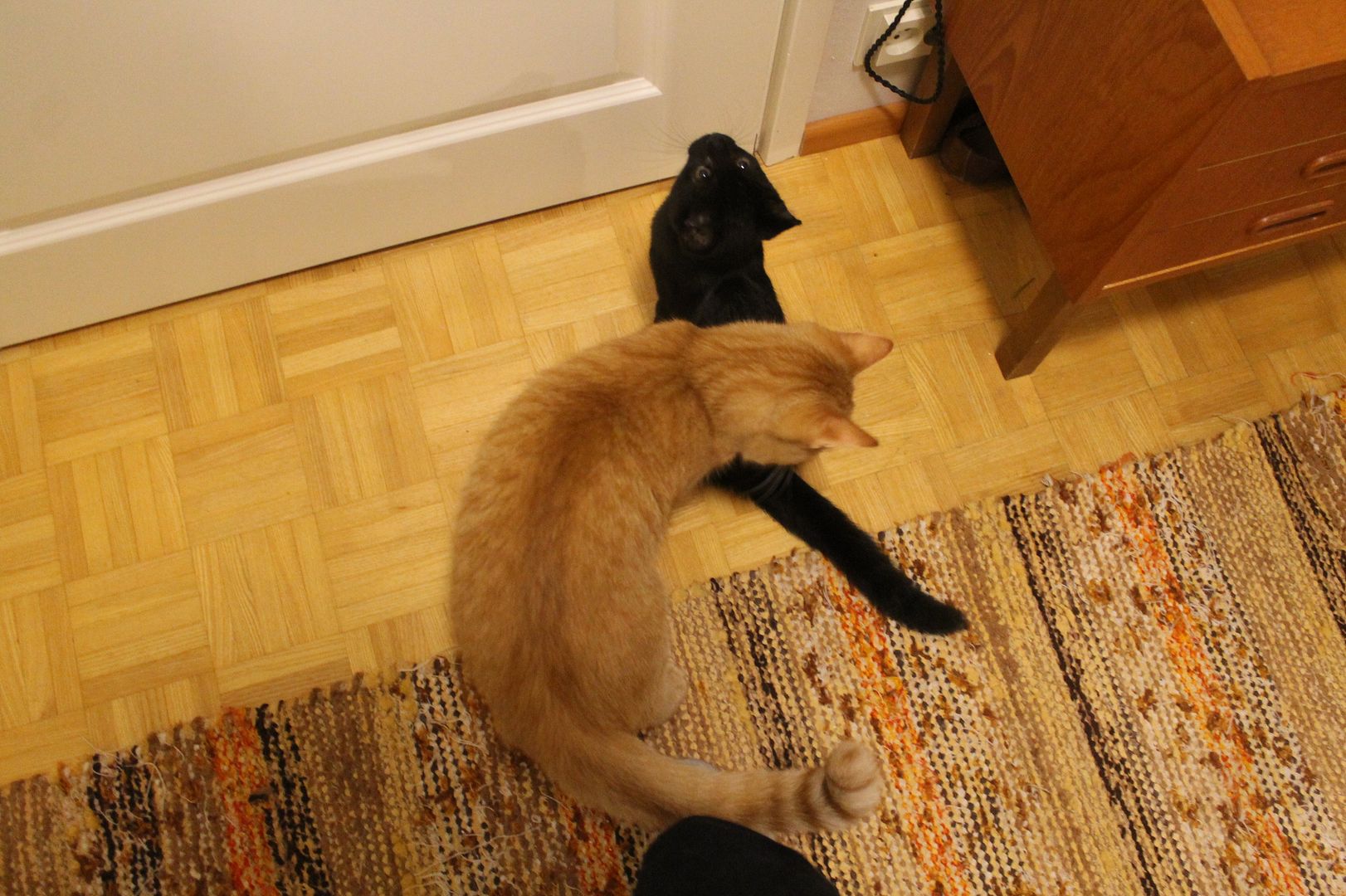 "Minua vähän hiukoo..."

"Kuulen tuttuja askeleita ulkoa. Ruokamme taitaa saapua. Vetäydytään suunnitelmastamme!"

"Krhöm.... Mrraaauuuuwww, purrrrr miaaaauuu!"

"...Säälittävää, nuori padawanini."


("I am a bit hungry.."

"I hear familiar foot steps behind the door. Our food is arriving. Retrieve!"

"Ahem... Meeoooowww purrrr meeeeooowwww!"

"....Pathetic, my young padawan."

)