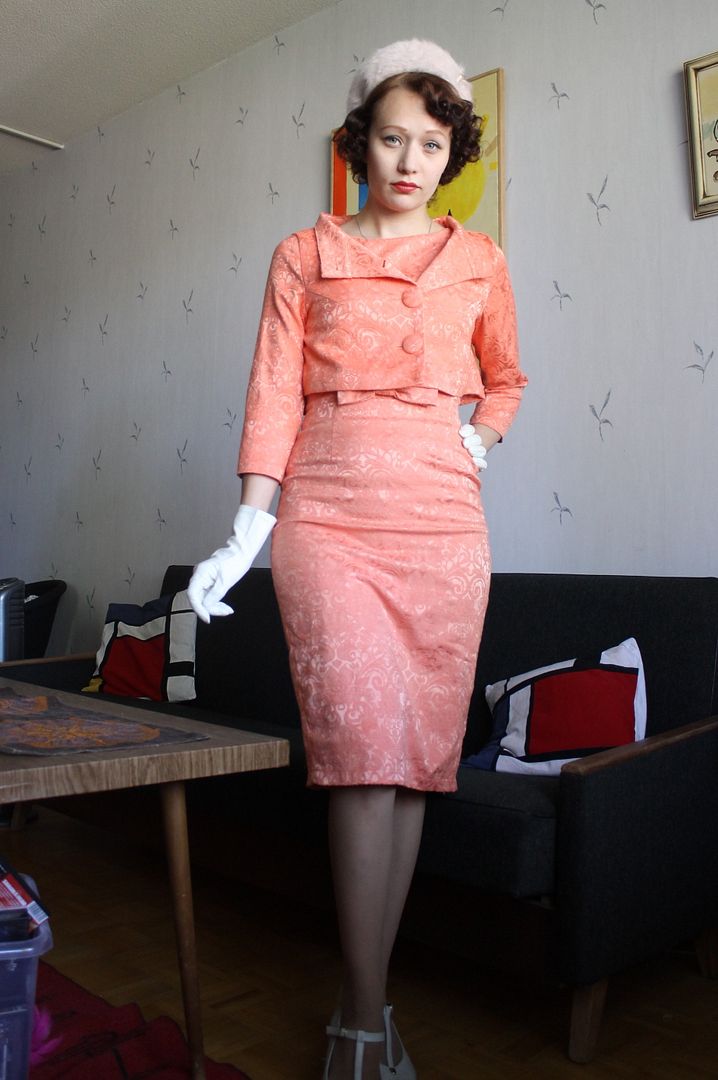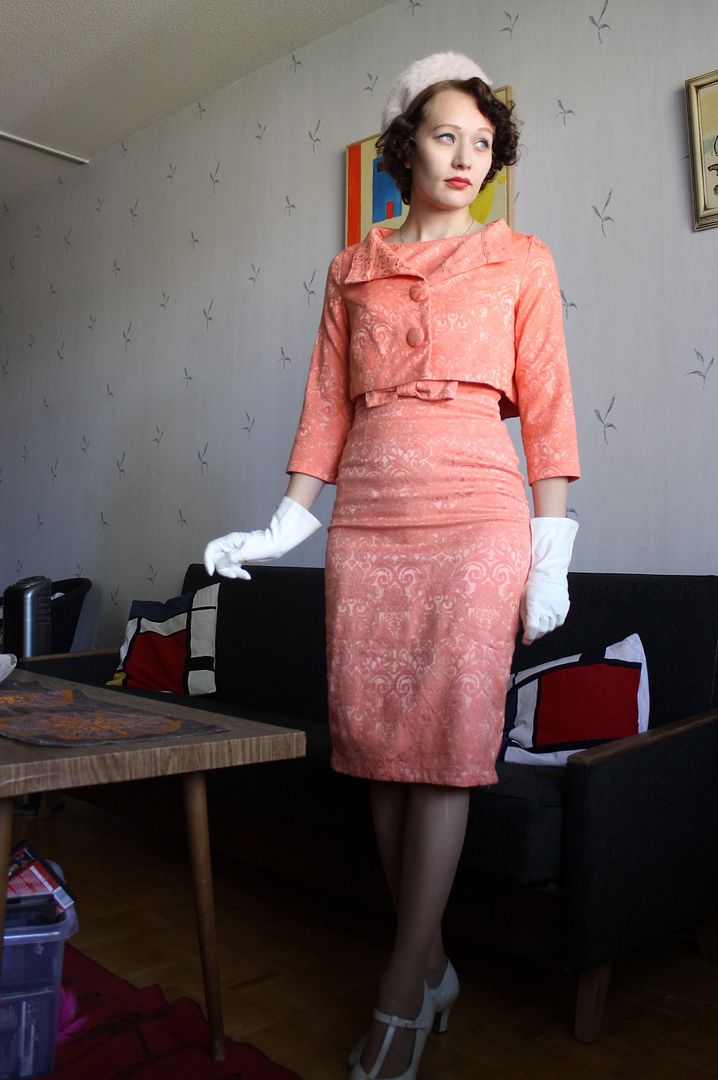 Mulla näyttää lukujärjestyksen mukaan olevan todella harvassa ne päivät, jolloin voi pukeutua vapaasti mekkoon ja korkokenkiin. Yleisimmin minulla tulee koulussa olemaan ylläni työvaatteet. Totuttelemista se vaatii aina aluksi, mutta ei se mahdotonta ole, kun on vuosi käsityömuotoiluakin takana. Voi vain olla, että asupostauksia tulee vähemmän - ei sillä, että niitä nytkään niin usein tulisi. Opiskeluni käsittelee todella paljon eri aloja. On pintakäsittelyä, pintaremppaa, verhoilua, sisustusta, metallin käsittelyä, puusepän hommia.. Ei siis yksipuolista, mikä on vain hyvä asia. Olen myös harkinnut vakavasti, jos suorittaisin jonkin työssäoppimisjakson ulkomailla!
Tänään oli koulussa pelkkää auditoriossa istumista, joten puin ylleni tämän ihanan Lindybopin alesta tilaamani persikanvärisen "Maybelle" -puvun. Tilasin muutama viikko sitten Lindybopilta ensimmäistä kertaa jotain, ja tämä oli paketista se lempparini. Se istuu niin kauniisti ja imartelee vartaloa.
Tiedotusluonteinen asia lienee myös se, että parin tunnin päästä lähdemme hakemaan uutta perheenjäsentämme, mustaa kissanpentua Susirajan Eläinkodilta! Ihastuin siihen heti tavattuamme, ja tiesin, että tämä suloisuus on oleva minun kissani. Saa nähdä, miten Nelson suhtautuu uuteen pikkuveljeensä..
(It seems like that in my school timetable there's only few days when I can wear my dresses and high heels. Mostly I will wear my new working clothes at school. I have to work my motivation with that, but I will get over it. After all, I have studied hand crafts design where I had to wear working clothes at school almost daily. It just means that I won't be posting outfit shots so often - not that I have been posting that much anyways :D My studying career contains many areas. There's surface finishing, renovating, draping, interior design, metal and woodworking.. I have also started to think about doing my on-the-job learning period abroad!
Today at school we only sat in auditory so I had a chance to wear this reproduction Lindybop's "Maybelle" -suit in peach color. I bought it from sales and it was my first time ever I ordered anything from Lindybop. This suit is my new favourite repro clothing. It is so flattering!
I have also news! In couple of hours me and my partner are going to get a new member of our family, black kitten from our local animal shelter. I fell in love with that kitten immediately I met him, and I knew he will be mine. We'll see how Nelson will react with his new baby brother..)