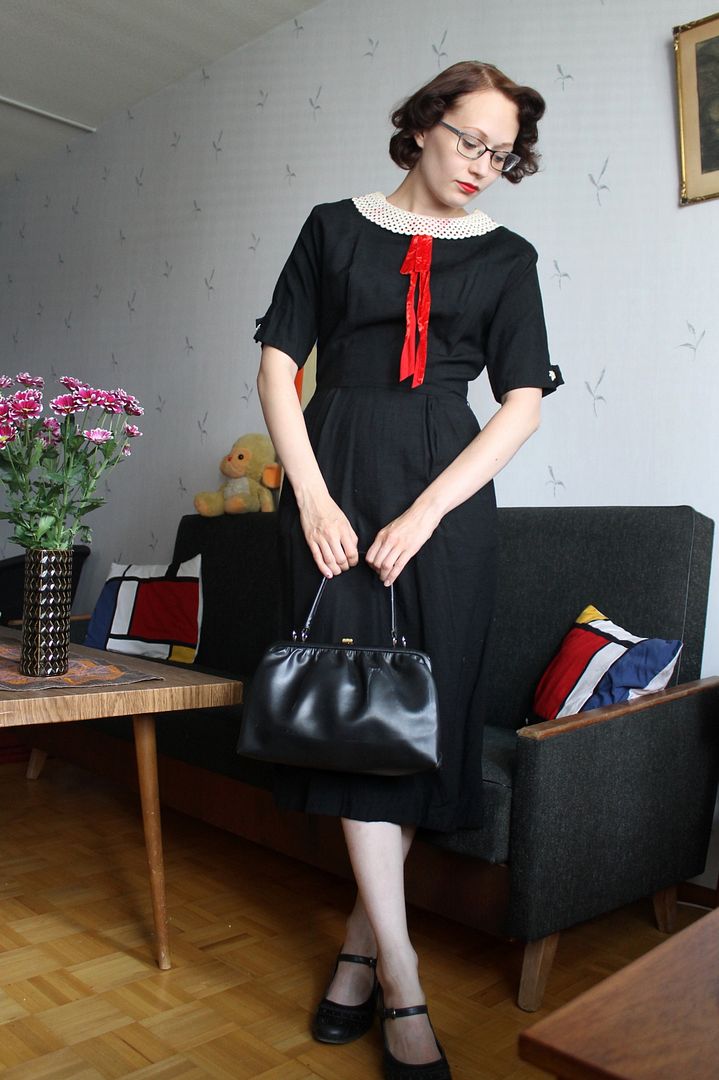 Muutama päivä sitten saapui postissa USA:sta (Etsy.com) tämä hurjan suloinen 50-luvun leninki. Oli sitä odotettukin jo tovi. Punaisen samettinauhan väri on vähän levinnyt pitsikaulukseen, mutta ei onneksi häiritsevästi. Muuta vikaa puvussa ei ole, ja sain sen hyvin edullisesti. Tämä mekko on juuri sopiva ensimmäisenä koulupäivänä ylle. Se on kovin miellyttävää materiaaliakin, ja siinä on maailman söpöimmät lehtinapit hihoissa.
Tajusin, että mulla on jo paljon enemmän vintagea vaatekaapissa, kuin uutta tuotantoa, ja voin luoda head-to-toe vintageasukokonaisuuksia helposti. Tähänhän sitä on tähdätty viimeisen seitsemän vuoden harrastukseni aikana. On kai kokoelmani ollut suuri jo pidemmän aikaa, mutta nyt sen vasta sisäistin. Niin hauskaa! En tietenkään pystyisi elämään täysin pelkästään vintagen varassa, reprojakin tarvitsee arkena. Juuri tein Lindybopin alennusmyynneissä suuren tilauksen vaatteita. Halvalla sai laadukasta uustuotantoa (esimerkiksi Maybelle -jakkupuku menee ihan täydestä vintagenakin). Mitat eivät tosin ihan vastanneet kokotaulukkoa ja jouduin siskon tilauksia muokkaaamaan hänelle sopiviksi...
(Few days ago my package from the States (Etsy.com) arrived and I received this lovely black 1950s vintage dress. I had been waiting for it for awhile. Color of the red ribbon has spread into that white collar, but fortunately not distractingly. There's no other flaws in the dress and I got it cheap. This dress is perfect for my first day at school. Fabric is so comfy and it has the world's cutest leaf buttons on sleeves.
I just figured out that I have more vintage in my wardrobe than modern or repro, and I can create head to toe vintage outfits easily. This is the thing I've been dreaming of since I started to dress up in vintage (that would be seven years ago). I bet my collection has been huge for a while already, but just now I realized it. So much fun! I know I could never wear vintage 24/7, I need my reproduction pieces too. I just made a huge order from Lindybop, as they had sales. Maybelle -suit is so convincing. Measurements did not correspond with the size guide, so I had to alter the dresses my sisters ordered...)