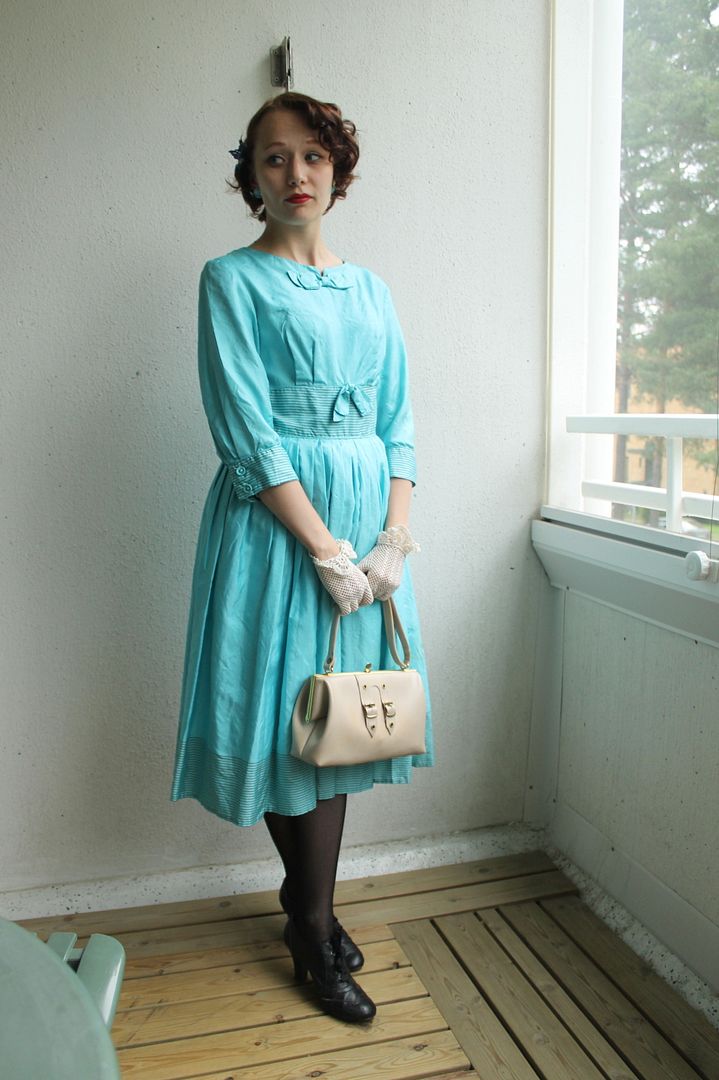 Lauantaina osallistuimme 1950-luvun teemailtaan Surakan baarissa. Siellä esiintyi 50- ja 60-lukujen iskelmiä laulava naisduo "Orkesterin helmet". Juotiin ystävien kanssa skumppaa ja syötiin kakkutikkareita ähkyyn asti. Ylleni laitoin pitkästä aikaa (viimeksi kolme vuotta sitten..) tämän turkoosin 1950-luvun mekon. Se oli ennen minulle vähän iso, mutta nyt täytän sen jo vähän paremmin :D Ratkesikin jopa takaa... Iltaamme jatkettiin kantapaikkaani Marksiin ja mukavaa oli, joskin tunsin rokkibaarissa olevani vähän ylipukeutunut.
Minulla on muuten ensimmäistä kertaa kuvissani piilolinssit yllä! Sain nämä piilarit viime viikon torstaina. Puolitoista tuntia meni aikaa ensimmäisellä kokeilukerralla :D (Voinen joensuulaisille suositella Katseoptiikkaa!) Harvoin esiinnyn blogissa silmälasieni kanssa, mutta olen ilman niitä oikeasti puolisokea enkä ole voinut esiintyä missään ilman niitä. Piilarit on todella kivat, joskin tarvitsen vielä paljon harjoittelua ja kärsivällisyyttä niiden laitossa.
(On Saturday we attended a 50s theme night in Surakan Baari here in Joensuu. There was a female duo singing 50s and 60s Finnish schlager songs. We drank sparkling wine and ate cake lollipops until we felt sick. I wore this turquoise 1950s dress that night. I have not been wearing it in three years! This dress used to be slightly big for me, but nowadays I can fill it much better. It even ripped from the back.... We continued our night to my hangout rock bar Marks, where I felt quite overdressed.
By the way, I am wearing contact lenses in these pictures! I got them last Thursday. It took me one hour and a half to attach these to my eyes for the first time :D I rarely wear my glasses in my blog photos, but honestly saying, I am half blind without them. Now I can wear contact lenses! I just need a lot more practice and patience.)