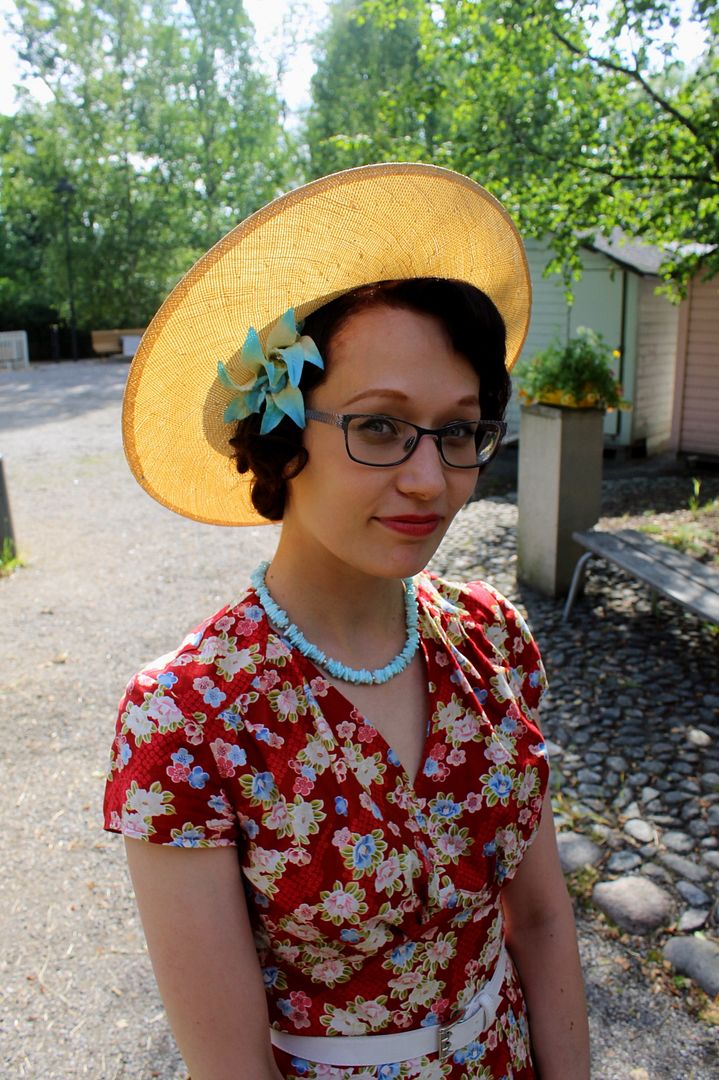 Mahtava viikonloppu takana. Lähdettiin Artun kanssa perjantaina iltapäivällä ajelemaan täältä Joensuusta kohti Tamperetta, joka on suosikkikaupunkini. Päämäärämme oli kahden päivän vintage-tapahtuma, Suvi-Vintage, jonne olin taas lupautunut malliksi muotinäytökseen. Meillä oli tosi kiva hotelli (Forenom Koski) ja aivan mahtavalla paikalla! Keskellä keskustaa ja lyhyet kävelymatkat. Lempparibaarini Teerenpeli miltei vastapäätä ;)
(What a fantastic weekend I had. On Friday we drove to Tampere, which happens to be my favourite city in Finland. We were heading to Suvi-Vintage vintage fair, as I had promised to participate in vintage fashion show again. We had a great hotel (Forenom Koski) and it was located in perfect area. Almost right opposite to my favourite bar, Teerenpeli ;)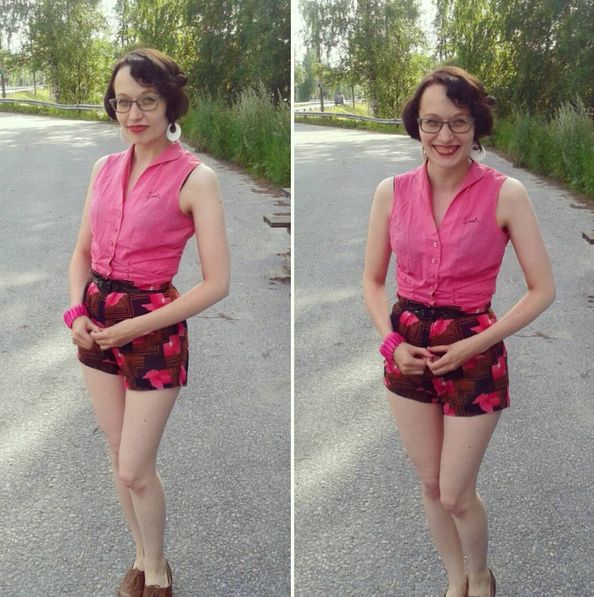 Asuni automatkalle. Nimikoitu kauluspaita ja 60-luvun shortsit!
(My travelling look. Name embroidered blouse and 1960s shorts!)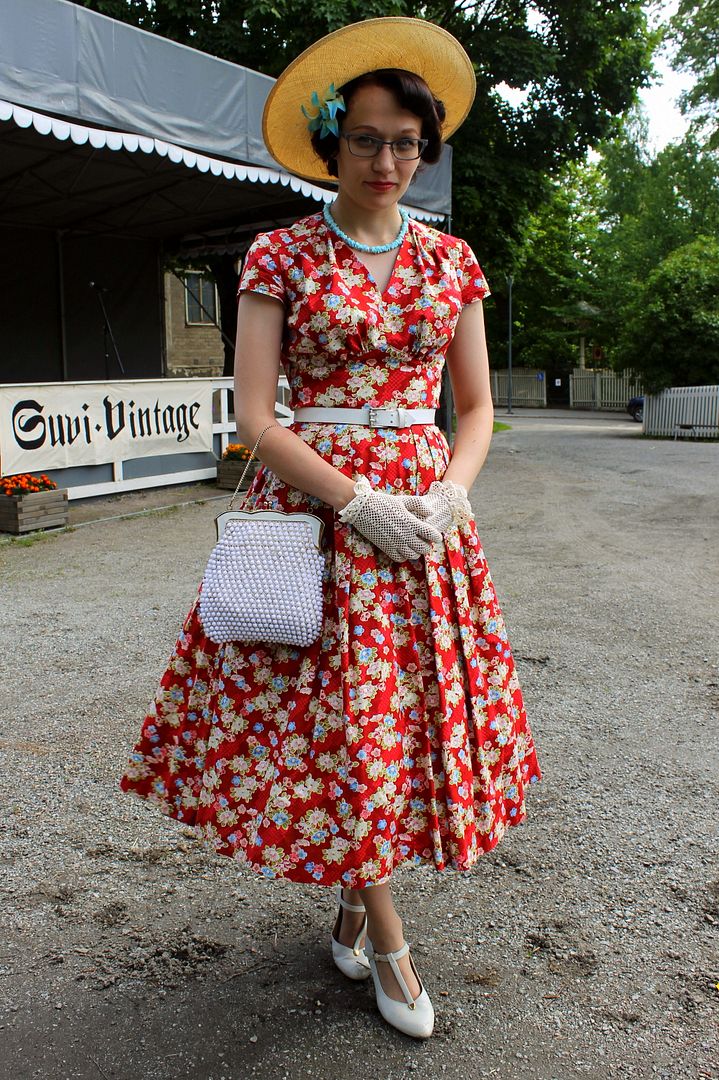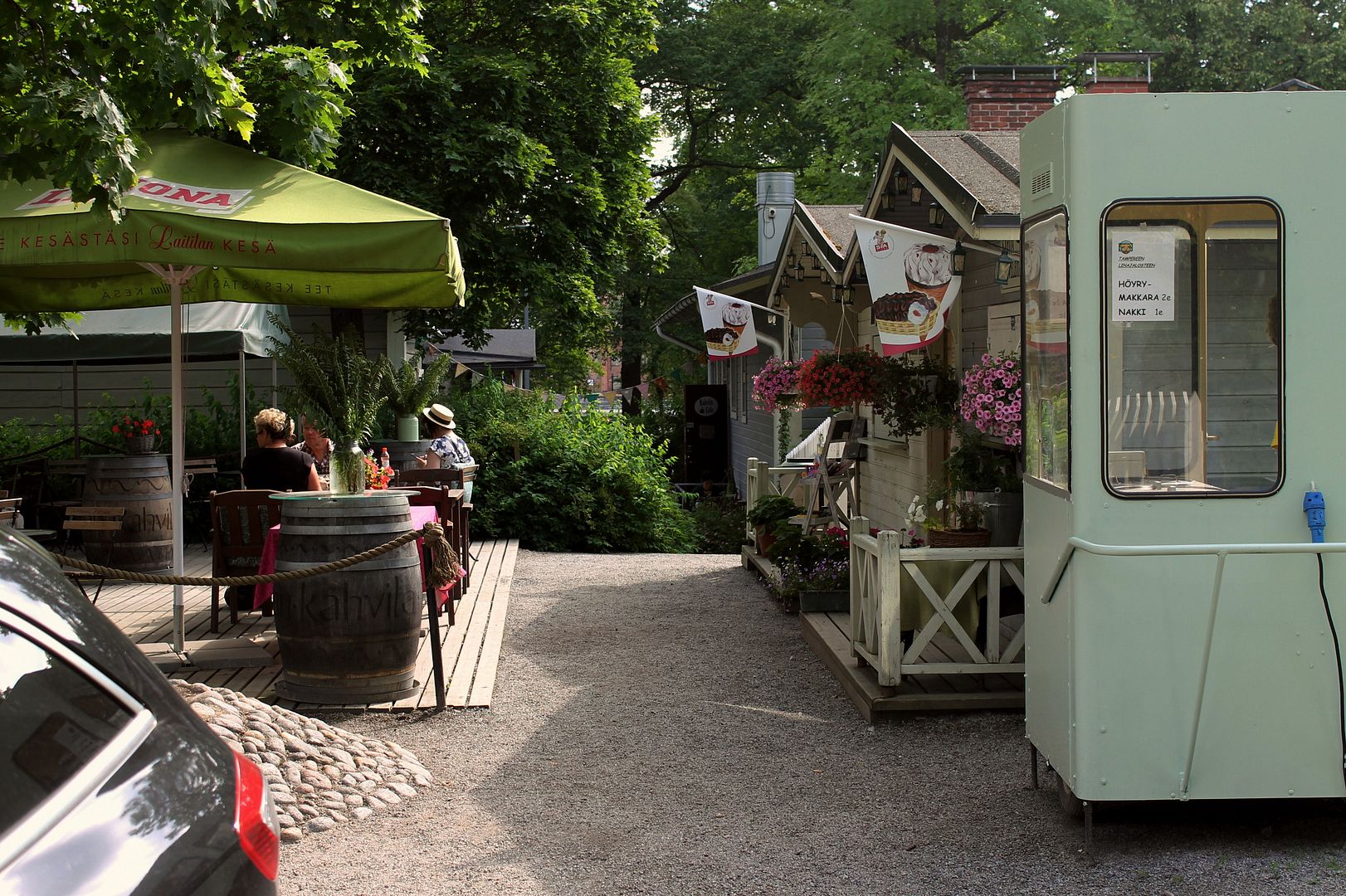 Lauantaina oli ensin näytöksen kenraaliharjoitukset, jonka jälkeen meikätyttö tietysti halusi kierrellä vintagekojuja. Arttu vaan pudisteli päätään aina kun ostoskuormani kasvoi yhdelläkin vaatteella :D Tarinamaisessa muotinäytöksessä esitin pääroolia, neiti Suomea/rouva Suomista, ja mulla oli kolme asunvaihtoa. Tämän vuoden teemana oli hatut. Kyllä siinä hengästyä ehti, vaikka kerkisin lopulta ihan hyvin vaatteeni vaihtaa :) Esiintymisasuni olivat 20-, 40-, ja 60-luvuilta. 20-luvussa asukokonaisuus oli lainattu, muissa osioissa vaatekerrat olivat omasta kokoelmastani. Tapahtumassa oma asuni oli punainen kukallinen 1940s repromekko, suomalaisen
Cherise Designin
käsialaa.
(On Saturday we had rehearsals for the fashion show first, and then I had a chance to shop vintage! My bf Arttu just shook his head every time when I bought something. He propably thought I went a bit too far with my shoppings. I disagree :D In a storylike fashion show I had a leading role, and I had three outfit changes. This time the theme was vintage hats. I did not have much time to change but I am glad I succeeded without being late. My outfits were from 20s, 40s and 60s. 1920s dress and hat were borrowed but other clothes were from my own collection. My personal outfit during the event was this 1940s reproduction red floral dress by Finnish "Cherise Design".)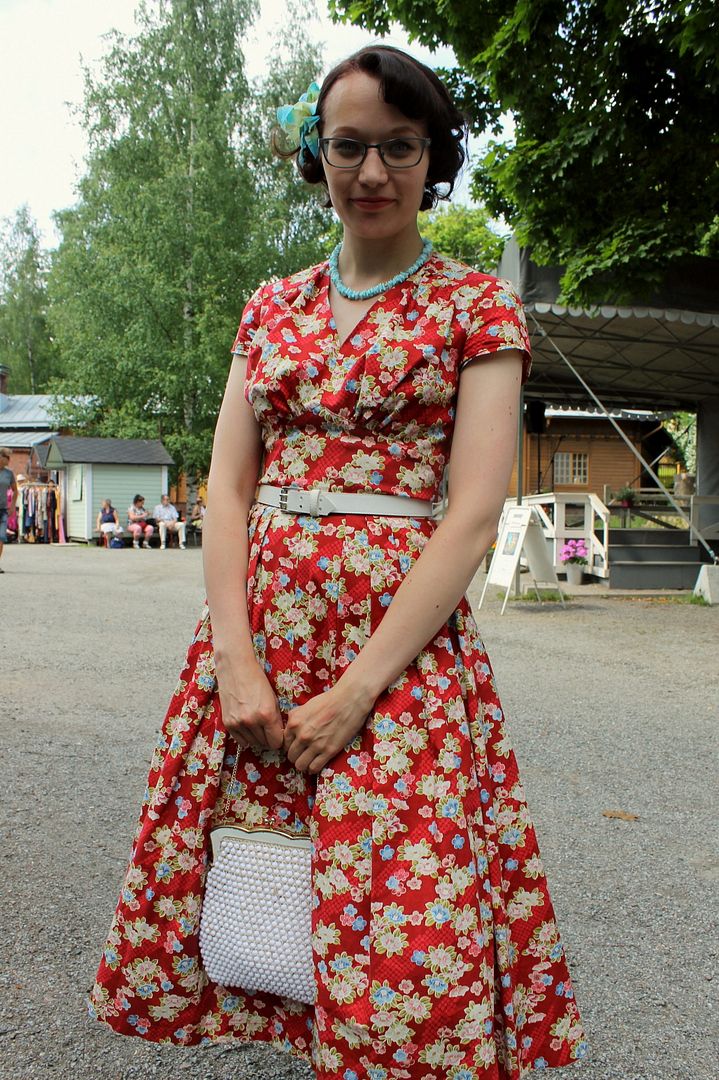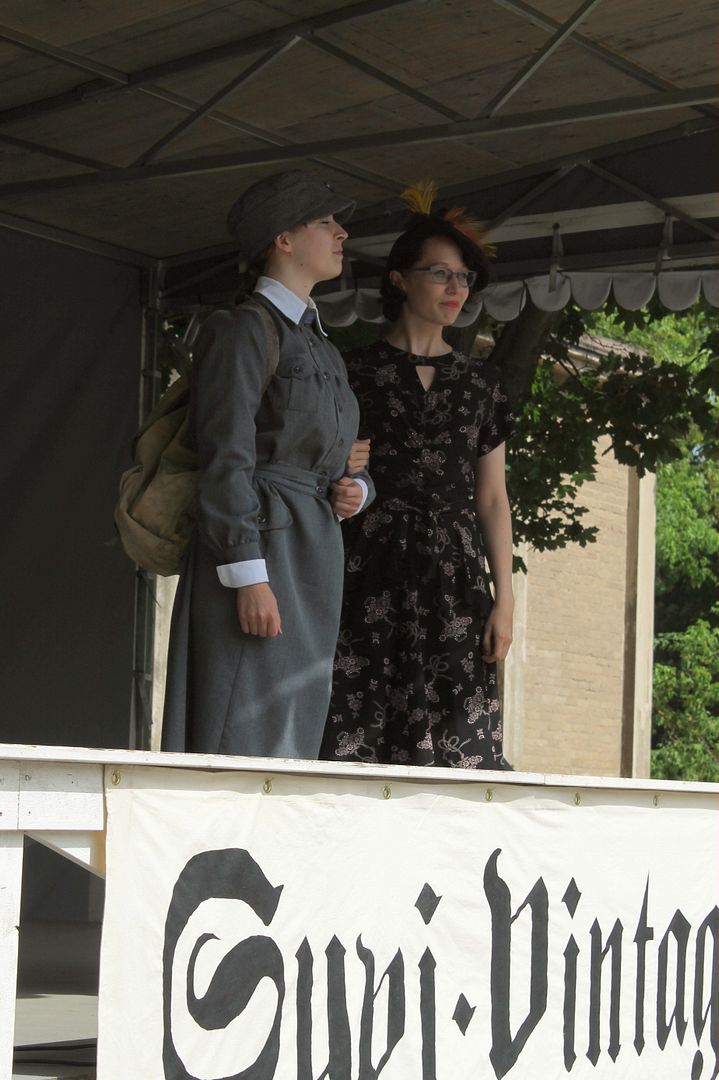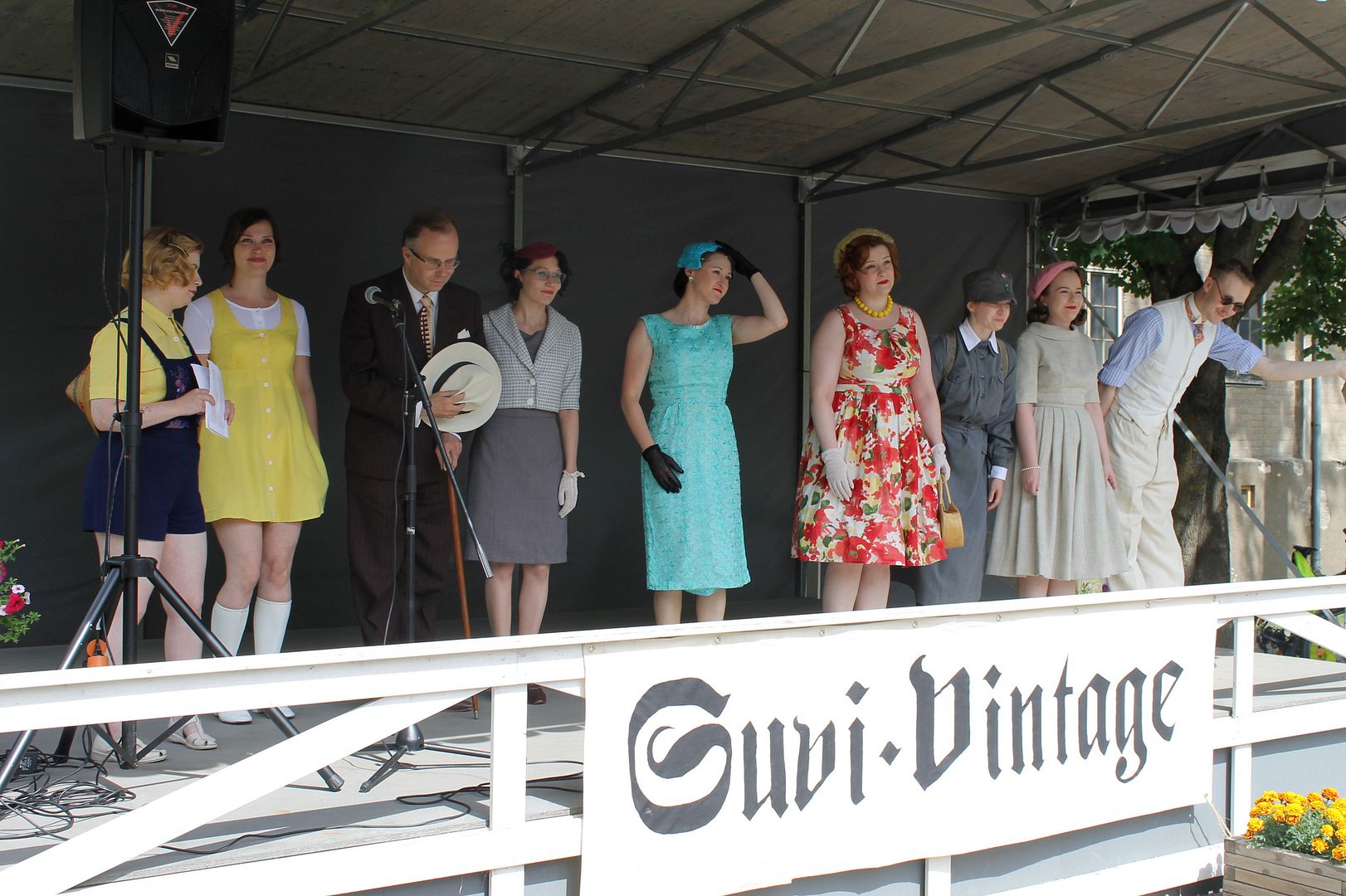 Näin tietysti myös suloista
Miss Liida Ineziä
! Liida oli myös mukana muotinäytöksessä. Ennen sitä säikyttiin kukkakärpäsiä, koska luulimme niitä ampiaisiksi... Väri hämäsi liikaa :D
(Of course I also met with this sweet girl, Miss Liida Inez! Liida was also participating in the fashion show. Before that we run away from hover-flies because we thought they were bees... Colour was too misleading :D)
Näytöksen jälkeen käytiin drinksuilla, syötiin ja otettiin päikkärit, ja hotellilta mentiin Teerenpeliin juomaan vähän lisää. Minä halusin tietenkin skumppaa, koska mitä olisikaan ilta burleskin parissa ilman sitä :D Oli siis tiedossa Suvi-Vintagen viralliset jatkot, Teerenpeli Tease -ilta. Esitykset olivat mielettömiä ja meillä oli tosi hauskaa! Pahoittelen puhelimella otettujen kuvien laatua, mutta järkkäriä ei tilaisuuteen saanut viedä.
Jatkettiin tietysti iltaa burleskin jälkeenkin ja vietettii loppuilta Treellä asuvan serkkuni seurassa. Lauantai-ilta oli oikein mukava! Sunnuntaina oli vähän kohmelo, mutta päästiin silti yllättävän aikaisin ajamaan takaisin kohti kotia. Mulla alkaa olla entistä enemmän sellainen tunne, että taidan ensi vuonna hakea Tampereellekin yliopistoon. Joensuu alkaa jo vähän nyppiä.
(After the fashion show my bf and I went to have a drink and lunch, took a nap in our hotelroom and then headed to Teerenpeli to watch burlesque. It was Teerenpeli Tease night, and it was official afterparty for Suvi-Vintage. Of course evening with burlesque is nothing without sparkling wine, so my boyfriend bought us a bottle :D Show was awesome and we had fun. Sorry for these bad quality phone pictures but it was not allowed to take systems camera for the show.
We continued our night after the burlesque show and spent the rest of the night with my cousin who lives in Tampere. Nice evening! We had a bit of hangover on Sunday, but surprisingly we managed to drive back to Joensuu by day. I've started to think that I might try to apply to University in Tampere next year. I have had enough of Joensuu.)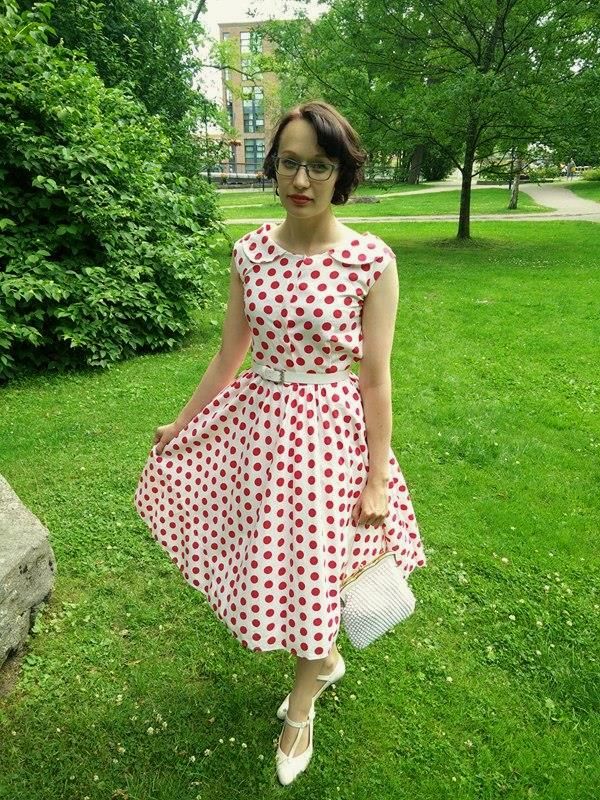 Haluttiin ehdottomasti kuvaan India Wilden kanssa, joka veti upean sooloesityksen debyyttinä! Tykättiin tosi paljon :)
(We wanted a picture with India Wilde, who made her debut solo performance that night! We liked it a lot!)
Ehdottomasti piti tietenkin saada kuva myös italaialaisen kaunottaren, Scarlett Martinin kanssa. Huh!
(of course we also wanted a picture with this Italian beauty, Scarlett Martini!)
Oli ihana viikonloppu! Esittelen ostokseni myöhemmin :)
(I had a fun weekend! I will show you my shoppings later :)