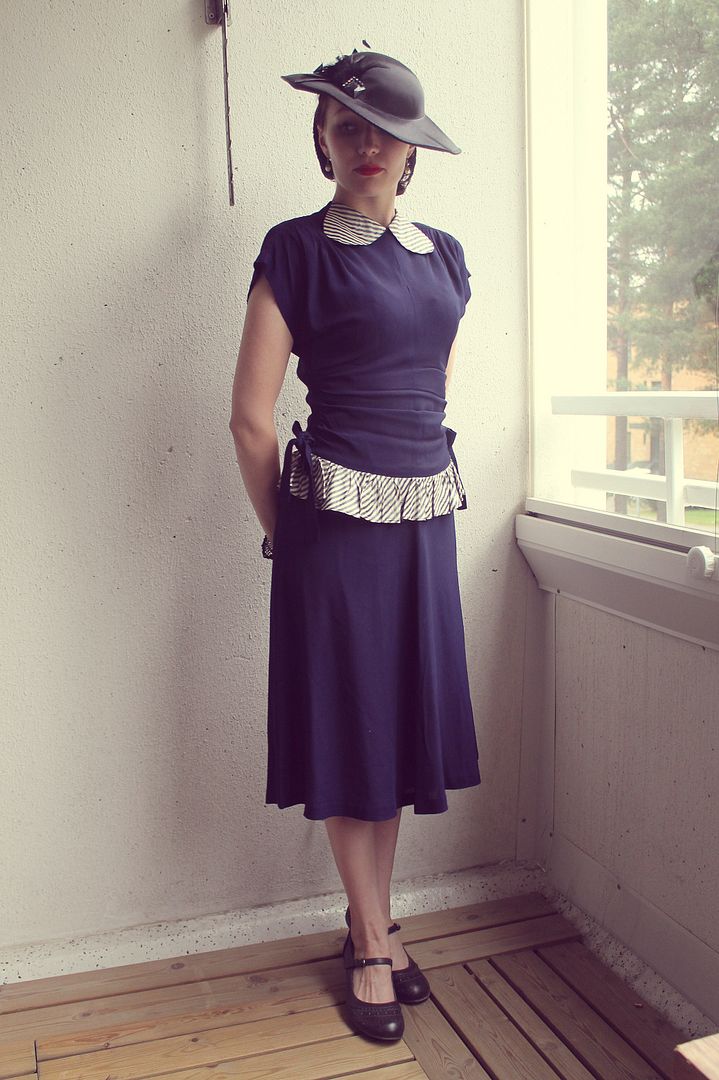 Viime viikon torstaina käytiin taas metsästämässä huonekaluja tuloksetta. Kirjahyllyn tartteisin lukuisille kirjoilleni ja posliiniesineille. Samoin ruokapöytäkään ei olis pahitteeksi. Etsin nimenomaan 50- ja 60-luvun tyyliä. Tuo 50-luvun lehtiteline löytyi Nurmeksen kierrätysliikkeestä, ja se on täydellinen vanhoille Hopeapeili -lehdilleni. Me ei olla saatu tätä asuntoa ihan vieläkään kuntoon, vaikka kuukausi sitten saatiin avaimet :D Onneks nyt on viel lomaa jäljellä pari viikkoa niin ehkä tässä jotain sais aikaiseksikin. Muuten, mie muutan 1.8 jo virallisesti tähän uuteen asuntoon Artun avopuolisoksi. Keskiviikkona vuokrasopimusten allekirjoittamiset. Määräaikainen sopimus oli siis alunperin elokuun loppuun, mutta saatiin vuokraemännän kanssa sovittua näistä, onneksi :)
Huonekalujen metsästysreissullamme mulla oli ylläni tämä 40-luvun laivastonsininen puku ja musta lierihattu.
(We went for a vintage furniture hunt again last week. Did not find anything! I need a shelf for my books and figurines. And a dining table.. I search for specifically 50s or 60s interior. This 1950s magazine rack was a find from a thrift store in Nurmes and it is perfect for my vintage magazine collection. We have not had time nor space to decor our apartment properly, though we got our keys already one month ago :D Still have lots of stuff in boxes.. Well, there's still two weeks left of my holiday, so I hope I'll get things done during that period. By the way, I will officially move in with Arttu first of August! On Wednesday I'll sign the papers.
For our thrifting day, I wore this 1940s navy blue dress with a black brim hat.)