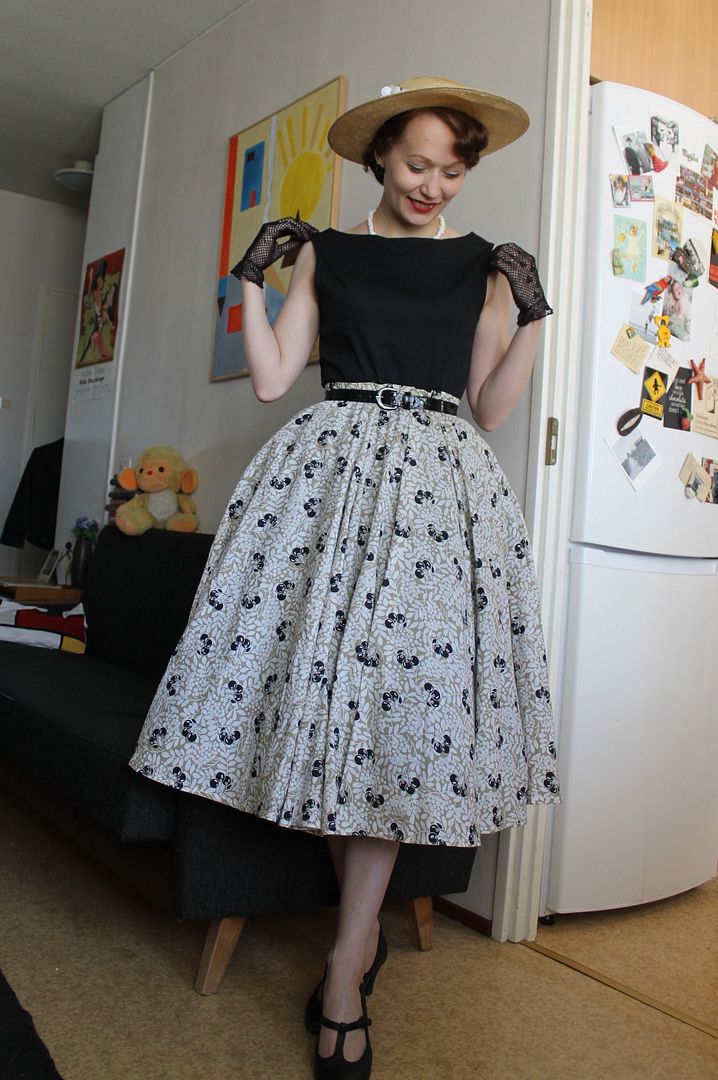 Muutama päivä sitten sää oli ihanan kesäinen ja lämmin, joten päätin kävellä kirpputorikierrokselle. Enpä olisi pyörällä pystynytkään ajamaan näin muhkean helman kanssa. Hattu on uusi löytöni, ja sopii niin täydellisesti hellepäiville auringolta suojaamaan. Muut vaatekappaleet ovat vanhoja, ja tuo kellohame on täydellisin mitä minulta löytyy - etenkin oikeanlaisen alushameen kanssa. En ole vaan vieläkään varma, onko tuossa kirsikoita vai mustaherukoita. Olen todella tyytyväinen tähän asukokonaisuuteen, etenkin kun olen kärsinyt inspiraation puutteesta viime aikoina. Naisellista ja näyttävää. Kirpputorilta en kovin paljoa löytänyt uutta, mutta ei se mitään. Alkaahan tätä tavaraa olla sen verran, että täytyy ruveta käymään läpi poismyytäviä ja heitettäviä. Kahden viikon päästä pääsemme muuttamaan uuteen asuntoon. Minä tosin virallisesti muutan sinne vasta myöhemmin, mutta voimme jo etukäteen viedä minunkin huonekalujani sinne. Ajatus oikeasti yhteisestä asunnosta tuo perhosia vatsaan.
(This outfit was from few days ago when I walked to nearest flea markets on a sunny day. This brim hat is one of my newest finds and it protects me from the sun perfectly. Other pieces are old, and this full circle skirt is the most beautiful I own. I am just not sure are those cherries or black currants. I was quite pleased with this look, because I have been undergoing a lack of inspiration. This look is feminine and dashing. I did not make many finds from the flea markets, but that is okey. I need to get rid of things anyways, because we are moving in our first home in two weeks. Idea of living together with Arttu gives me butterflies in my stomach.)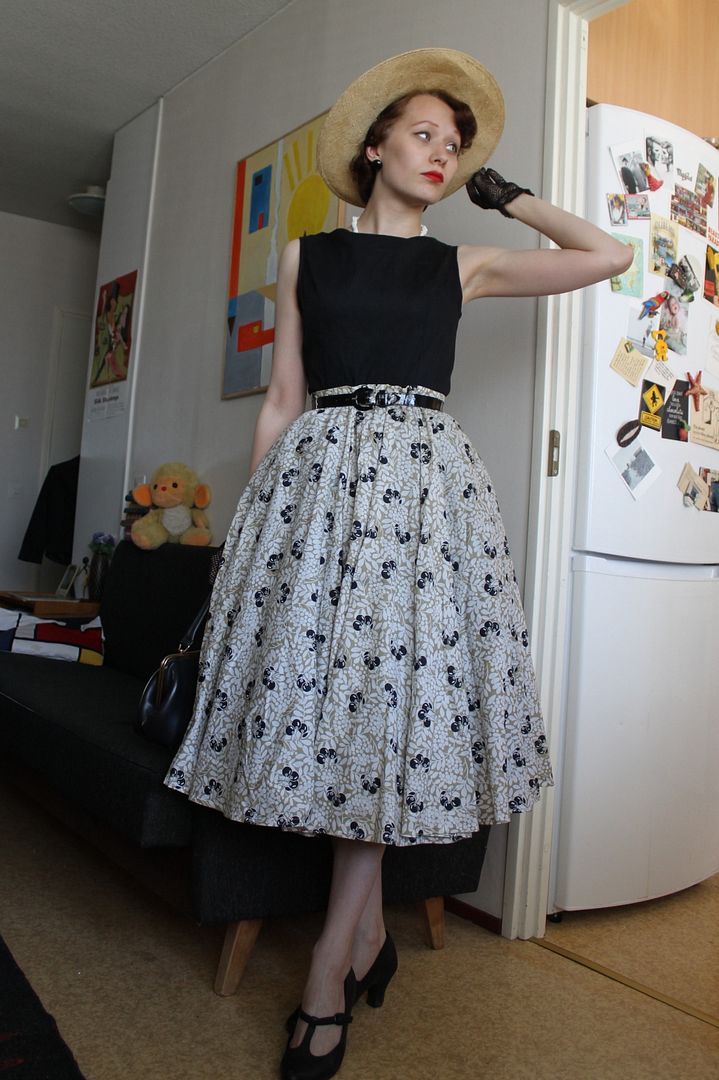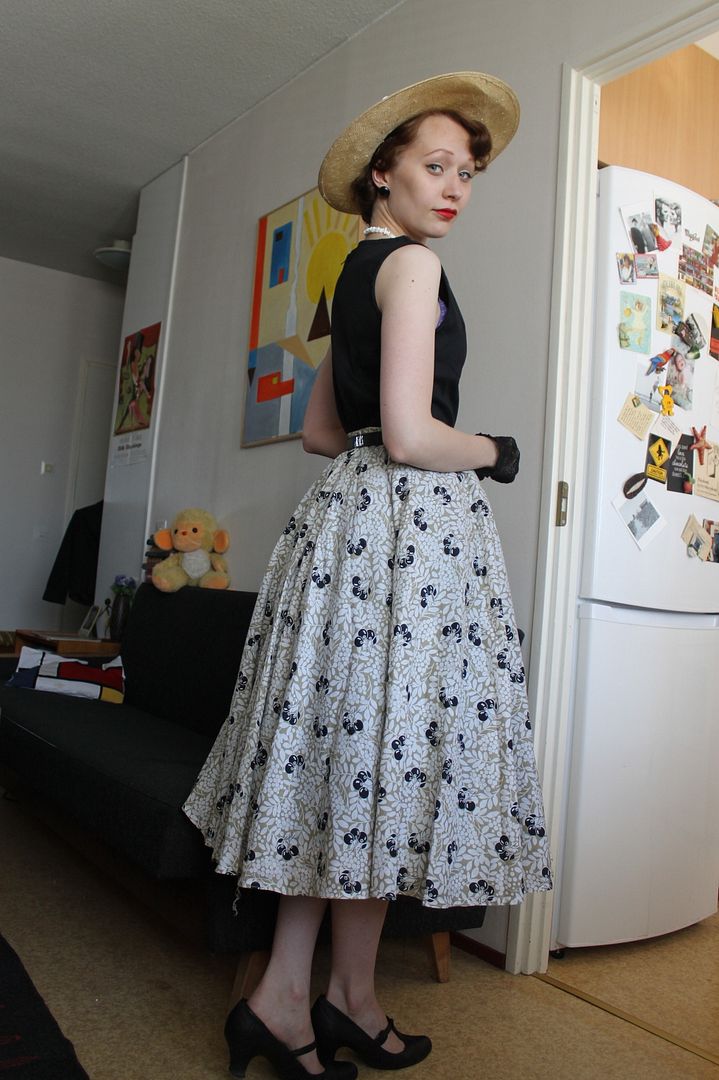 Olen ollut koko viikonlopun kotonani Artun kanssa. Meidän oli alunperin tarkoitus lähteä eilen Osuuskaupparockiin, mutta jätimme liput ostamatta. Ihan hyvä, ettei lähdetty, sillä vettä satoi koko päivän. Tuskin siellä olisi ulkona sateessa viihtynyt. Ollaan katsottu X-Men -elokuvia maratonina, ja aiomme tänään ehkä mennä elokuvateatteriin katsomaan Apocalypse. Minulla on niin ristiriitaiset fiilikset näitä elokuvia kohtaan. X-Men (2000), X-Men: First Class (2011) ja X-Men: Days of Future Past (2014) olivat tosi hyviä, mutta muiden sarjan elokuvien viehätys kaatui erityisesti huonoihin ja raivoamista herättäviin henkilöhahmoihin. Nukahdin X-Men II:sen aikana, ja Jean Grey on yksi ärsyttävimmistä hahmoista mihin olen koskaan törmännyt! Wolferinen elokuvat ovat nyt muutenkin tylsiä, ja hahmo säälittävä. En tiedä millainen on sarjakuvissa, mutta omasta mielestäni Wolferinelle sopisi juuri sellainen pelkästään katkera, jäyhä luonne, eikä Jean Greyn perään itkevä hemppistelijä :D Saa nähdä, mitä uskaltaa odottaa Apocalypseltä.
Kiitos todella paljon viime postaukseen saamistani kommenteista. Olen nyt noin viikon verran kokeillut parempaa ruokavaliota, eikä se olekaan niin vaikeaa ollut. Etenkään, kun lupasin itselleni, että joskus saa myös herkutellakin, eikä olla liian ankara itselleen. Kunhan se ei vaan mene jokapäiväiseksi taas.
(We've spend whole weekend at my apartment with Arttu. Yesterday we were supposed to go to an outdoor rock festival, but we did not buy tickets. In the end it was a good choice to stay indoors, because it rained heavily during the day. We have just been watching X-Men movies and today we will go to see the newest one, Apocalypse, to the cinema. I have quite mixed feelings of the film series. X-Men (2000), X-Men: First Class (2011) and X-Men: Days of Future Past (2014) were great, but other films of the series were so bad mostly because of bad characters. Boring and so annoying. I fell asleep during X-Men II and Jean Grey is one of the most bitchy characters I've ever seen! Wolferine's movies were boring and his character is pitiful. I don't know how he is in the comics, but I think Wolferine should just be stout and bitter. He should not cry over Jean Gray and be so softy :D I have no idea what I will expect from the new film.
Thank you all for your comments in my last post. I've been keeping my healthier lifestyle for a week now, and it has not been so hard. I promised myself that occasionally, like once a month, I can eat some junk too, so I won't be too harsh on myself.)