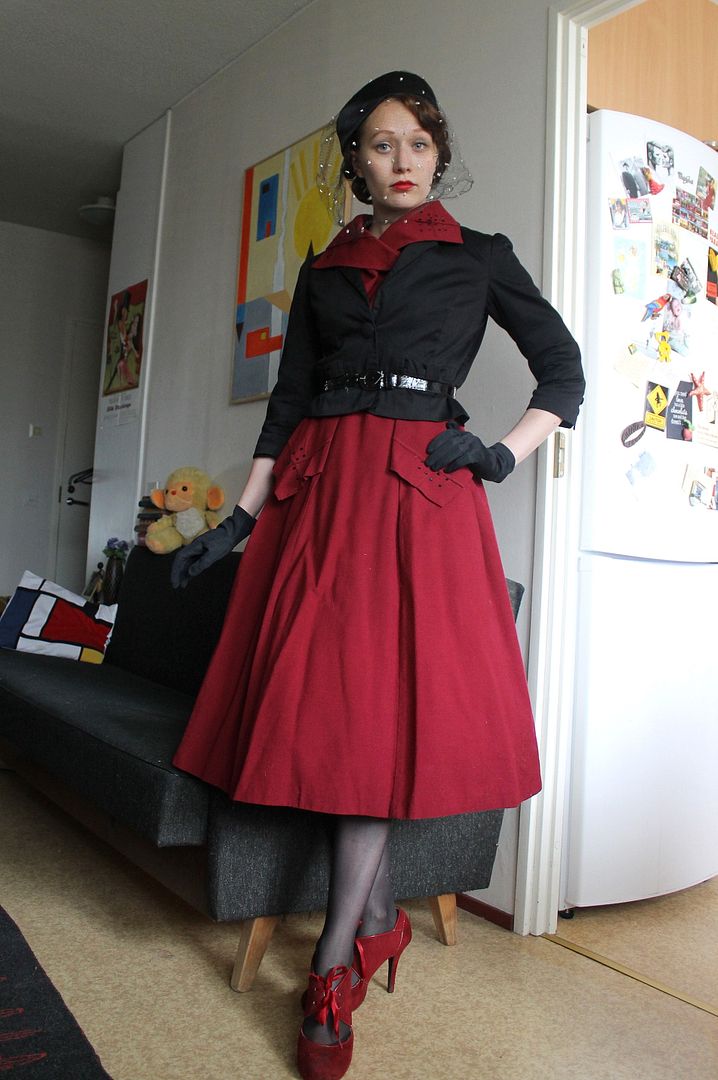 Eilen kirjoitin henkilökohtaiselle facebook-sivulleni pitkän tilapäivityksen ruokavaliostani. Viikonlopun jälkeen aloin miettimään, että jaksanko mie jatkaa elämääni näin. Se, että viikonloput menee kosteissa tunnelmissa kaljan parissa, sitä kärsii krapulaansa vielä maanantaille ja arkiviikkoisin jatkaa roskalinjalla. Vehnää, rasvaista ruokaa, herkkuja.. Muutama vuosi sitten kävin ravitsemusterapeutilla nirson ja epäterveellisen ruokavalioni takia, ja sen, kun masennuksen takia painoin enää 40 kiloa. Minulle sanottiin siellä, että minun täytyy syödä paljon rasvaista (ja epäterveellistä) ruokaa, valita täysmaito kevyen sijaan, paistaa kaikki suuressa määrin voita. Tärkeintä oli, että painoni nousee. Nyt kun olen painoni saanut vihdoinkin nostettua siihen silloiseen tavoitteeseeni, en ollut siltikään lopettanut roskaruuan syömistä. Olen koukussa. Harvoin lautasellani näkyi kasviksia. Olo on jatkuvaan todella huono ja vatsa turvonnut. Oksettaa.
Kirjoitin facebookiin vaan kaikki ajatukseni ylös ja pyysin apua, ja apua sain! Ihanat kaverini antoivat tukensa ja neuvoja minulle paremmista ruoka-aineista, jotka kuitenkin pitävät painon nosteessa tai kurissa. Koska ilmapiiri on ollut niin kannustava, aion varmasti jatkaakin vähän terveellisemmällä linjalla. Tuki on tärkeää tällaisissa asioissa. Kaljottelut jää nyt pois. Sallin kuitenkin itselleni kerran kuussa parit lasilliset vaikka viiniä jos siltä tuntuu. Liian ankara en halua olla, etten ala itseäni vastaan kapinoimaan :D Enkä kaiken lisäksi edes tykkää alkoholin käytöstä, ja inhoan itseäni hiprakassa. Viimeisen vuoden aikana olen saanut tupakoinninkin pidettyä siinä, että poltan vain jos juon (välillä lipsuu). Olen aika ylpeä itsestäni, sillä ennen sitä poltin askin päivässä. Jos en nyt juo alkoholia, ehkä se tupakkakin jää pois kokonaan. Ainakin päätin jo muutama kuukausi sitten, että silloin kun Artun kanssa yhteen muutetaan, lopetan tupakoinnin kokonaan. Siitä yritän pitää kiinni, onhan se terveydelle vaarallista.
(Yesterday I wrote a long post to my personal Facebook page about my health and diet issues. After last weekend I started to think if this is the way I want to carry on. Thing is, I drink alcohol almost every single weekend, I suffer my hangover until Monday and then I continue to eat junk. Wheat, greasy food, treats... Few years ago I went to a dietician because of my picky diet and because my depression caused me that I suddenly weighed only 40kg. My dietician told me that I need to eat greasy and unhealthy food, so that I will gain weight faster, and it was the most important thing back then. Now that I have reached my goal weight, I still have not stopped eating junk food. I am hooked. I rarely eat any vegetables, and I feel disgusting and my stomache is constantly swollen.
I wrote down my thoughts on my Facebook page and asked for help, and help I got! My lovely mates gave me their support and gave me advices on healthy way of gaining weight. Because the atmosphere was so supportive, I bet I will continue my healthier diet. Support is very important for me. No more beer from now on, but I will allow myself couple glasses of wine for like once a month if I want to. I don't want to be too harsh, otherwise I start to rebel against myself :D I don't even like drinking that much! I hate myself when I am drunk. I have also diminished my smoking during this past year. I smoke only when I drink, but if I stop drinking, perhaps I will stop smoking too. I am quite proud of myself for not smoking sober (sometimes it slips), because over one year ago I still smoked like one case a day. I really try to stop it for good, it is so dangerous.)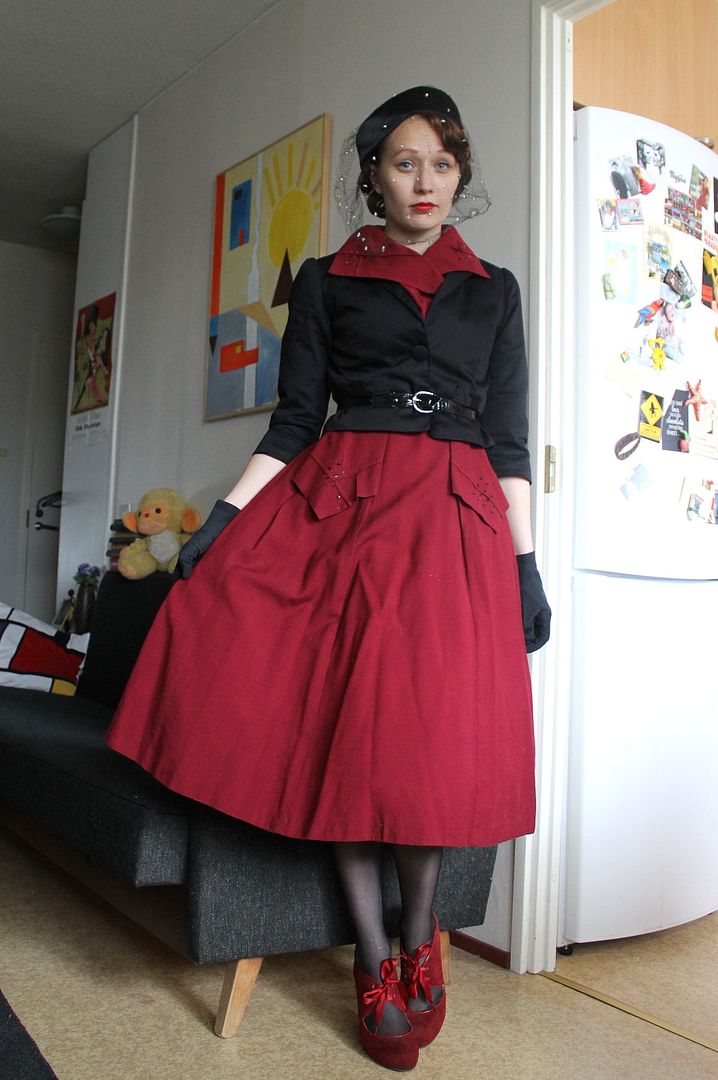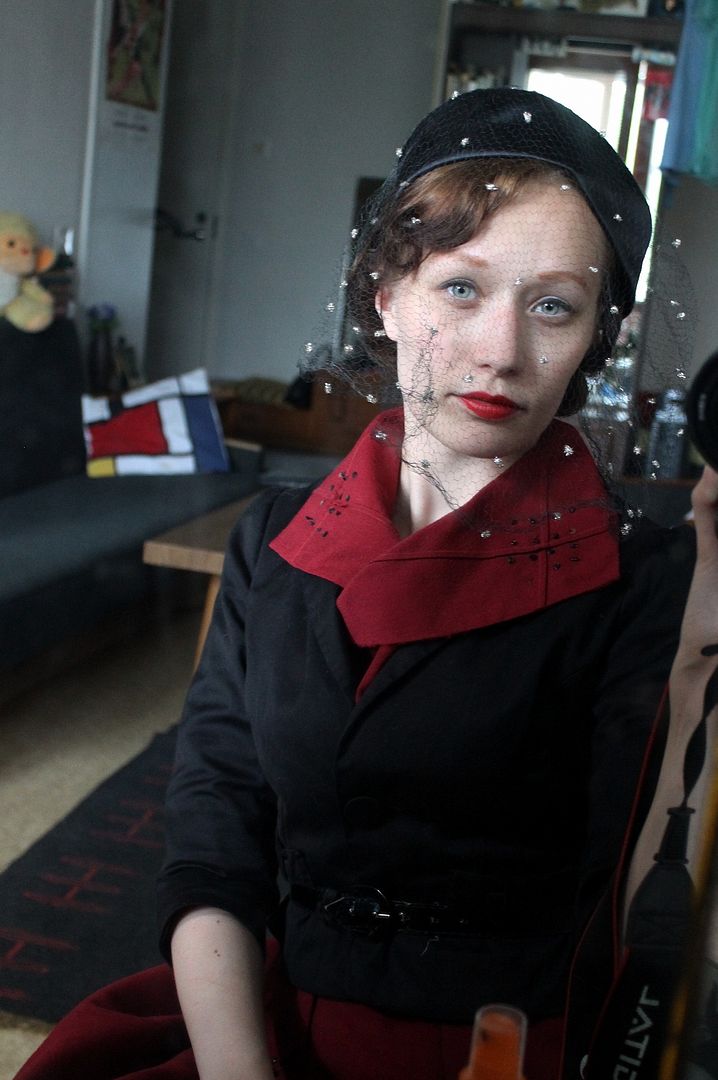 Yleensä aterioilla olen syönyt aina pastaa tai nuudeleita, vehnäisiä siis, jolloin vatsa on turvonnut ja sitä on sitten itkenyt. Ostin nyt vaihtoehdoksi täysjyväpastaa, ja gluteenitonta myös aion hankkia. Ne eivät kuulemma ole niin paha vaihtoehto vehnäpastalle. Tietenkään niitäkään ei älyttömästi kannata syödä. Eilenkin tein pastan sijaan kanan kanssa tuoretta ananasta, kurkkua ja paprikaa pannulla. Kasvisvaihtoehto oli paljon parempaa kuin vehnämössöpasta. Vaihdoin myös vehnäisen paahtoleivän ruisleipään. Vehnäähän en tietenkään voi aina vältellä, mutta vähentäminen jokapäiväisestä on jo tosi hyvä juttu.
Vatsan turpoamisen takia en mahtunut enää joihinkin vintagepukuihini, mikä omalta osaltaan on harmittanut suuresti. Se oli myös yksi syy huonon voinnin lisäksi, miksi tahdon eroon turvottavista ruoka-aineista. Oli myös kiva kuulla muutamilta kavereilta, että eilinen tilapäivitykseni oli laittanut heidätkin miettimään omia valintojaan elintavoissa ja ruokavaliossa. Liikunnallisia juttuja en ole jaksanut miettiä vielä. Teen fyysisesti raskasta työtä ja pyöräilen noin kymmenen kilometriä päivässä. Joskus harvoin käyn lenkillä, mutta sitä lisään ehkä sitten, kun ruokavalio ja paino on ensin kunnossa. Mitään näkyviä vatsalihaksia ja haboja en ole nyt hakemassa, eli salille minua ei saa lähtemään tosiaankaan, vaan haluan normaalit, terveelliset elämäntavat.
Voisin kai nyt lopuksi vielä kertoa eilisen päivän asukokonaisuudestanikin :D Ylläni on siis kirpparilta löytynyt musta jakku, 60-luvun alun viininpunainen mekko ja vintagehattu kivalla harsolla. Inspiroiduin suuresti new look -muotikuvista, ja halusin pukea tämän hatun ylleni. En edes käynyt missään erikoisessa tämä asu ylläni, paitsi kaupassa. Joskus vain tekee mieli laittautua kotonakin :)
(Usually I have eated wheat pasta and noodles in almost every meal, and it has caused my swollen stomache and crying. Yesterday I changed wheat pasta into wholegrain and gluten-free. I heard that they are not that bad for stomache. Of course I won't eat pasta daily anymore. For example yesterday I made some chicken with fresh pineapple, cucumber and paprika on frying pan. It was much more delicious than pasta. I also changed wheat toast into rye bread. Obviously I can't always avoid wheat, but decreasing it from my daily eatings is a big change already.
Because of my swollen (and sick) stomache I cannot fit into some of my sweetest vintage dresses anymore, and it is one of the reasons (next to disgusted feeling) why I want to change my diet. It was also nice to hear from few of my friends that my post gave a lot of thinking about their own diet and way of life and how they could change it. I have not thought about exercising. I already do physical work and I cycle like ten kilometres in a day. I don't even want to have visible abs and biceps, so I can't even consider about going to a gym. I just want healthy and normal lifestyle.
Now I can say something about my outfit of the day :D I am wearing a black jacket from thrift store, early 60s burgundy dress and vintage hat with a nice veil. I was inspired after watching some fashion photos from the 50s again and I wanted to wear this lovely hat.)