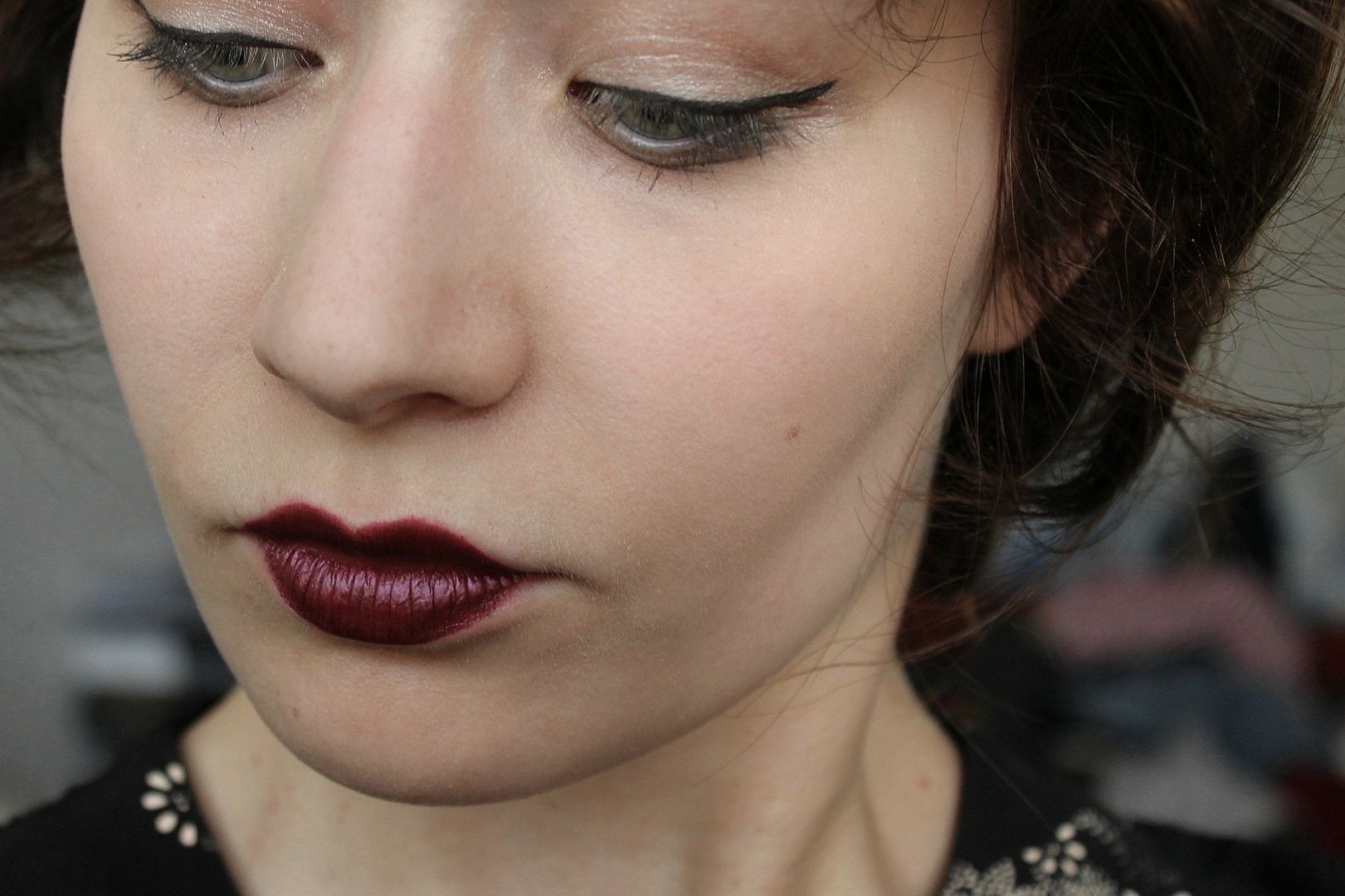 Ostin tuossa eilen uuden mattahuulipunan nimeltään "Siren", NYX Cosmeticsilta ja nyt täytyy tehdä hehkutuspostaus. Se on hyvin tummanpunainen, jopa violettiin päin menevä. Väriä oli aika vaikea vangita kuvaan. En ole käyttänyt arkena muita huulipunia kuin kirkkaanpunaista, joten näin tummaan täytyi todellakin totutella hetki peilin edessä. Tummempaa sävyä käytän yleensä 20-luvun henkisten asujen kanssa. Koska en ole ennen näin tummaa huulipunaa edes omistanut, olen aiemmin tummennusta lisännyt kirkkaanpunaisen huulipunan päälle luomiväreillä leikkien :D Nyt ei tarvitse lähteä niilläkään sotkemaan.
Tykkään kovasti tästä Sirenin sävystä ja se sopii niin täydellisesti flapperille. Tulee vähän goottivibojakin. Testasin huulipunan eilen viihteellä käydessä ja huulia tarvitsi vain kerran korjata yhdestä kohtaa koko illan aikana. Se pysyi ihan tosi hyvin huulilla ilman pohjustuksiakin. Puna kuivui huulille nopeasti, mutta tuntui ehkä siksi myös lievästi rohtuneiden huulien takia vähän epämiellyttävältä. Aion ehdottomasti hankkia NYX Cosmeticsilta lisää mattaa ja eri sävyjä. Se on niin inhottavaa, kun mitään ei voi juoda ilman, että huulipuna kuluu heti pois. Sokokselle oli näitä tullut myyntiin ja suurin osa oli hyllyltä loppunut. Taitaa olla aika suosittu meikkituote ja edullinenkin.
(Yesterday I bought this new matt lipstick called "Siren" by NYX Cosmetics, and I had to make a post about it's greatness. This colour is very dark red, or even violet. It was not easy to capture the right colour shade with my camera. I have not used much any other lipsticks than bright red on my freetime, so I had to stare at myself through mirror for awhile to get used to this shade. I usually wear darker shade on my lips when dressing in 1920s inspired outfits. I have not own this dark lipstick before, so previously I have played with my red lipsticks and darker eyeshadows :D Now I don't need to mess up with them anymore.
I really like this shade and it is perfect for a flapper girl. I sense a bit goth vibes in it too. I tested this lipstick yesterday when I went out and I needed to reapply only once and only in one corner of my lip. It stayed on my lips so well even without any priming. This lipstick dryed very fast, and it felt a bit uncomfortable because of mildly chapped lips. Still, I am definitely going to get more lipsticks from NYX cosmetics. I hate it when I can't drink anything without immediately reapplying lipstick.. Most of the products were sold out from the shop where I bought this one, so one could say that these are quite popular and affordable makeup products?)