Vuosi sitten 14. toukokuuta aloin seurustelemaan virallisesti Artun kanssa, ja eilen juhlimme ensimmäistä vuosipäiväämme. Ensimmäinen vuotemme aikana on ehtinyt tapahtua paljon ja elämää on suunniteltu eteenpäin. Syksyllä olisi edessä yhteenmuutto, kunhan siisti ja tilava asunto löytyy. En malta odottaa, että pääsen jakamaan kodin toisen kanssa.
Päivä oli todella mukava. Kävimme urheilubaarissa katsomassa ensin aamupäivällä Suomi-Ranska -jääkiekko-ottelun ja sen jälkeen käytiin syömässä ravintolassa, Joensuun Martinassa. Tykkään kovasti Martinan tunnelmallisesta miljööstä ja hinta-laatusuhde vaikutti olevan ihan kohdillaan. Syönnin jälkeen käytiin vielä torin keskelle pystytetyssä BePop Streetin pop up -terassilla juomassa yhdet ja seurattiin Pride-kulkuetta (jossa olisin kyllä itsekin halunnut olla mukana). Päivän ohjelmamme ajaksi laitoin ylleni 50-luvun mekon, jonka aikoinaan löysin kirpputorilta jollain parilla eurolla. Harmaa pikkutakkini on myös 50-lukua, tai 60-luvun alkua. Hattu on 40-lukua. Tykkään tästä asukokonaisuudesta todella paljon, ja olen sitä kerran aiemmin pitänytkin.
Nämä kuvat on otettu Artun puhelimella, joten pahoittelen rakeista laatua. Kameraa en jaksanut kanniskella mukanani.
(One year ago, 14h May, Arttu and I started officially our relationship, and yesterday we celebrated our first anniversary. Lots of things have happened during our first year and we have planned our future as a couple. In autumn we will move in together, after we have found a decent and spacious apartment. I can't wait to share a home with him.
Our first anniversary was very nice. First we went to see Finland-France icehockey match to a sports bar and after the game we went to have a dinner in a restaurant Martina here in Joensuu. I really like the romantic milieu in that restaurant and food is very good quality. After our dinner we went for a one drink in a pop up terrace and watched the Pride Parade go by (I would have wanted to join the parade). That day I wore my 1950s dress, which I found from the flea market some year ago and it cost only couple of euros. My grey plaid jacket is also 50s or early 60s. Hat is 1940s. I really like this outfit, I have been wearing it once before.
These pictures were taken with Arttu's phone, so I am sorry for the quality. I did not want to carry my huge camera with me during the day.)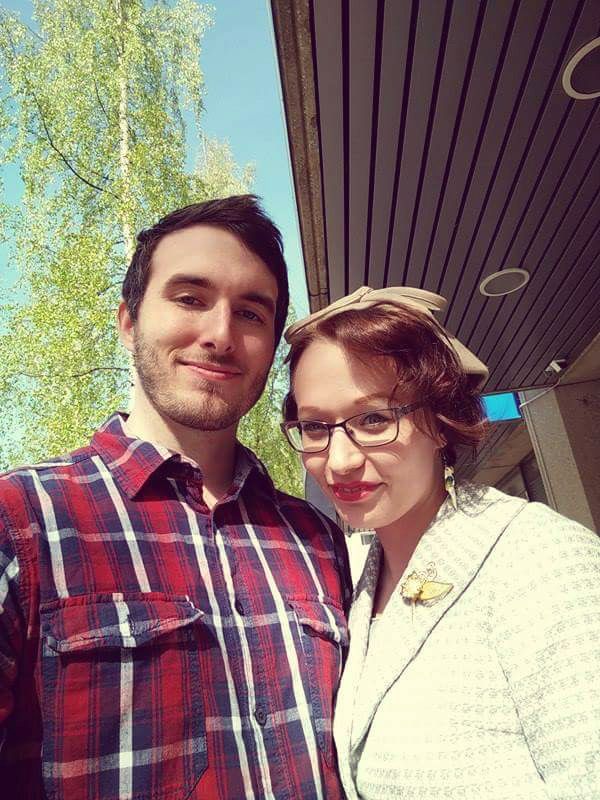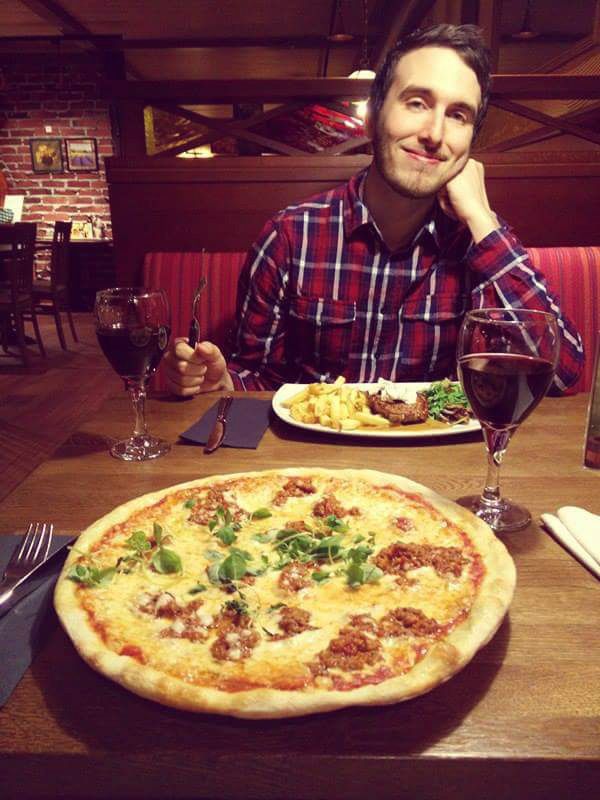 Iltapäivä vietettiin kotona päiväunia nukkuen ja laitoin ylleni iltaa varten Artun toivoman
60-luvun kimaltelevan modmekkoni
. Menimme ensin juomaan ulos viinipullon lopun ja sen jälkeen katsomaan Euroviisujen finaalin saman urheilubaarin yläkertaan (oma suosikkini oli Ruotsi ja Alankomaat, enkä pitänyt voittajabiisistä ollenkaan). Iltaa emme jatkaneet siitä mihinkään, vaan menimme finaalin katsomisen jälkeen Hesburgerin kautta kotiin. Meitä molempia väsytti sen verran ja mua vielä alkoi heikottamaankin Hesessä, joten hyvä idea oli vain lähteä nukkumaan.
Seuraavia vuosipäiviä odotellessa :) Rakastan sua Arttu.
(We spent our afternoon at home taking naps and drinking red wine from Valamo Monastery. I let Arttu to choose me an outfit for the evening and he chose 1960s glittery mod dress for me. I know how much he likes that dress. In the evening we went to sit by the river and drank the rest of our bottle of wine outside, and then we went to watch the Eurovision Song Contest's final to that same sports bar we were watching ice hockey. My personal favourites were Sweden and Netherlands, and I did not like the winner, Ukraine's song. Sorry. We did not continue our evening after the final, we just went for a burgers and then home. We were so tired and I felt very dizzy in the fast food restaurant, so it was a good decision to just head back home.
Until our next anniversary :) I love you, Arttu.)