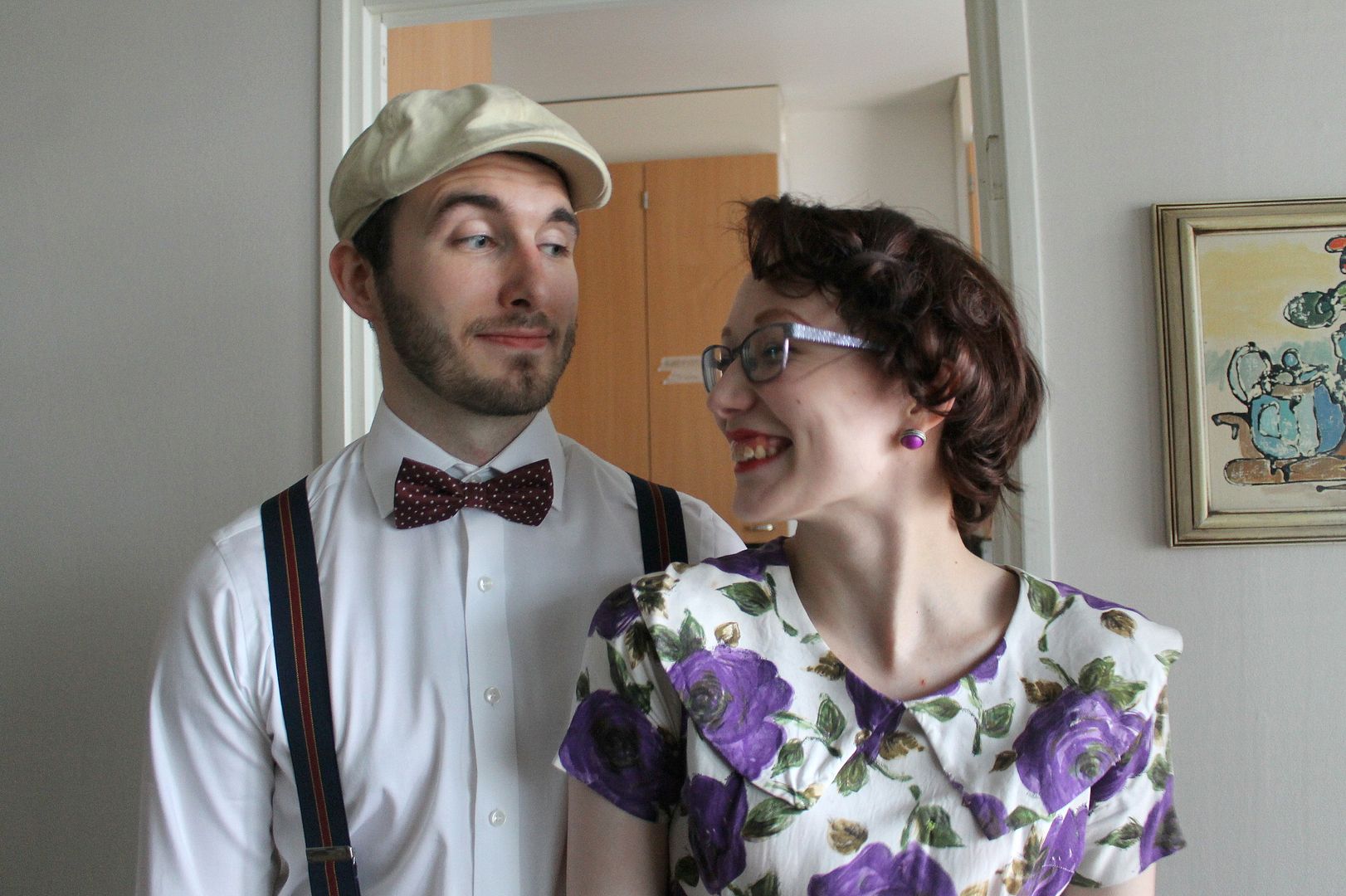 Minulla oli rehellisesti sanottuna paras ja ihanin syntymäpäivä koskaan!! Päivä meni kahvitellessa tuttavien kanssa, laittautuessa, ja harjoittelimme vähän Artun kanssa tanssiaskeleemme kuntoon. Illalla oli nimittäin tiedossa Lasiterassin lavatanssit Joensuun Teatteriravintolassa. Isosiskoltani Lauralta ja tämän poikaystävältä sain synttärilahjaksi aivan mahtavan kangaskassin! Siihen oli painettu kuva Nelson-kissastani - baskeri päässä ja huivi kaulassa. Haha aivan mahtava idea ja varmasti otan Nepsu-kassin käyttööni kauppareissuille! :D

Otettiin Artun kanssa yhteiset asukuvat, oltiin niin tyylikkäitä heh. Minulla oli ylläni Facebookin vintagekirppikseltä vuosi sitten ostamani 1950-luvun kellomekko, joka on aivan täydellinen lavatansseihin. Se on niin kaunis ja värit ovat upeat.
Artulla on yllä asukokonaisuus, joka ostettiin viime vuoden lokakuun 20-luvun iltamaan Dressmannilta. Nuo suorat housut on ihanat ja Arttu oli niiiin komea näky! Onneksi toinen ei sentään puvun takkia vielä laittanut ylle, koska tanssiessa tuli niin järkyttävän kuuma.
(I just had the best and the loveliest birthday ever!! I spent my day enjoying coffee and cake with my friends, dressing up for the evening and practising dance steps with my boyfriend Arttu. In the evening we attended a ball dance in Theater restaurant here in Joensuu. My big sister Laura and her boyfriend gave me that shopping bag as a birthday present. Isn't it cool?? It has a picture of my cat Nelson as a French chap printed on it! I will definitely use it as my shopping bag! So funny :D
My sister took some portraits of me and Arttu, don't we look stylish. I am wearing a vintage 1950s circle dress, which is perfect for idyllic dancing evenings. It is so beautiful and has amazing colours.
Arttu is wearing an outfit which was bought for him last October, when we attended a 1920s speakeasy party. I love those pressed trousers on him. He was such a handsome sight! We were glad he did not decide to wear a suit, because it got so hot in that restaurant after so many hours of dancing.)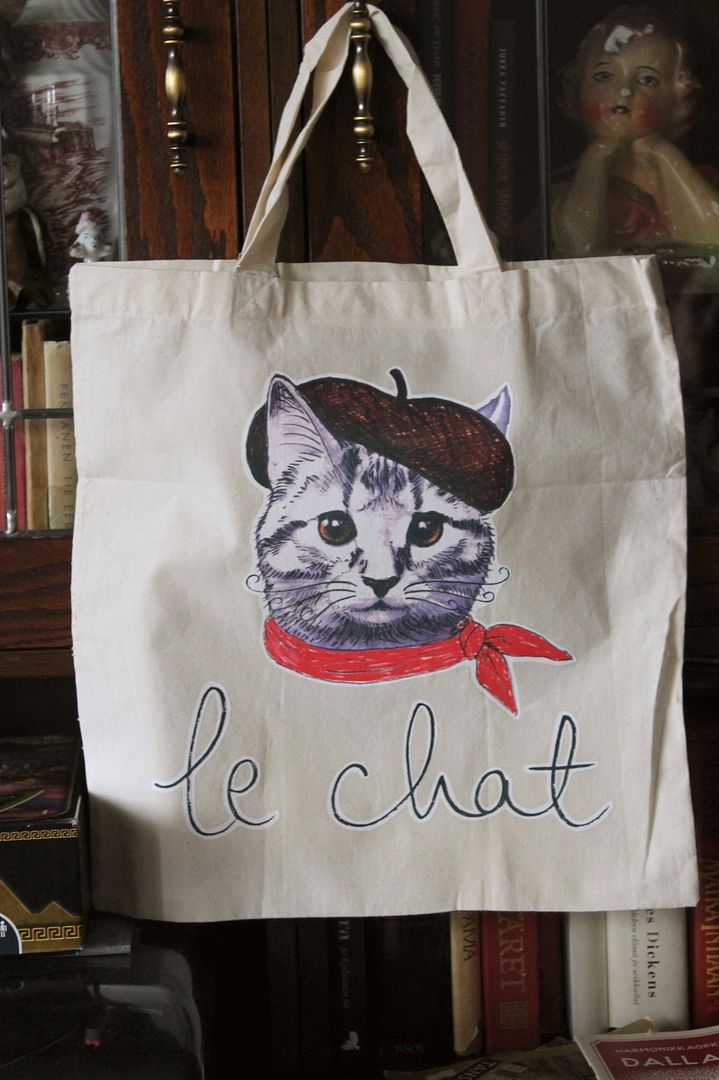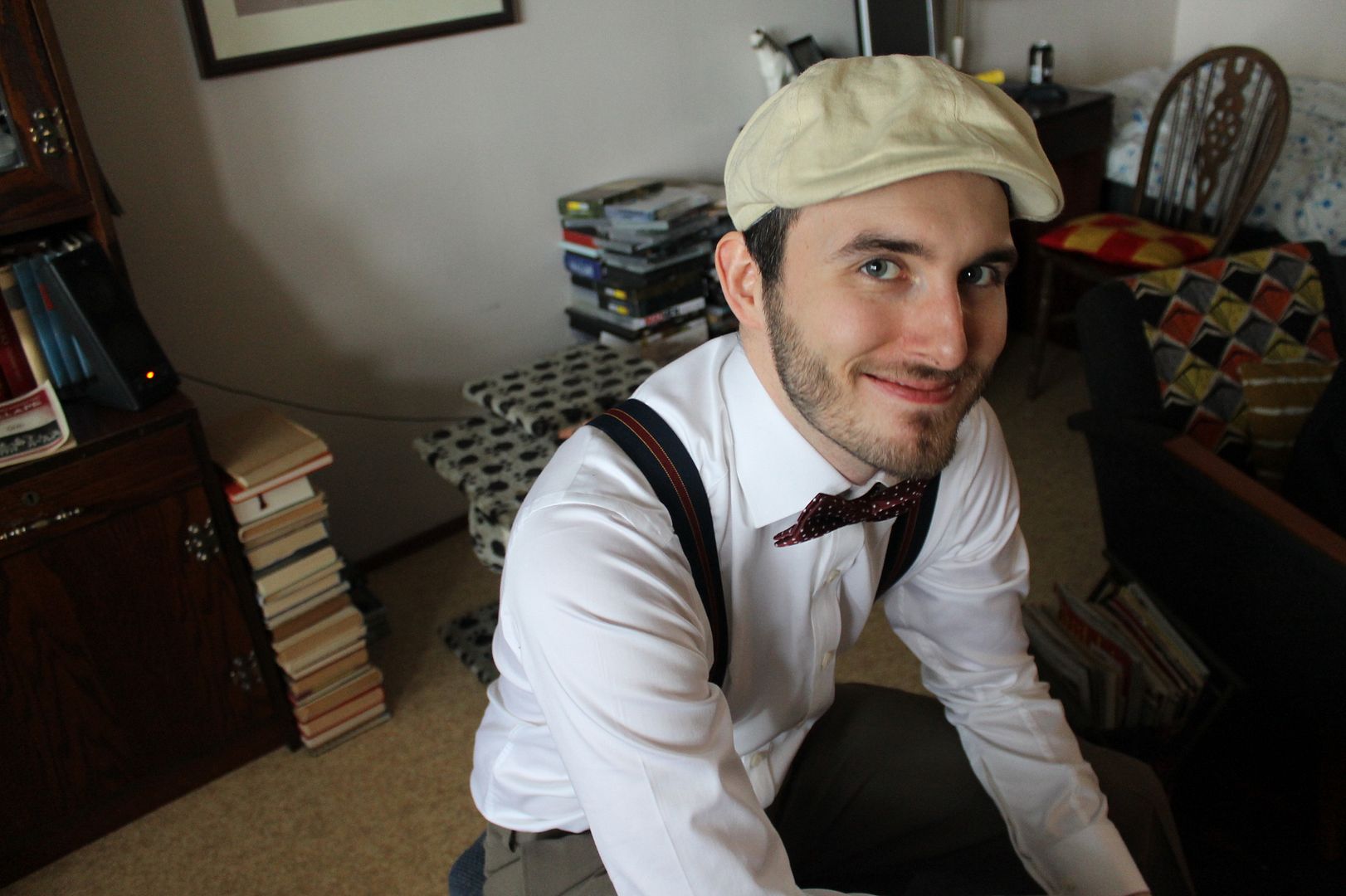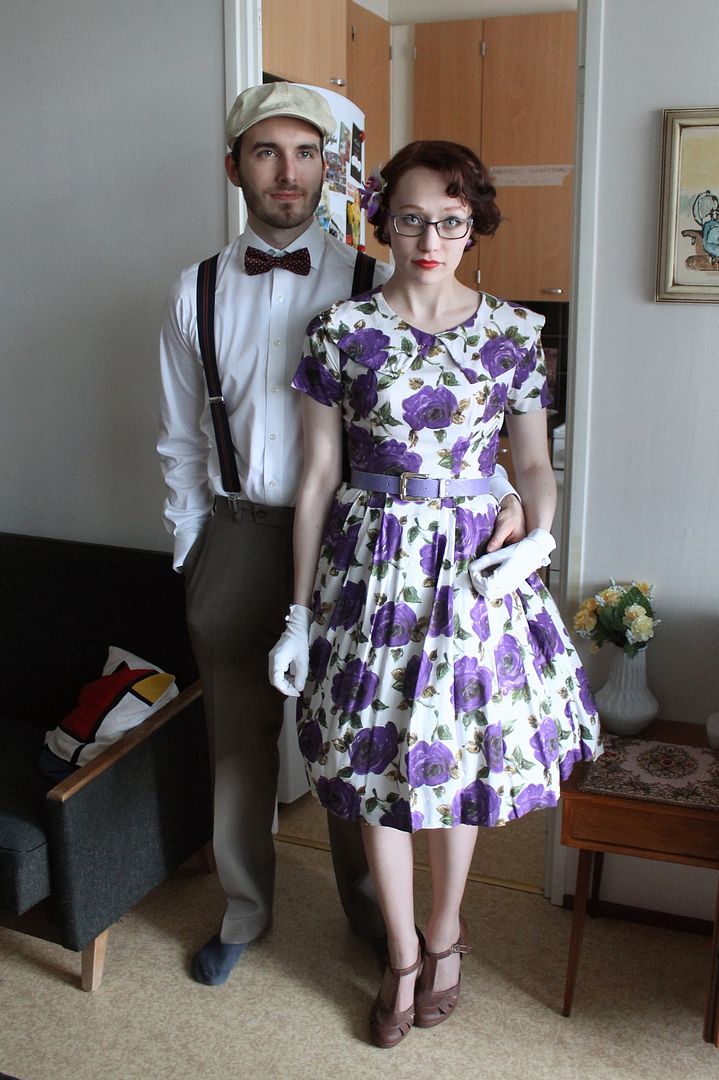 Ennen Teatteriravintolaan menoa käytiin Artun kanssa hampurilaisilla ja 60's Palaverissa parit juomassa. 60's Palaveri on kyllä ihan kiva baari, mutta musiikin odotin olevan 60-lukua enemmän kuin perusbiisejä. Sisustus on kuitenkin siellä aivan mahtava, vaikka mallinuken päällä olevan kellomekon alta hurjan räikeästi näkyvä alushame onkin melkoinen tyylivirhe. Siitä jaksan aina vähän vinkua seuralaisilleni... :D
Teatteriravintolaan menimme kymmeneksi ja siirryimme siellä isosiskoni seurueen pariin. Tanssimme kuitenkin Artun kanssa miltei koko illan valsseja ja rokkia! Letkajenkan ja polkan jätimme väliin.. Ei ihmekään, että jo yhden aikoihin yöllä Arttu alkoi väsähtää ja olla vastahakoisempi tanssissa ja minunkin kampaukseni oli ihan lässähtänyt hikoilun takia. Arttu kuitenkin jaksoi silti kiltisti puoli kolmeen asti tanssia minun kanssani! Melkoinen saavutus. Ja valssiaskeleemmekin menivät ihan tosi hyvin ja rokissa pyllähdin kerran jopa lattialle kun meno oli niin vauhdikasta haha. Välillä toki tanssin isosiskoni kanssa, että herrasväki sai edes välillä levähtää :D

(Before going to the Theater restaurant, Arttu and I went to eat some burgers and then we went to a local bar 60's Palaveri to have couple of drinks. 60s' Palaveri is very nice 60s themed bar, but I would have hoped to hear more 1960s music than modern songs. I really love the decorations there, but one mannequin doll which is wearing a circle dress, has a waaay too long and visible petticoat underneath and it is giving me the creeps. I always have to whine about that to my companions... :D

At 10pm we went to the Theater restaurant and there we saw my sister and her company. We spent the evening with them and danced waltzes and rock n' roll whole night! We just skipped Finnish folk dances and polka. Way too complicated for us to dance. Arttu started to get tired at around 1am and he was a bit reluctant when I wanted to dance. Still, he was so brave and kind that even while he was being sooo exhausted he still danced with me every song I wanted til 2:30am, and then we went home. I was so pleased! I really enjoyed dancing waltz with him. I danced few songs with my big sister, so that our gentlemen could take a rest even just a little bit during the night:D)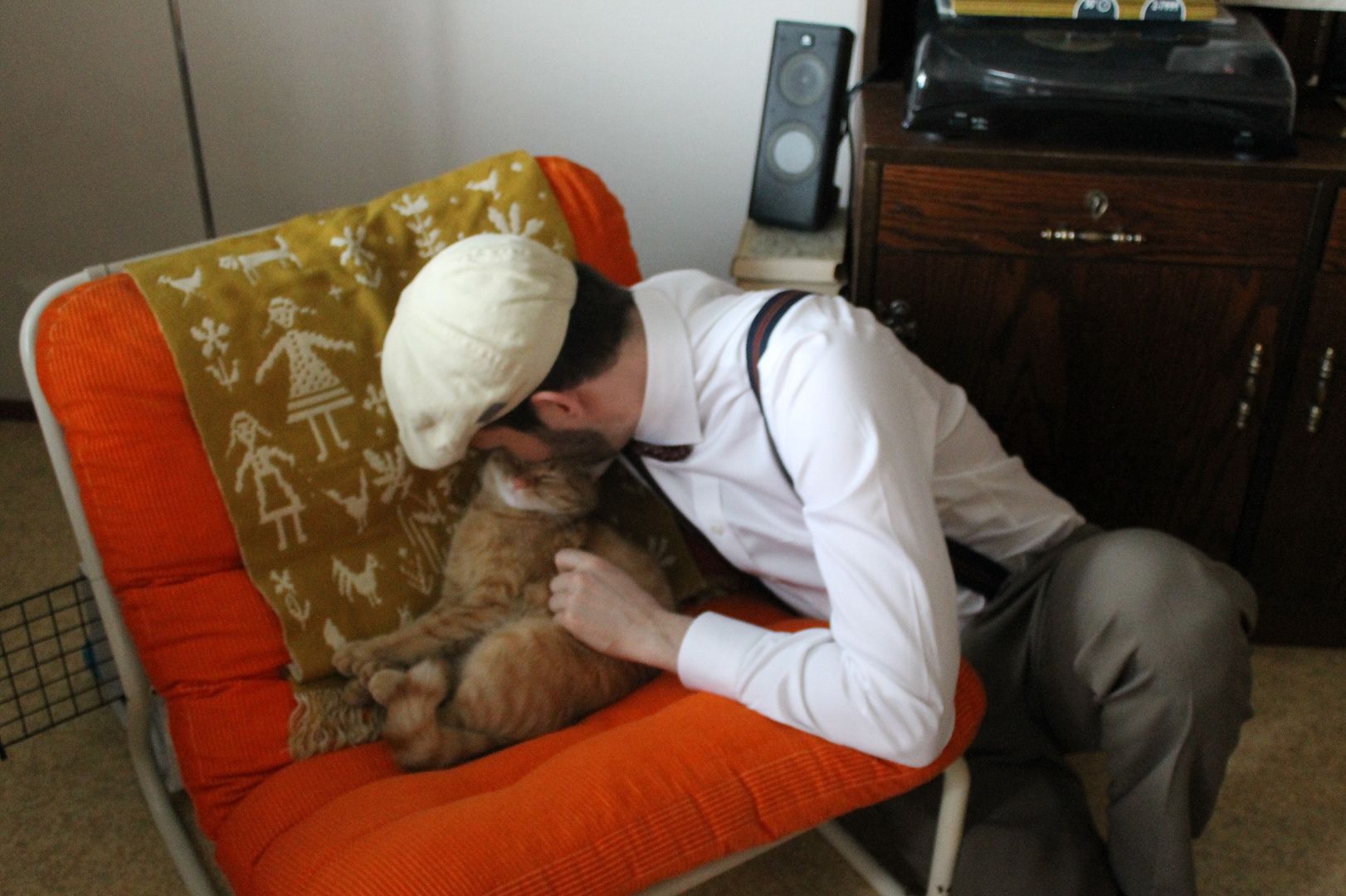 Tässä kuva minusta ja isosiskostani Laurasta. Harvinainen naurukuva minusta täällä blogin puolella :D En ole aina niin vakavailmeinen!
(Here's a picture of me and my big sister Laura. I hardly ever show you laughing photos of me here in my blog, but here's another! I am not always so serious :D)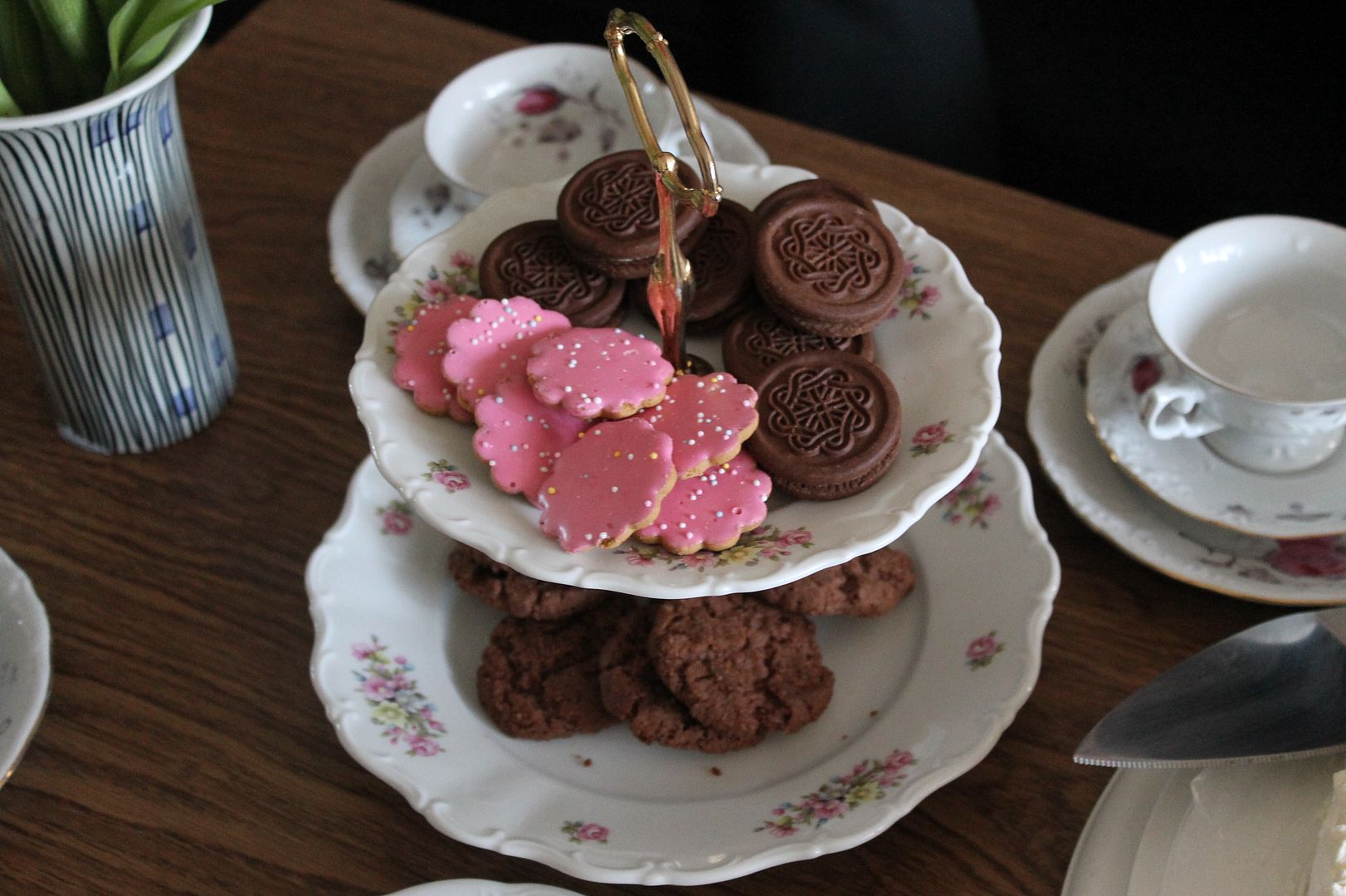 Oltiin ihan fiiliksissä, kun Marko Haavisto & Poutahaukkien biisi "
Paha vaanii
" soi, sitä en ole koskaan päässyt tanssimaan. Se on niin mahtava biisi! Ollaan kyseistä kappaletta Artun kanssa hyräilty ja laulettu koko aamun. Samoin odotin kovasti Tamara Lundin "
Sinun omasi
" -kappaletta, jonka olin aiemmin Facebookissa omistanut Artulle. Se kuultiin ja olin ihan rakkauden huumassa.
Tänä vuonna vietin elämäni ihanimmat synttärit. Muistelen lämmöllä tätä romanttista, tanssintäyteistä iltaa, ja ihanaa kun muutama sävelmä tuo jatkossa aina mieleen tämän syntymäpäivän.
(I was so excited to hear a song "Paha vaanii" by Marko Haavisto & Poutahaukat. I haven't had a chance to dance that song before. It is such a great song! We have been singing and humming it all morning today. One other song which I hoped to hear that night was "Sinun omasi" by Tamara Lund. It is my favourite love song. I shared that song few days ago in facebook and I dedicated it to Arttu. Luckily we heard that song and I got to dance it with my sweetheart. I felt so loved and it was a romantic moment.
This night was the best birthday I've ever had. I will cherish that romantic, beautiful evening for the rest of my life. I am very happy that I have few songs that will always remind me of my birthday when I turned 24.)