Tämä asukokonaisuus on viime viikolta, päivältä jolloin porukat kävi täällä Joensuussa vierailulla. Isosiskoni neuloi minulle tuon villaisen, marjapuuron värisen neuleen ja yhdistin sen 1950-luvun kellohameeseen. Yhdistelmä on aika suloinen! Täytynee myös mainita, etten ollut huomannut hameen ryppyisyyttä ennen kuin vasta kuvat otettuani :D Mutta tuskin se haittaa teitä jos ei minuakaan. Taas huomaan, miten tuo 40-luvun hattu käy kaiken kanssa. Varma valinta aina - tai sitten se vaan sattuu olemaan ensimmäinen joka käteen aina sattuu. Onhan noita hienon leidin hattuja varmaan kolmen- tai neljänkymmenen puolelle kertynyt kuitenkin, mistä voisi valita.
Käsilaukkuni on vintagea ja kengät on uusi löytöni. Oikeastaan olen tuollaiset kengät omistanut jo kerran, mutta niistä irtosi pohja runsaan käytön takia, enkä jaksanut korjauttaa. Onneksi löysin uudet ja samat kengät käyttämättöminä kirpputorilta, ne ovat niin hienot!
(This outfit is from last week, when my parents came to Joensuu for a visit. My big sister knitted me this wool light red sweater and I matched it with my 1950s circle skirt. I really like this assembly! And I must say, that I did not notice that my skirt was wrinkled, until I took these pictures. But I don't mind, so I hope you don't either :D And once again I notice how this 1940s hat goes with anything. It's a reliable choice - or the one I just happen to chooce from my large collection of hats :D
My purse is vintage and my shoes are my newest find. I have owned a pair of identical shoes before but their soles detached and I hadn't got time to repair them. Luckily I found these unused ones from the flea market. These are so cute!)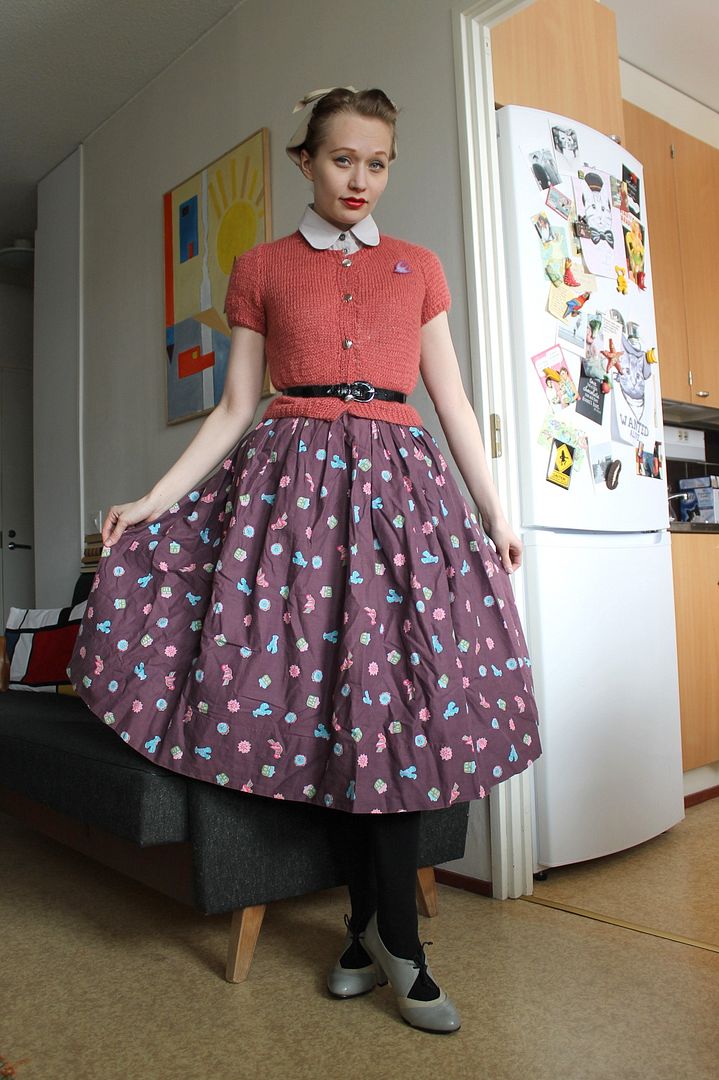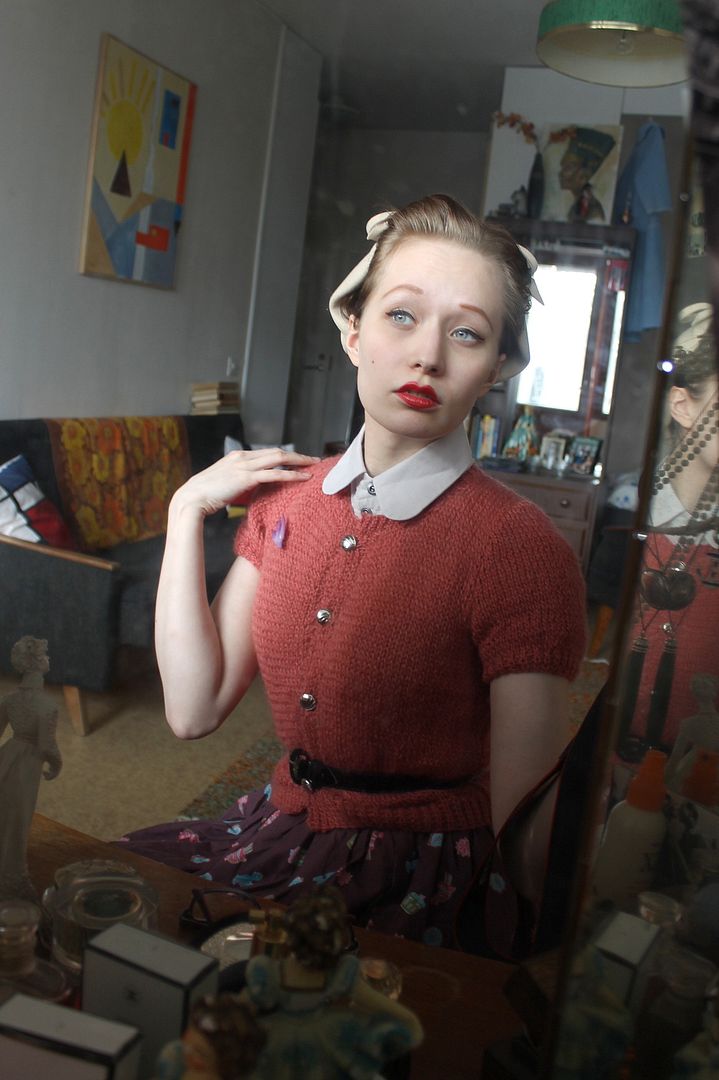 Viikon päästä juhlin Artun kanssa 24-vuotissynttäreitäni! Aika menee niin nopeaan. Mihin nämä vuodet ovat oikein menneet? Vastahan olin vasta 20-vuotias. Olen jo aikalailla päättänyt, mitä ylleni illan lavatansseihin puen. Vielä pitäisi treenata tanssiaskeleita yhdessä, ettei mene ihan pipariksi ;) En malta odottaa!
(In one week I will celebrate my 24th birthday with Arttu! Time flies so fast. Where have these years gone, last time I remember I was only 20 years old. I have already decided what I will wear to the ball dance. We should first train our dance steps a bit, so we won't step on each other's toes :D I can't wait!)