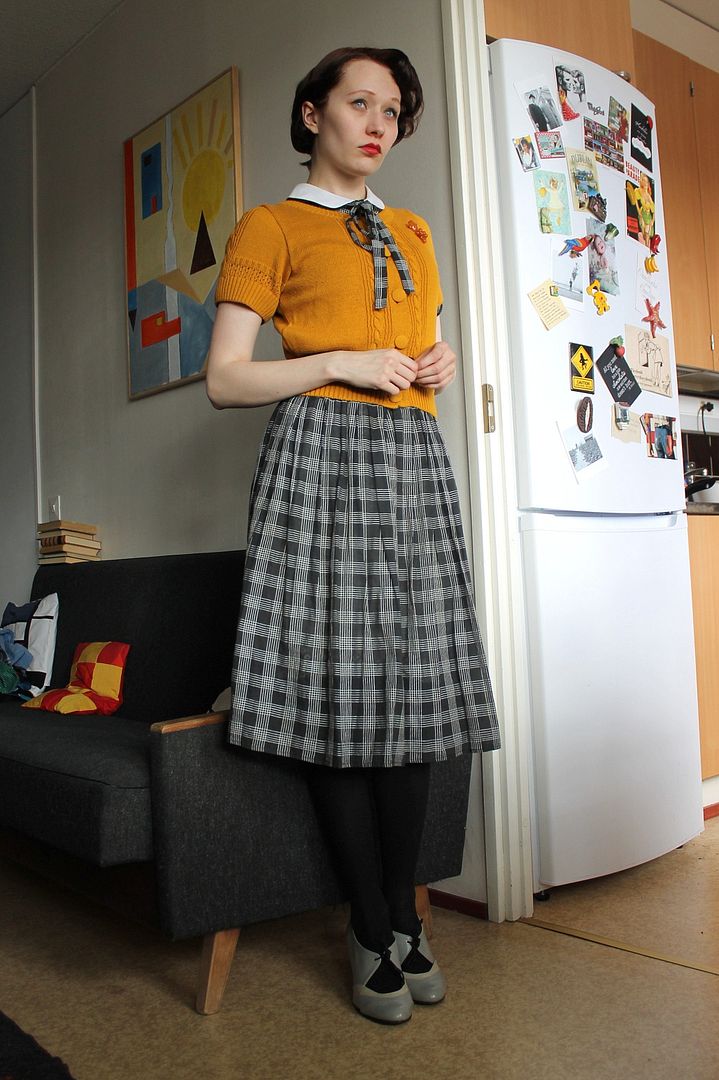 Muistelen vieläkin ilolla synttäriviikonloppuani. Oli niin ihanaa! Nyt kuitenkin paluu takaisin arkeen ainakin hetkeksi - lauantaina juhlitaan nimittäin poikaystäväni synttäreitä. Meillä on vaan 10 päivää väliä syntymäpäivillä, joskin hän täyttää 28. Kolmikymppiset lähestyy ;) Hehe.
Tämä asukokonaisuus on viime viikon perjantailta, en ehtinyt sitä postata silloin. Ylläni on 70-luvun vintagemekko ja sinapinkeltainen neule, joka on ollut minulla jo ikuisuuden käytössä. Luottovaate! Kampauksestani tuli vähän mollamaijamainen, kun harjasin ne läpi väärällä harjalla... Alunperin hain Marilynmäistä kiharaa, mutta ei ihan onnistunut tuona päivänä :D
Käytiin Artun kanssa synttäreitäni edeltävänä iltana Rossossa syömässä margarita-pizzat viinilasillisen kera ja jälkiruuaksi tiramisut. Alunperin minun oli tarkoitus lähteä perjantaina käymään vähän viihteellä, mutta olin koko viime viikon flunssassa. En halunnut lauantain tanssi-iltaa pilata rykimisellä ja niiskuttamisella, koska perjantaina rellestäminen olisi varmasti vain pahentanut oloa. Eikä krapula olisi auttanut asiaa yhtään :D
(I still look back my wonderful birthday weekend, I had such a great time! Now it's time to return to ordinary life - but only for a while, because we will celebrate my boyfriend's birthday on Saturday. We have only 10 days between our birthdays, though he turns 28. So close to being in his 30s! ;) haha.
These outfit pictures are from last Friday, and I did not have time to post back then. I am wearing a 70s vintage dress and mustard yellow sweater, which I have owned for a long time. It is my trusted piece of clothing! My hair-do turned out to be a bit like a rag doll, because I brushed the curls with wrong hair brush.. I was meant to get more like Marilyn's hair-do, but did not succeed that day very well :D
On Friday Arttu and I went to eat in a restaurant and we both got margarita pizza, and tiramisu as a dessert. At first I was meant to go out on Friday evening and get wasted for my birthday but I had a bad flu last week. I was afraid that my flu would get worse on Saturday and I'd miss the ball dance. Well, luckily I felt better on Saturday and had no hangover! :D)