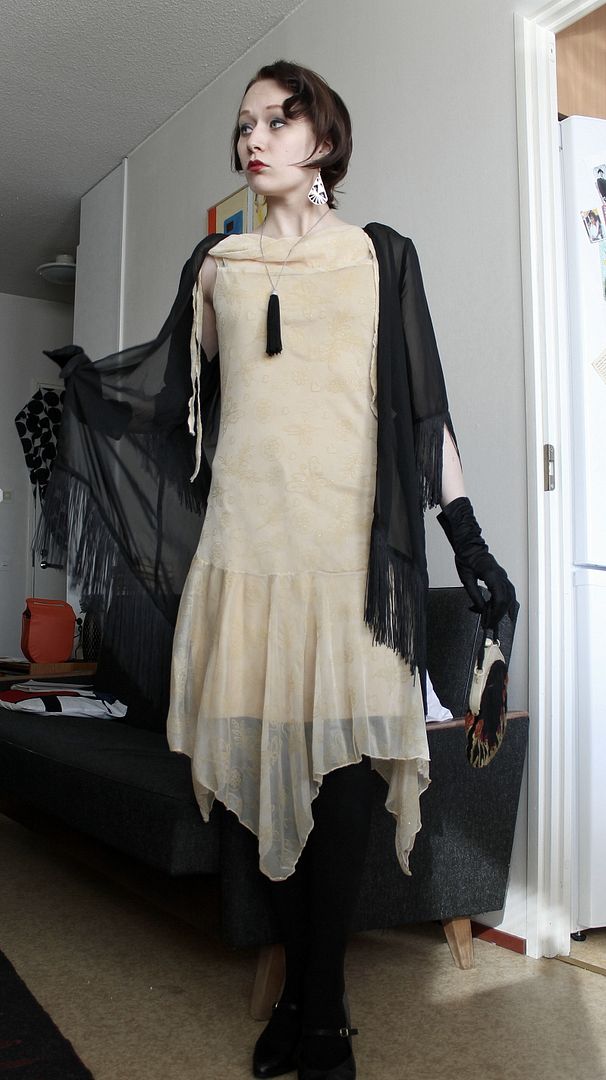 Viime viikolla kävin katsomassa elokuvateatterissa "Suffragetten". Se kertoo 1900-luvun alun äänioikeutta vaativista naisista, suffrageteista. Pääosassa on suloinen Carey Mulligan, johon tykästyin entistäkin enemmän. Elokuva oli ihan hyvä, ja en ollut edes tietoinen kaikista niistä keinoista, joilla naiset pyrkivät tuolloin saamaan äänensä kuuluviin. Suomessa sentään saatiin äänioikeus naisille jo vuonna 1906. Voinen suositella leffan katsomista. Liikutuin täysin! Aion vielä etsiä lisää tietoa suffrageteista kirjojen ja dokumenttien kautta.
Olin taas vähän ylipukeutunut elokuvateatteriin, mutta jostain tuli inspiraatio 1920-luvun tyyliin taas vaihteeksi. Laitoin ylleni beigen 20-luvun henkisen mekon ja mustan "kimonon". Kaikki muu siis reproa paitsi käsilaukku, joka on 20-luvulta.
SPOILER!:

Uteliaisuuteni myös voitti, ja minun oli pakko katsoa Youtubesta Emily Davisonin marttyyrikuolema Derbyssä, joka oli tallentunut filmille vuonna 1913. En ollut sitä ennen nähnyt, ja se oli järkyttävä.

SPOILER!
(Last week I went to see "Suffragette" to the cinema. It tells about members of women's organizations in the early 20th century who are trying to get through women's right to vote in any possible way. Starring lovely Carey Mulligan, I like her even more after watching this movie. This movie was quite good, and I wasn't even aware of all the actions these suffragettes did to get their voice heard. Fortunately here in Finland we got a women's rigth to vote in 1906 already. I can highly recommend this film if you have not seen it yet. I was so moved! I am going to search for more information of the suffragettes by reading books and watching documents.
I was once again a bit over-dressed to a cinema, but somewhere I got this inspiration to dress up in 1920s attire again. I wore this 20s inspired dress and black "kimono". Everything else is reproduction except my purse, which is genuine from 1920s.
SPOILER!:

I got curious about the case of Emily Davison, and I had to search from Youtube a video of her martyr death in Derby, as it was caught on film in 1913. I had not seen it before, and I was quite shocked.

SPOILER!

)