Löysin tämän Hell Bunnyn Constance -mekon kirpputorilta alepöydästä pari kuukautta sitten. Hintaa sille jäi vähän alle 5 euroa. Ei paha hinta tuotemerkistä, jonka hintaluokat ovat omaan budjettiini sopimattomat. Minulla on vähän ristiriitaiset tuntemukset Hell Bunnysta. Jotkut mekot iskevät ollessaan aivan kuin autenttista vintagea, eli tosi hyvää reproa, mutta suurin osa on turhan mainstreamia ja liian "pin up-tyyliä" omaan makuuni. Tässä mekossa oli erikoinen pääntie ja ihanan hempeät värit. Hyvin laskeutuvia kellomekkoja myös harvemmin löytää kirpputoreilta, joten päätin antaa tälle kodin. Kyllähän tällaista mekkoa käyttää rokkikeikoilla mielellään, niin ei ainakaan aitoja 50-luvun mekkoja hajota tanssin pyörteissä.
Harmikseni tosin huomasin vasta kotona, että tämänkin mekon printissä on pääkalloja. Pääkallot vaatteissa eivät ole olleet minun juttuni sitten angstiteinivuosien, joten saamani kuva mekon hempeästä romanttisuudesta katosi samantien. Onneksi printin kallokuviot ovat vähän näkymättömissä, eikä niitä tuskin huomaa, jos ei tarkemmin ala tutkimaan kangasta.
(I found this Hell Bunny's Constance -dress from the flea market couple of months ago. It was on sale, and costed about 5 euros. Not a bad price for a label that is usually too expencive for my budget. I have very mixed up feelings about Hell Bunny. Some repro dresses look very nice and authentic, some are so mainstream and too "pin up" for my taste. This dress has lovely neckline and beautiful colours. It is not easy to find affordable circle dresses from the flea market with a perfect settled hem, so I decided to give this a go. Of course it is also more reasonable to use repro dresses than authentic 50s vintage dresses when going out to rockabilly gigs..
Unfortunately, I noticed at home that this dress's print has skulls on it. I have not been wearing skulls since I was a rebellious teenager, so it was not nice to see that my image of this dress being oh so romantic and charming changed immediately. Luckily those skulls are well hidden to the fabric, so you might not even notice them if you don't look closely enough.)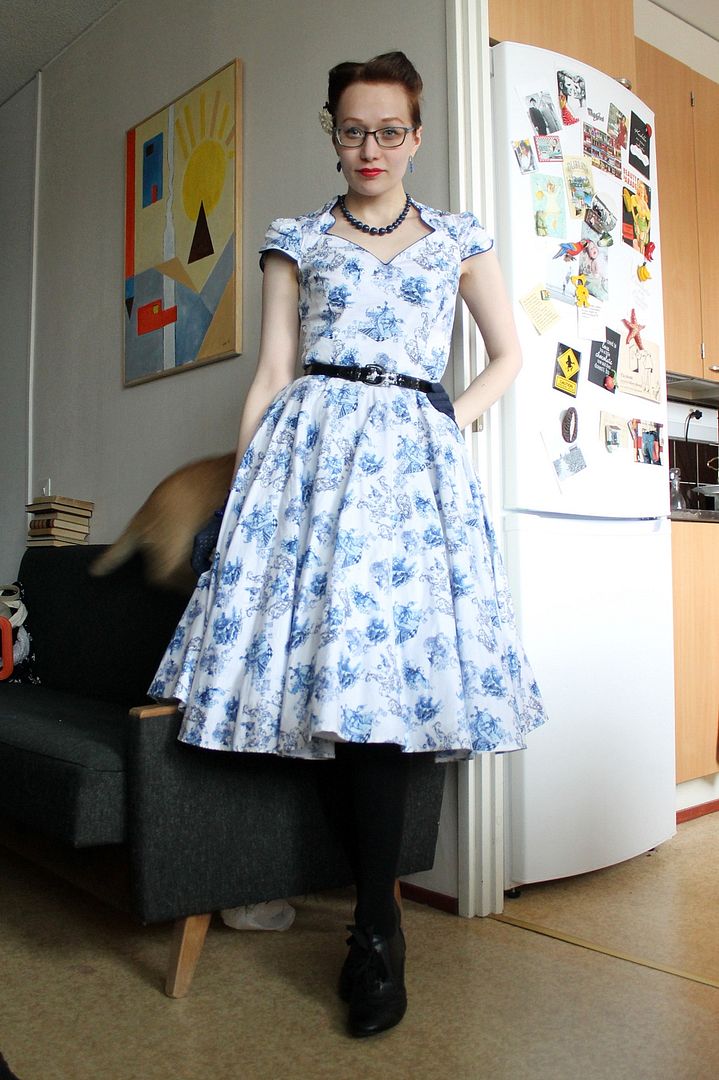 Tämän mekon pistin ylleni viime viikon perjantaina, kun lähdin yksin katsomaan "The Dressmakeria" elokuvateatteriin. Tykkäsin leffasta kovasti. Se oli erilaisempi kuin kuvittelin. Puvustus oli mieletöntä ja Kate Winslet oli jälleen kerran upea. Judy Davis oli hulvaton! Yksi miinus tuli tosin Liam Hemsworthista ja sen ärsyttävästä roolihahmosta. En ole ikinä tykännyt..
Elokuvan jälkeen kävin istumassa kulmakuppilassa parilla, jonka jälkeen lyöttäydyin poikaystäväni seuraan yökerhoon, Bepopiin. Siellä esiintyi Spekti, Brädi ja Uniikki. Ilta oli ihan hauska, vaikka mitään en lavalle pahemmin nähnytkään. Olipa kerrassaan outoa tanssia tuollaisen suomiräpin tahtiin hempeässä kellomekossa.. :D Bepopista en tykkää, enkä mielelläni yökerhoon päädy, ellei siellä ole joku hyvä esiintyjä - paitsi lauantainakin täytyi tehdä poikkeus. Artun synttäreillä päädyinkin menemään vielä kaameampaan Ilonaan... Hrrr....
(I wore this dress when I went out on Friday to see "The Dressmaker" to the cinema. I liked the movie a lot. It was quite different than I imagined. Costumes were amazing and Kate Winslet was so gorgeous. Judy Davis was quite hilarious! One minus though to this movie; Liam Hemsworth and his irritating characted. I really do not dig him.
After the movie I went to have couple of drinks and then I joined my boyfriend to go and listen few Finnish rap artists to our local nightclub. It was quite funny to dance some rap songs wearing this dashing full circle dress. Unfortunately, I really don't enjoy going to the nightclubs unless there's some great gigs. I just had to do couple of exceptions this weekend. On saturday we celebrated my boyfriend's birthday, and because he still likes to go to the night clubs, I really did not see any other choice than to join him.)