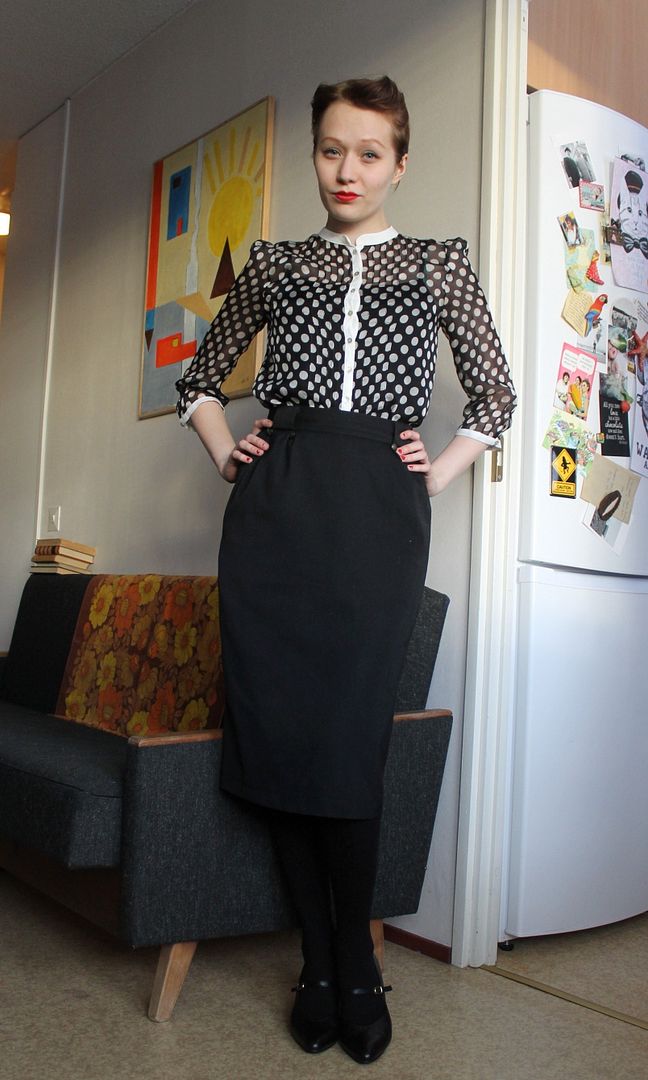 Eilispäivän asuani inspiroi kirpparilta löytämäni hajuvesipullo. Olen aina halunnut koristeeksi tällaisen vanhanaikaisen hajuvesipullon kampauspöydälleni, ja mietin, jos keksisin sinne jostain sisällönkin. Kirpputorilta löytämä pallokuvioinen pusero on uusi lempparini, vaikka onkin Zaran tuotantoa. Pystykauluksinen jakku on 50-luvun vintagea.
(My yesterday's outfit was inspired by my new perfume bottle I found from the flea market. I've always wanted a bottle like this to decorate my dresser, and now I am thinking about refilling it with some of my perfumes. That polka dot shirt is thrifted and my new favourite, even though it is originally by Zara. High collared jacket is 50s vintage.)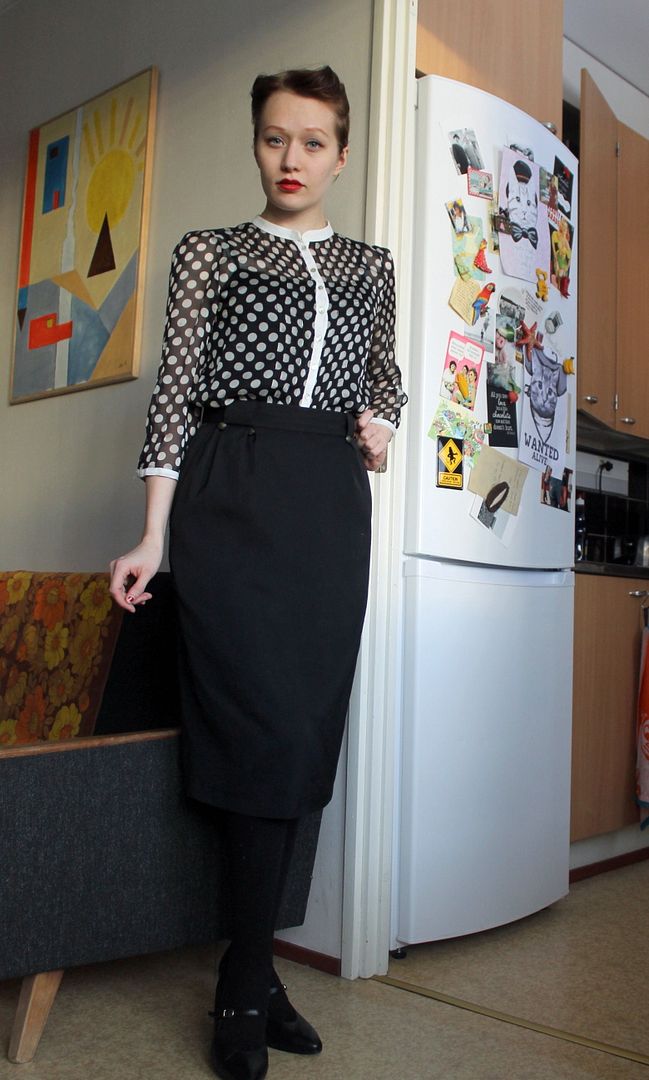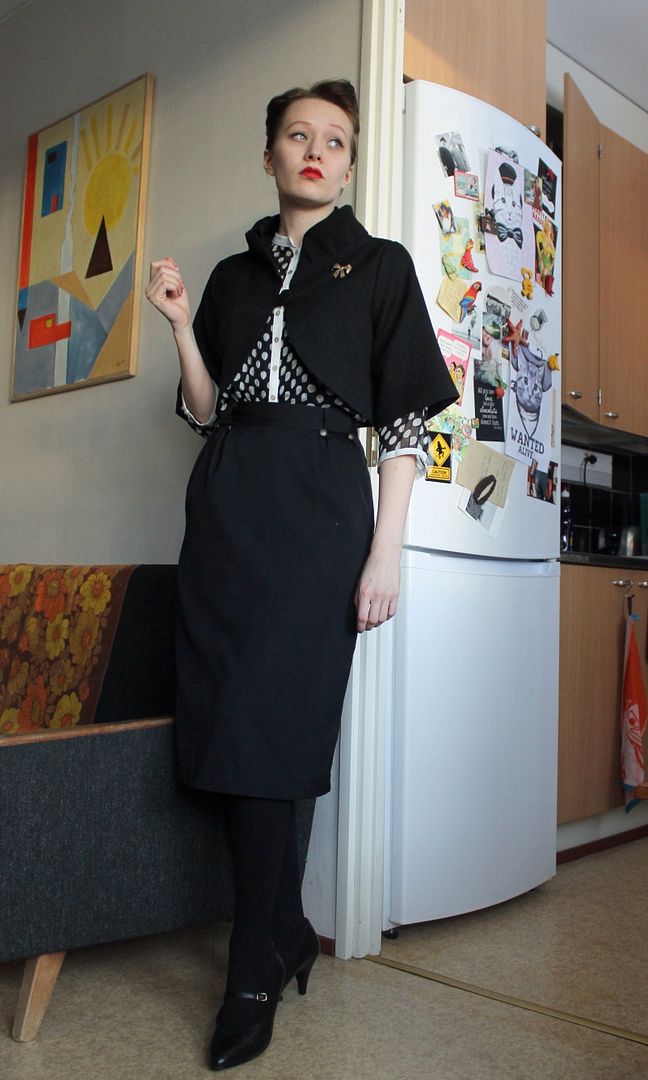 Olen pitänyt bloggaamisesta taukoa, kuten osa on ehkä huomannutkin. Helmikuu ei oikein ole ollut kovin inspiroiva kuukausi ja töiden takia on ollut väsymystä. Kevät onneksi tulee nopeasti, ja pääsee käyttämään hienoja mekkoja, joita oon talven aikana hamstrannut kirppareilta!
Erityisesti odotan tältä keväältä 24-vuotissynttäreitä, jotka on 9. huhtikuuta. En aikonut tänä vuonna juhlia ihan samallalailla synttäreitäni kuin ennen (eli ryypäten ja rellestäen). Aion kakkukahvit tarjota päivällä, mutta loppuilta on varattu vanhan ajan romantiikalle ja Lasiterassin lavatansseille, jotka järjestää jälleen kerran Varnitsa ry. Ensimmäiset Lasiterassin tanssini vuonna 2014 tulen kyllä muistamaan ikuisesti. Viime vuonna en tansseihin päässyt, mutta tänä vuonna ne osui täydelliselle päivälle. Uskon, että synttärini ovat parhaimmat ikinä! Kriiseilen jo nyt vaatteista, vaikka on tässä vielä puolitoista kuukautta aikaa miettiä.
(I've been taking a break from blogging, like some of you may have noticed. February isn't the best month to inspire me and I have been a bit tired because of work. Spring is fortunately arriving fast and then I can wear my nicest dresses which I have been hoarding from the flea markets all winter!
Especially in Spring I am waiting for my 24th birthday on April 9th. I wasn't going to party and drink like in past few years. I will serve coffee and cake at noon but the evening is reserved for romance and yearly pavilion dances. These dances are organized by Varnitsa ry and I've went there once before in 2014. It was a night I'll always remember. I bet my birthday will be the best ever! I am already thinking and having a crisis of what to wear..!)