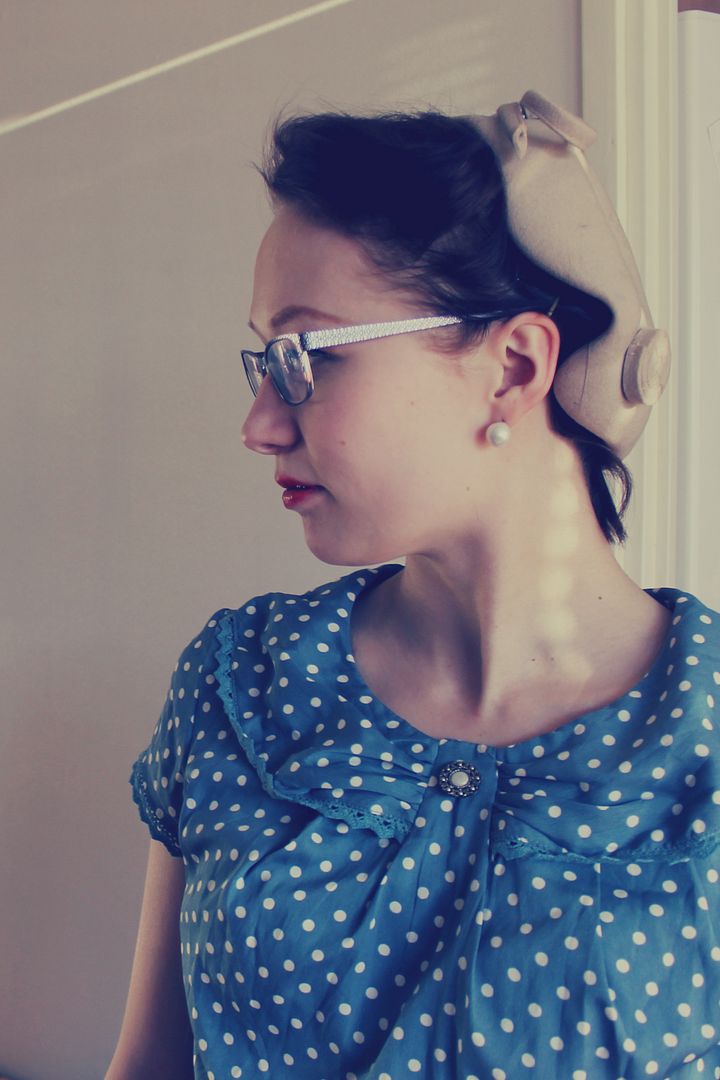 Ostin tämän Hell Bunnyn "Ingrid" -mekon marras- tai joulukuun puolella lohdutuksena pahan mielen takia Undergroundista. Jäin tuolloin mielenkiinnosta selailemaan alennusmyynnissä olevia vaatteita ja ihastuin tähän mekkoon ikihyviksi. En yleensä osta Hell Bunnya tai muitakaan repromerkkejä, ellei kirpparilla tule (halvalla) vastaan, mutta nyt tein poikkeuksen. Alennuksessahan tämäkin oli, mutta kolmekymppiäkin oli minun mittapuulla paljon reprosta. Tämä mekko tulee varmasti olemaan käytössä paljon, sillä vintagea käyttäessä esim. tanssiessa sitä koko ajan joutuu huolehtimaan, ettei vanha puku varmasti mene pilalle tai repeä. Jos tämä uusi mekko repeää, ei se harmittaisi niin paljoa kuin vintagevaatteen repeytyminen :D
Käytin tätä mekkoa 1940-luvun hatun kanssa maanantaina KAVI:n kevätkauden avajaisnäytöksessä. Leffateatterilla pyöri vuoden 1959 länkkäri "Rio Bravo", jonka kävin katsomassa poikaystävän kanssa. Tykättiin molemmat tosi paljon! Dean Martin oli mahtava.
(I bought this "Ingrid" dress by Hell Bunny couple of months ago via online store Underground. I was looking at their sales section and I fell in love with this dress. I do not usually buy Hell Bunny or reproduction as new, but this time I made an exception. It was on sale, but 30 euros from a repro dress is quite much for what I have used to, because I buy reproduction only if I find them from flea markets. I bet this dress will be seen on me quite a lot when I go out, because when I wear vintage garments while dancing etc. I am constantly worried that I will tear the dress or spoil it in some other way. When wearing reproduction, I don't need to worry so much.
I wore this dress with a 1940s hat on Monday when I went to see "Rio Bravo" (1959) at the cinema. Me and my boyfriend liked the movie very much. Dean Martin was awesome.)