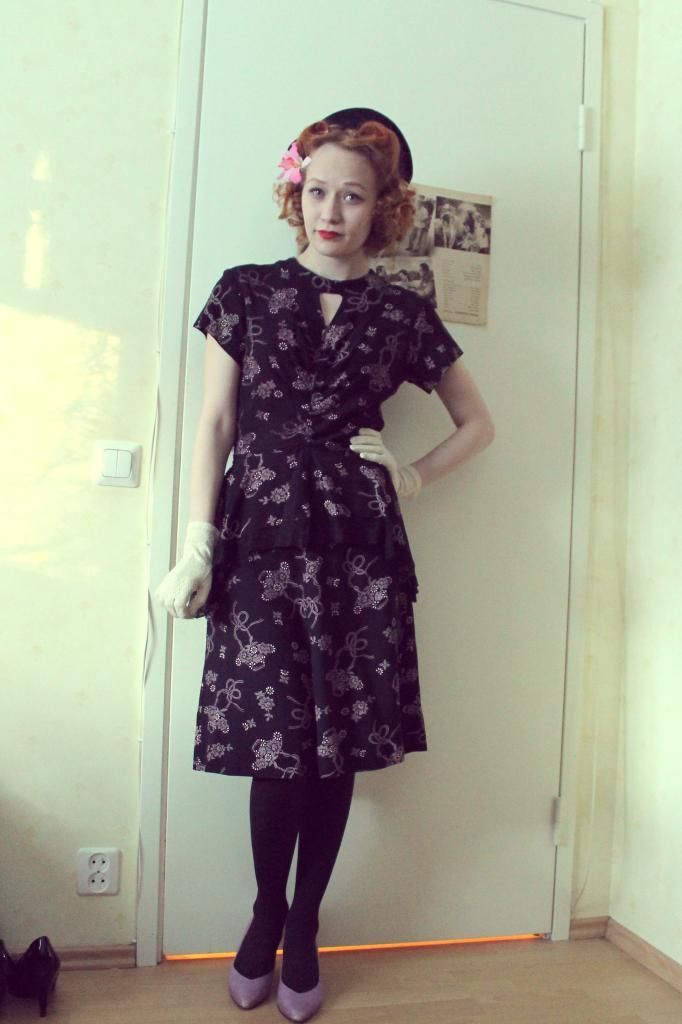 Vuosipostaukseni tulee nyt viikon myöhässä, mutta parempi myöhään kuin ei milloinkaan. Onhan tämä jo perinne.
Alkuvuosi ei sujunut mitenkään erityisen hyvin. Mietin tuossa syksyllä kun asiat oli paremmin että mitä sitä paljastaa vuosipostauksessa kevään ajanjaksosta. Ollako hiljaa ja esittää hymyillen, että olin onnellinen, ja luoda kiiltokuvamaista mielikuvaa lukijoille, kuten oli tarkoitus? En mie halua sellaista ja lopulta lupasinkin itselleni, että kerron rehellisen ytimekkäästi. Olin työtön ja ahdistunut. Alkoholia tuli käytettyä liikaa. Tuntui silloin, ettei miulla oo enää mitään arvoa.
Jokaiselle ihmiselle tulee varmasti omat huonot ajanjaksonsa, joillakin ne on pidempiä, joillakin lyhyempiä. En ymmärrä, miksi esimerkiksi masennuksesta vaietaan niin kovin, vaikka se on yllättävän yleistä, eikä tee ihmisestä huonompaa. Näitä asioita mietin viime vuonna todella paljon.
(Translation: My yearly review is one week late, but it's better late than ever. First few months of 2015 were not so good. In Autumn I started to think what I want to reveal in my yearly review about my bad Spring. Should I stay quiet and pretend I was happy, like I first intended to? I don't want to do that. I promised to myself, that I will write honestly, but shortly. I was unemployed, and distressed. I used way too much alcohol, it was almost daily. I felt like I have no value anymore.
Every person has their bad periods of life. Some have longer, some have shorter. I don't understand why people don't talk about depression more, even though it is very common. It should be more well-known as disorder and it doesn't go away just by saying "cheer up". Some don't realize it does not make a person more worthless. I thought about these things a lot this year)
Siis, kevät oli huono. Asiat muuttuivat huomattavasti, kun sain työpaikan yhdeksän kuukauden työttömyyden jälkeen. Omalta alalta, eli vaatetuspuolelta, oli turha toivoa töitä, joten alotin heinäkuussa siivoajana. Oon tehnyt sitä työtä nyt puoli vuotta, ja vaikka työ onkin fyysisesti aika raskasta ja aikaiset heräämiset tuottaa edelleen vaikeuksia kun oon huono-uninen, oon silti todella kiitollinen työpaikastani.
(So, my Spring was awful. Things made a mayor turn when I got a job after being unemployed for nine months. I started as a cleaner, and I have been a cleaner for six months. Even though my job is physically tough and early mornings are definitely not made for me, I am still so grateful for my job.)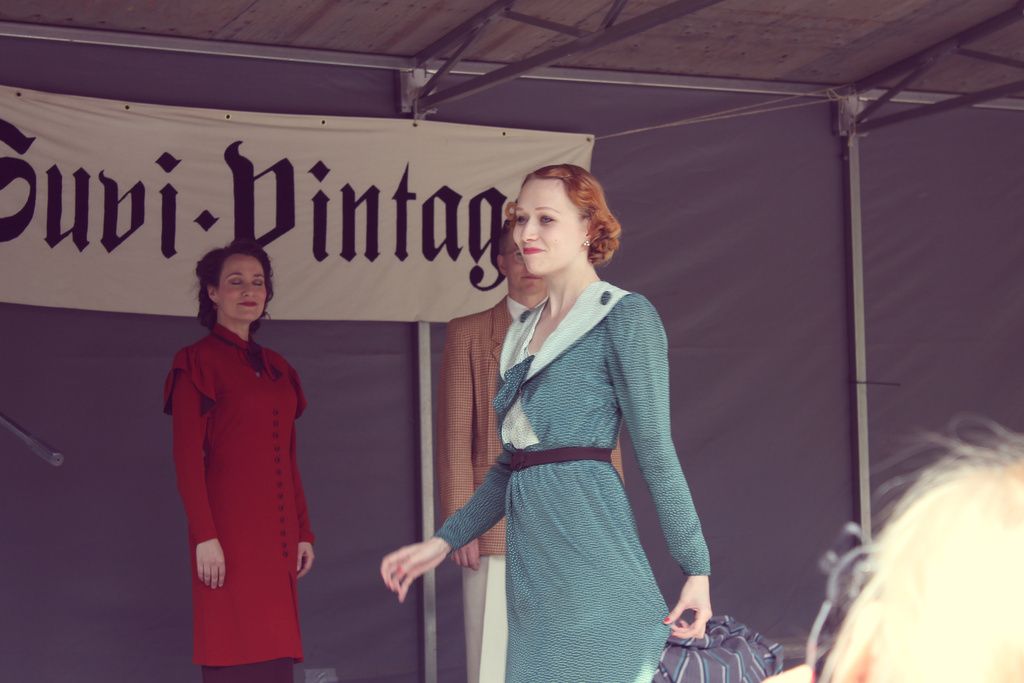 Kesä oli sään kannalta aika kamala, kuten moni muistaa. Kesäkuussa vain satoi, lämpötila ehkä +10, ja oli tosi syksyistä. Helteisiä päiviä oli todella vähän täällä Itä-Suomessa, ja se oli tosi harmi! Heinäkuussa oli jo vähän paremmin. Toivottavasti ensi kesä olisi parempi. Kesäkuussa tein uuden poikaystäväni kanssa yhden reissun, Tampereen Suvi-Vintageen. Olin mallina tapahtuman muotinäytöksessä! Aurinko helli sinä viikonloppuna, mikä oli todella mukava yllätys. Se oli huikea kokemus ja Artun kanssa oli todella mukava matkustaa. Toukokuun vuosipäivää odotellessa.. Oikea timantti on hän! Tietenkin Artullakin on oma osansa onneni lisääntymisestä sitten kevään :)
(Summer was great, but the weather... It rained everyday in June, it was only +10ºc degrees. There was only few warm, sunny days here in Eastern Finland, what a shame! I hope that next summer will be better. In June I made one trip to Tampere, Suvi-Vintage event with my new boyfriend. I was a model in a vintage fashion show! Sun shone through the weekend and it was so nice. What a great experience and I really liked traveling with Arttu. I am happily waiting for our anniversary of being together in May.. He's a real diamond! Of course falling in love with him made my days brighter after that horrible Spring.)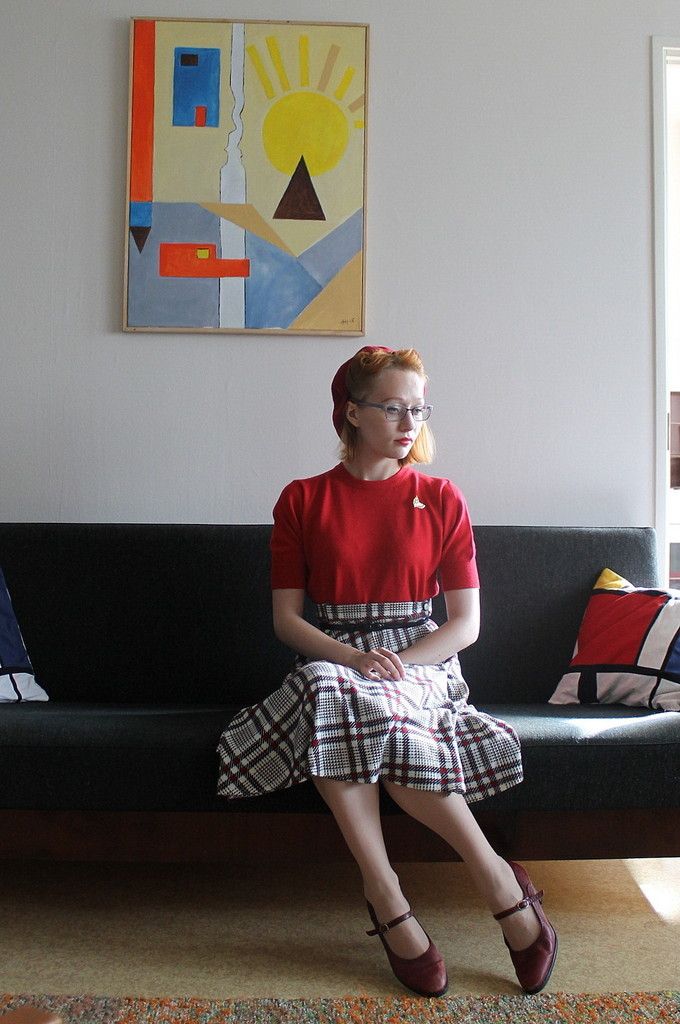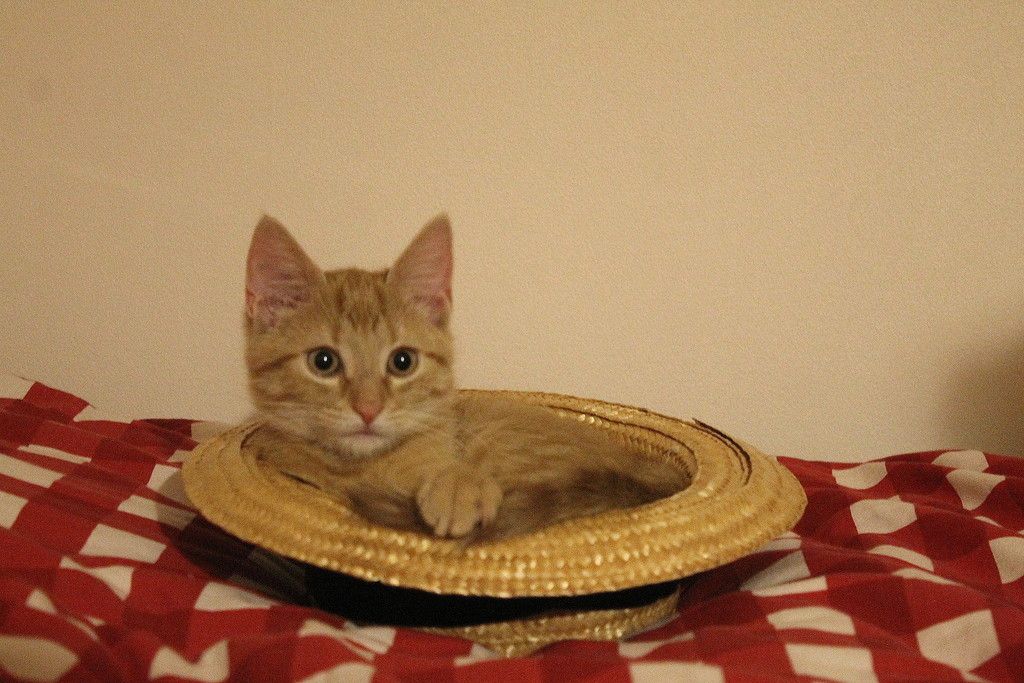 Syksyllä sain uuden asunnon, Kivan yksiön ihan Artun naapurista. Olin myös tehnyt päätöksen, että työpaikan saatuani otan vihdoinkin kissanpennun. Pieni oranssi pentu kotiutuikin uuteen asuntooni syyskuussa. Kisu sai nimekseen Nelson (amiraali Horatio Nelsonin mukaan), mutta tunnetaan myös nimillä "Kisu", "Nepa", "Nepsu", "Hirviö"... Lista on loputon :D Nelson on ollut aikamoinen riiviö, mutta rakastettava vauveli silti. En ikinä voisi kuvitellakaan luopuvani siitä!
(In Autumn I got a new apartment, nice one-room flat from the same neighborhood where my boyfriend lives. I had also made a decision that when I get a job, I will get myself a kitty. In September, small orange kitten arrived to its new home, and I gave him a name "Nelson" (after British admiral Horatio Nelson). My cat is also known as "Kitty", "Nepa", "Nepsu", "Monster"... the list is endless. Nelson is quite a rascal, but I love my little baby so much. I could never give him away!)
Tyylini ei ole muuttunut paljoakaan. Ehkä innostuin aiempaa enemmän 1960-luvun mod-tyylistä. Tämä saattoi johtua siitä, että päätin repäistä ja leikkasin hiukseni lyhyiksi! Pixie cutista olin haaveillut vähän aikaa. Värjäsin hiukseni myös ensimmäistä kertaa tummanruskeiksi, ja mielestäni nämä hiukset käyvän minulle hyvin. Nyt on vuorossa kasvatusprosessi, mikäli kärsivällisyyteni riittää. Takaisin punaiseen hiusväriin päädyn varmaan sitten, kun hiukset ovat pitkät.
Huh, kylläpä tästä postauksesta tulikin pitkä. Yleensä lätkin vaan kuvia vuosipostauksiin ja kirjoitan tyyliin pari riviä. Tämä vuosi ilmeisesti sisälsi paljon kerrottavaa, vaikka epäilin aluksi muuta :D
(My style has not changed much. Except that I got more into 1960s mod style. Oh and I got a pixie haircut! I also dyed my hair brown for the first time ever. I think this hairstyle is great for me. Now I am trying to grow it long again, and then dye it red. We'll see if I have the patience.
This post turned out to be quite long. Usually I just show you pictures and write few lines. This year obviously included quite much things to tell about.)