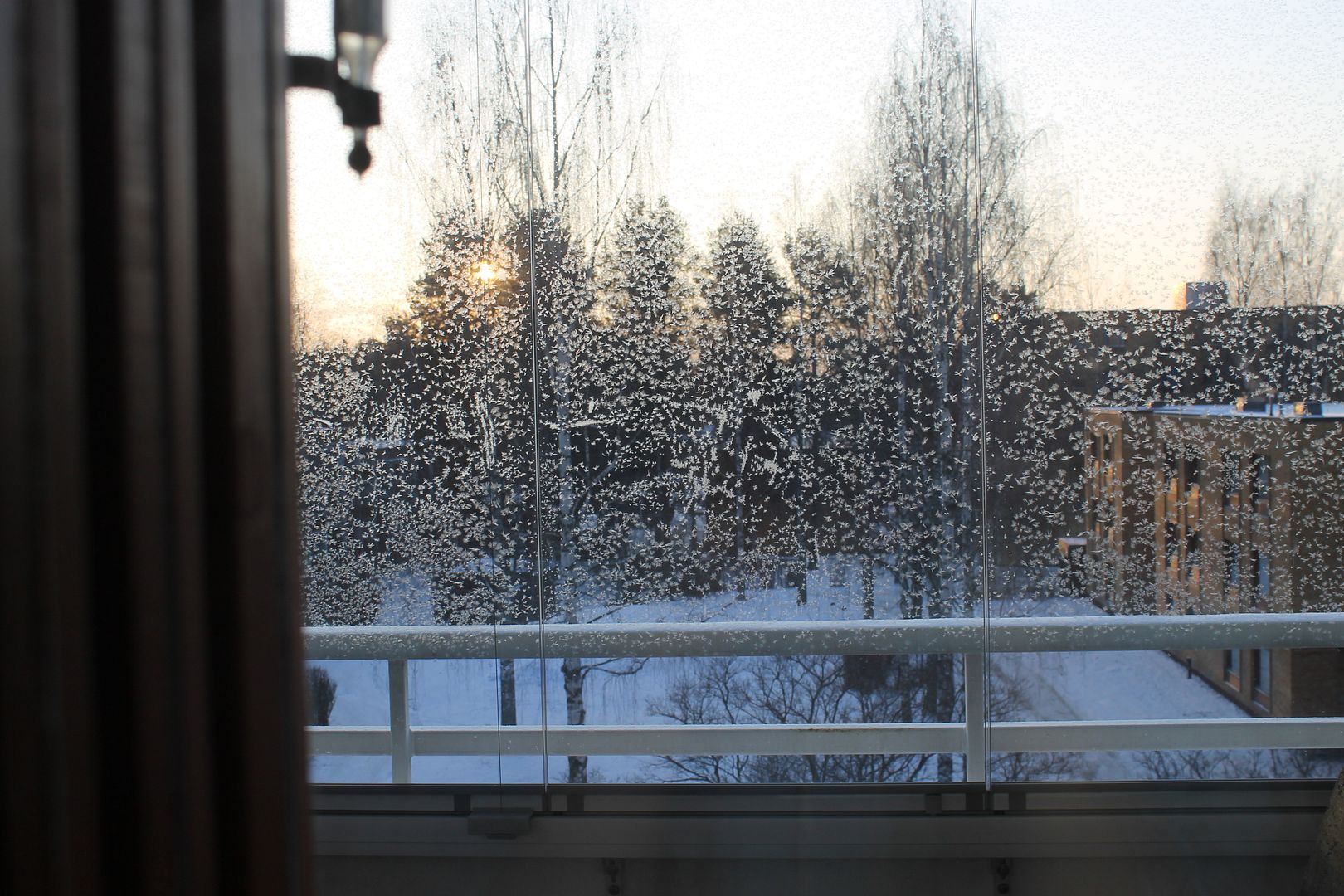 Ulkona lämpötilä lähenee kolmeakymmentä. Onneksi ei ole tänään tarvinnut missään lähteä käymään. Olen viettänyt Loppiaista Artun kanssa kotona, ei tarvinut töihinkään mennä tänään. Eilen illalla tehtiin todella maukasta ruokaa (pannulla paistettua possua, paprikaa, kurkkua ja ananasta chilikastikkeella ja nuudeleita). Tehtiin myös lettuja jätskin kera ja katsottiin "Marie Antoinette" (2006), joka on mielestäni maailman herkullisin elokuva koskaan. Joskus olisi hauska järjestää Marie Antoinette -teemaiset juhlat, vaikka piknikin muodossa! Aloitettiin myöhään illalla myös katsomaan "Ylpeyttä ja Ennakkoluuloa", vuoden -95 minisarjaa, joka on ehdottomasti paras filmatisointi kirjasta koskaan. Kolmeen jaksoon päästiin, jonka jälkeen alkoi väsyttää.
(Translation: It's nearly -30ºc outside. Fortunately I don't have to go anywhere today. I have spent Epiphany at home with Arttu, as I had no work today. Yesterday evening we prepared a very tasty meal (roasted pork, paprika, cucumber and pineapple with chili sauce and noodles). We also made pancakes with ice cream and watched "Marie Antoinette" (2006), the most delicious movie I have ever seen. It would be fun to throw a Marie Antoinette themed party, perhaps as a pique-nique! We also started to watch the miniseries "Pride and Prejudice" from 1995, which in my opinion is the best filmed version of the book. We watched three episodes, but then we started to fall asleep at 1am.)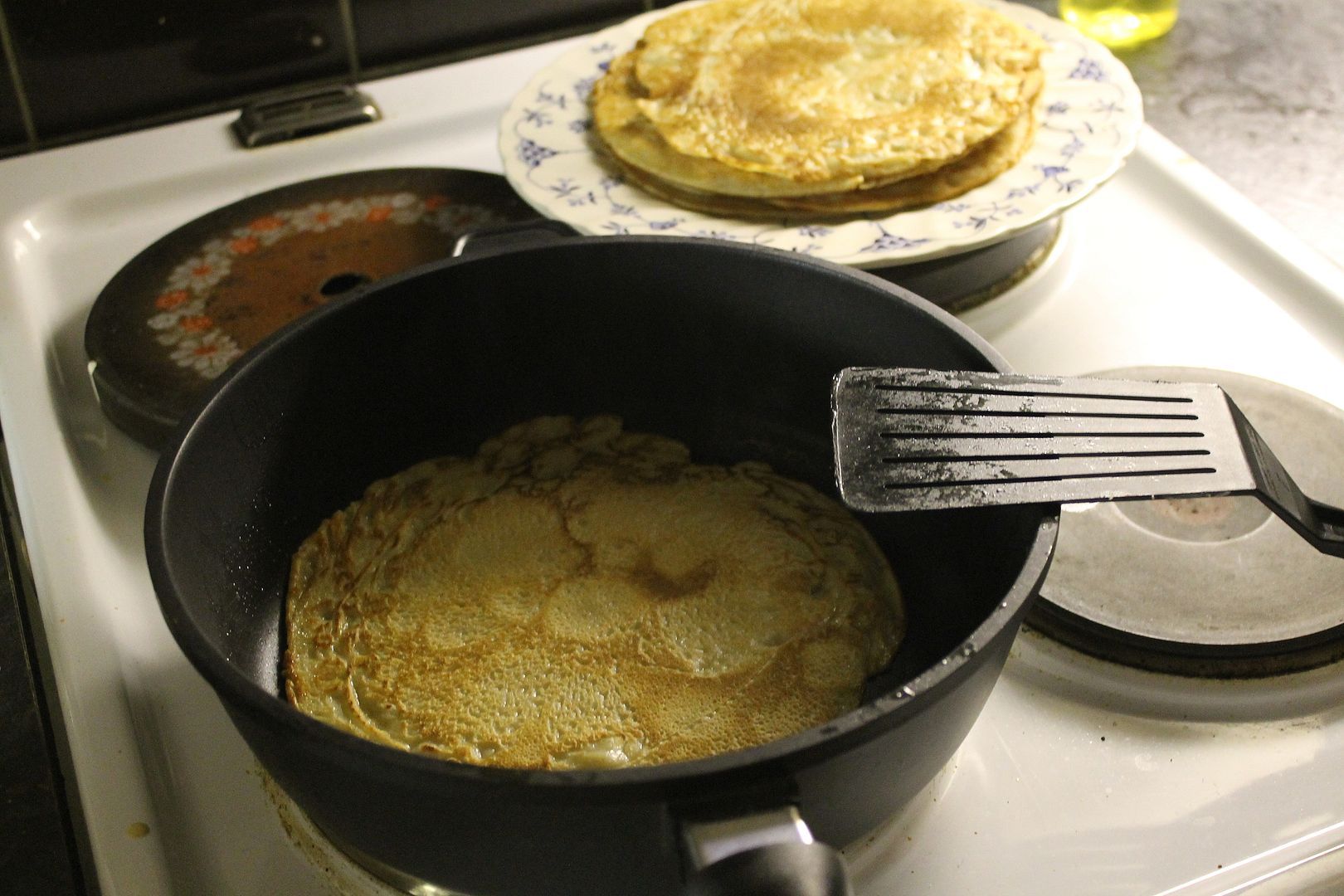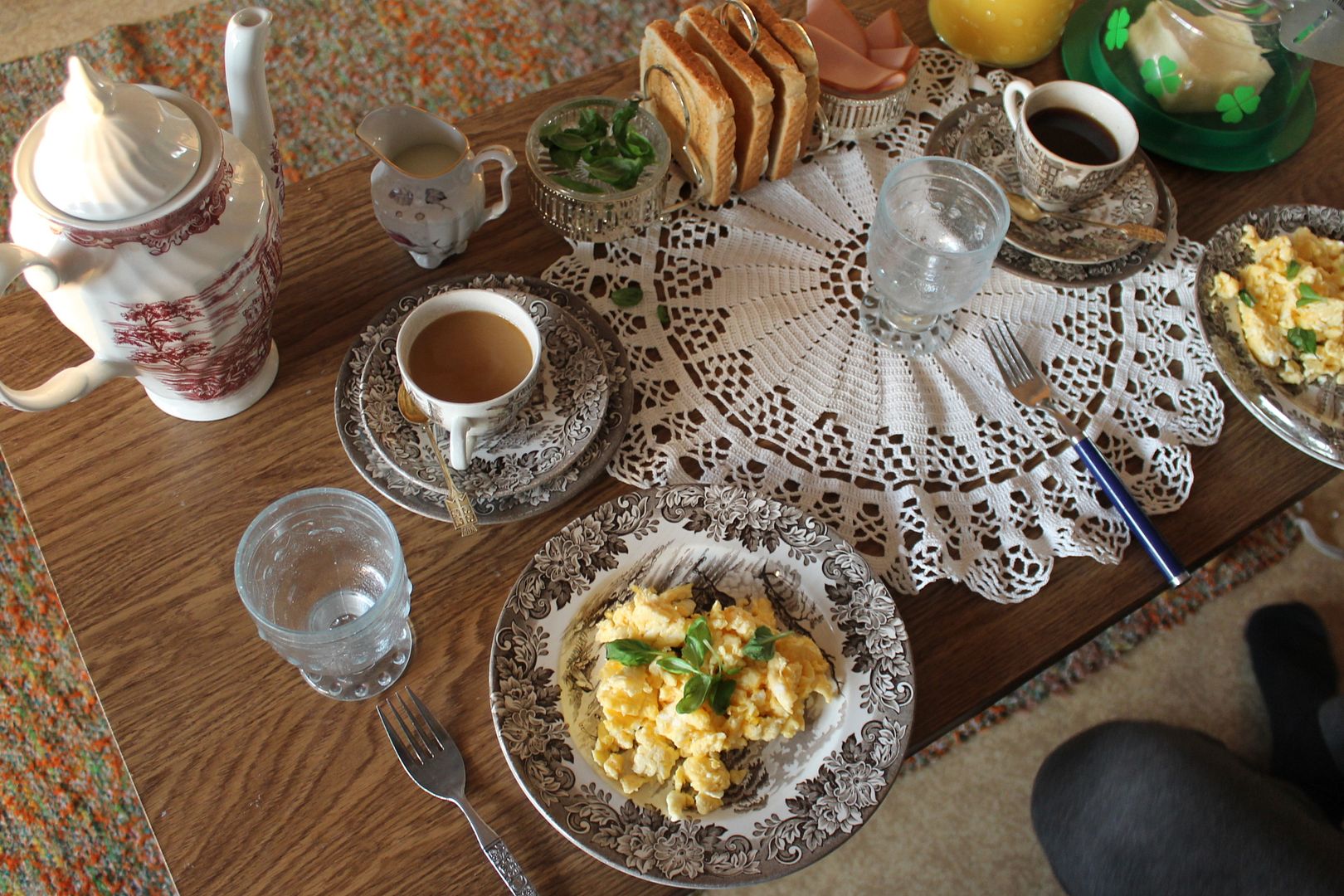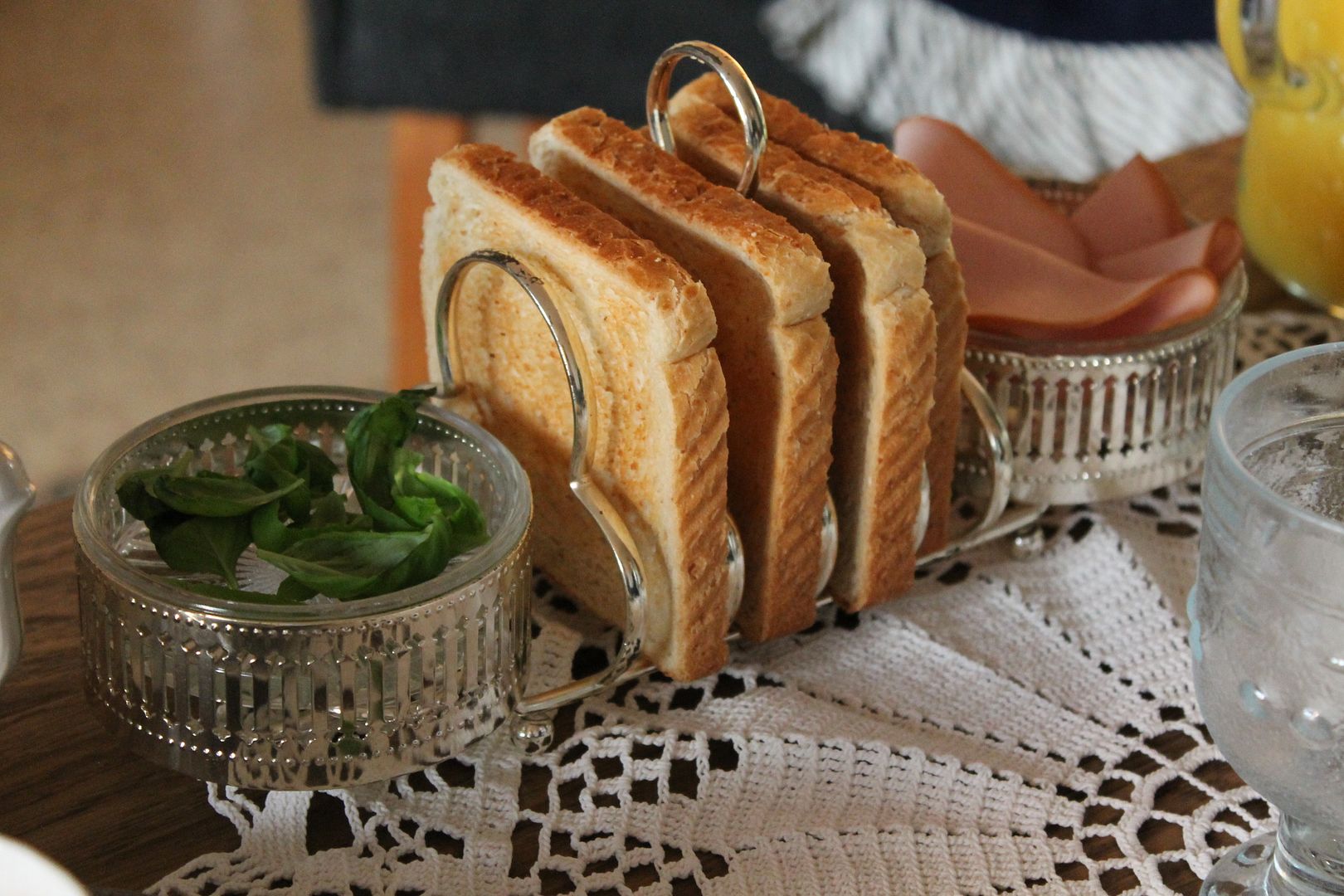 Tänään Loppiaisaamuna minä tein meille vähän paremmalla kattauksella aamiaisen. Harmi, että asuntooni ei mahdu ruokapöytää, joten jouduimme tyytymään syömään sohvapöydän ääressä. Olin ostanut kauan haaveilemani paahtoleipätelineen, jonka tahdoin ehdottomasti ottaa käyttöön. Tiedän, tiedän, paahtoleipätelineet ovat aika turhia käyttöesineitä, mutta mielestäni niin siistejä jollain oudolla tavalla :D Aivan kuten pyöreäpäinen vispilä, jollaista Muumimamma käyttää Pyrstötähti-elokuvassa. Sellainen on vaan pakko saada. Valitsin pöytään vanhan englantilaisen astiastoni kuppeja ja lautasia, Dickens -sarjaa. Kannu ei ole samaa sarjaa, mutta sopi silti mukaan pöytään. Tein meille myös scrambled eggsiä tuorebasilikalla. Pekoniakin oli tarkoitus paistaa, mutta se unohtui ostaa :D Aamiaisen jälkeen katsottiin loput jaksot Ylpeyttä ja Ennakkoluuloa. Arttu ei ollut ennen nähnyt kyseistä klassikkoa, joten oli hyvä sivistää toista. Ja nyt hän todella haluaa katsoa tulevan elokuvan "Pride and Prejudice and Zombies"... :D
Mukava vapaapäivä takana! Ei haittaa herätä huomenna aikaisin töihin. Kaksi päivää töitä, jonka jälkeen taas viikonloppu ja sen meiningit. Ajattelin kyllä olla juomatta tässä kuussa. "Uuden vuoden juhlintani" kun kesti kolme päivää putkeen sinä viikonloppuna.. Mutta ihan kivaa oli, ei vaan tuo alkoholi maistu enää samalla tavalla. Vanha ei enää jaksa, eikä se ole enää niin ihmeellistä kuin ennen. Tekee vaan asioista vaikeampia kuin ne ovat.
(Today I made us breakfast with a better setting than usual. What a shame that my flat is too small to have a dining table, so we enjoyed our breakfast by the coffee table. Few days ago I finally bought that kind of old toast rack I have dreamed of. I know, I know, toast racks are so unnecessary but still! I think they are so cool in some weird way :D I chose to our breakfast table my vintage English tableware, Dickens series. I made us some scrambled eggs with fresh basilica. I was also meant to roast some bacon but I forgot to buy it. After our slow breakfast while listening to Frank Sinatra, we watched the last three episodes of "Pride and Prejudice". Arttu had never seen that classic series, so it was good to educate him. And now he really wants to see the upcoming movie "Pride and Prejudice and Zombies"... :D
What a great day it has been! I don't mind waking up tomorrow early to work. I have only two days work and then it's weekend. I think I won't drink this month at all. My "new year's celebrations" lasted three days in a row... I had fun to see and gain friends, it's just that I don't want to use alcohol that much. Using alcohol is not fun anymore, like it used to be when I was younger. It only makes things worse.)