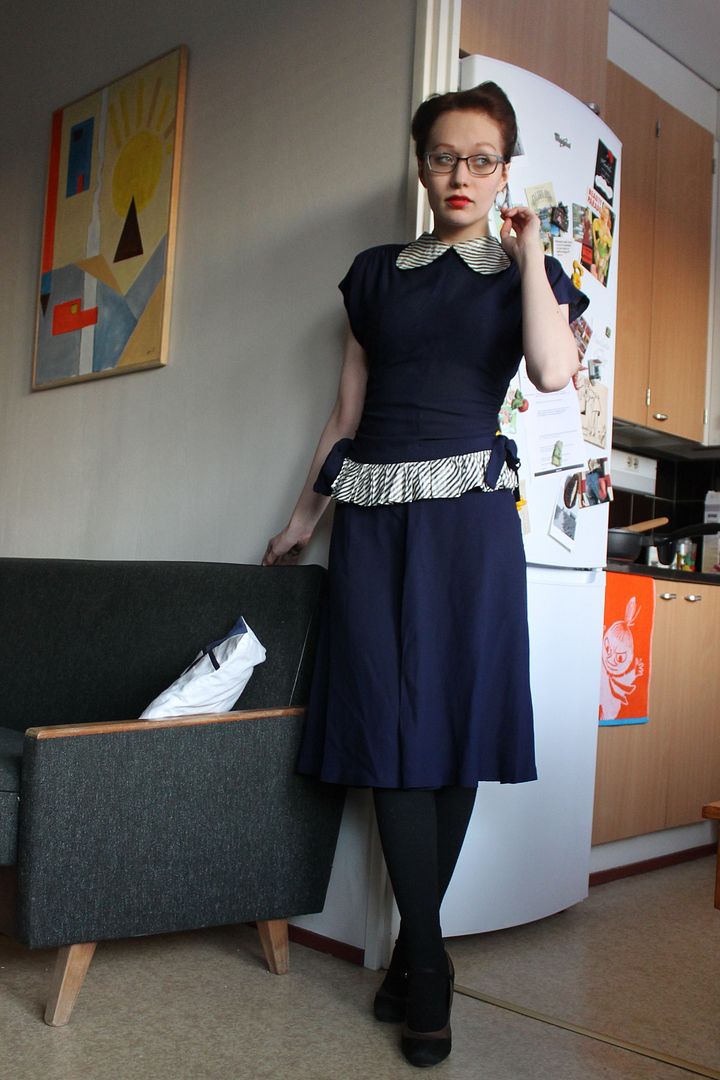 Nyt vihdoinkin esittelen teille joululahjan, jonka tilasin itselleni joulukuussa lahjaksi Etsy.comista. Se on 1940-luvun vintagea, ihanalla kauluksella, olkatoppauksilla ja peplumilla. Ja lempiväriäni, laivastonsinistä. Voin niin kuvitella itseni kesäisenä päivänä ravintolan terassilla, tämä puku yllä ja leveälierinen hattu päässä. Olen alkanut taas käymään läpi vaatekaappiani, ja yritän myydä sellaisia vintagevaatteita pois, joita en enää käytä. Luopuminen on vaikeaa, mutta pyrin ajattelemaan niin, että saan tilalle hienompia pukuja!
(Translation: Now I finally show you the dress I bought myself as a Christmas present on December. I ordered it via Etsy.com. This frock is 1940s vintage, it has a lovely collar, shoulder pads and a peplum. And it is my favorite color, navy blue. I can imagine myself sitting in a terrace, wearing this dress and a large brim hat. I have started to clean my wardrobe again, and try to sell some of my vintage clothes I don't wear. It is hard but I will try to think about even lovelier dresses I can buy and make room for!)
Kävin tänään hammaslääkärissä. Sain vähän mieltä alentavia uutisia sieltä. Menin vihdoinkin tutkimuksiin kiillehäiriön (amelogenesis imperfecta) takia, joka on perinnöllinen sairaus. Olen ollut tietoinen jo vuosia, että minulla se selvästi on hampaissa kuten myös isällä ja siskollani, mutta sitä ei ruveta hoitamaan täällä Joensuussa. Haluaisin niiiin kovasti terveet, valkoiset hampaat, enkä enää jaksa tätä jatkuvaa hampaiden murenemista, ientulehduksia ja reikiintymistä. Ei harjaaminen auta. Lääkärin mielestä kiillehäiriöni ei ole niin paha, joten sitä ei tarvitse hoitaa. Minä uskallan olla eri mieltä asiasta. Totta kai se tarvitsee hoitoa. Hän ehdotti, että voinhan myöhemmin ottaa laminaattipinnoitteet etuhampaisiin, jotta keltaisuus ei näkyisi muille, mutta joutuisin sen ilmeisesti itse kustantamaan, ja se tekisi varmaan joitain satoja euroja.. Toivon, ettei kukaan lapsistani peri tätä sairautta, koska tää on oikeesti suoraan sanottuna
perseestä
.
(I had an appointment with a dentist today. I got some sad news. I finally went to an examination about my amelogenesis imperfecta, a genetic disorder of tooth development, which means I don't have enamel on my teeth. I have known for years that I have it, my dad and sister has this disorder too, but it can't be cured in Joensuu. If I'd go to Helsinki, I bet I'd get a diagnosis and brand new teeth. I really want to have healthy, white teeth! I don't think I have enough strength to deal with this. This disorder makes my teeth crack easily, my teeth are yellow and I have had my every tooth filled many times because of caries. Brushing has not helped. My dentist said that my disorder isn't that bad, so it doesn't need fixing. I disagree.. Of course it needs to be taken care of. She did suggest that I could laminate my incisors in the future, which would be a cosmetic correction - and it would cost me probably some hundreds of euros. I really hope that none of my future children will inherit this disease, because honestly, this sucks!)