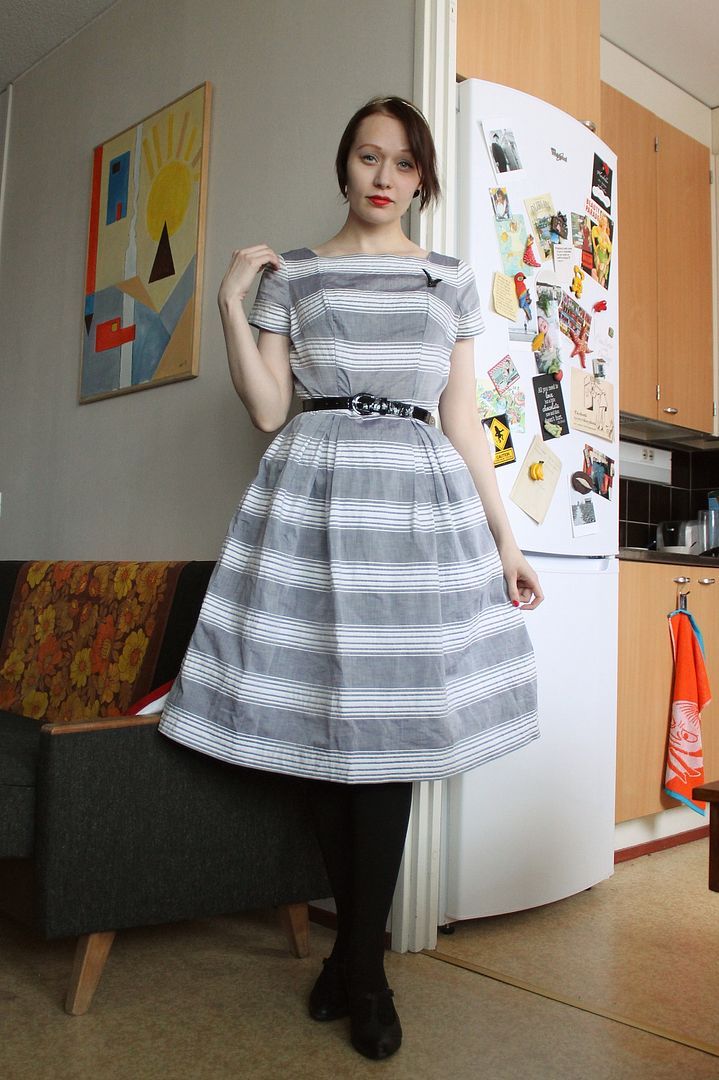 Tämän harmaaraidallisen mekon löysin kirpputorilta seitsemällä eurolla. En yleensä osta asiakaskirppareilta tuohon hintaan vaatteita, mutta mahdollista vintagea eteen sattuessa teen yleensä poikkeuksen. Oletan puvun olevan vanha, sillä kangas ei ole uutta, ja se on muutamasta kohtaa kulunut. Mekossa on sivussa muovinen vetoketju ja saumurihuolittelut, sekä paljon saumavaraa. Itse ajoissaisin mekon mallin 60-luvun alkuun, vaikka jokin jää tässä mietityttämään. Voi olla jonkun ompelema repro vanhasta kankaastakin. Olkoonkin vintagea tai reproductionia, on tämä mekko silti ihan luotto :)
(Translation: I found this grey striped dress from the flea market, it cost 7 euros. I don't usually buy that pricey clothes from the flea markets, unless it is vintage. I assume that this dress is old, because the fabric is not new and it is a bit fragile on some parts. This dress has plastic zipper on the side, serged seams, and lots of seam allowance. I'd think this is early 60s by looking at the pattern, but I am hesitating. It might be a reproduction made out of an old fabric. Nevertheless, this will be my trusted dress.)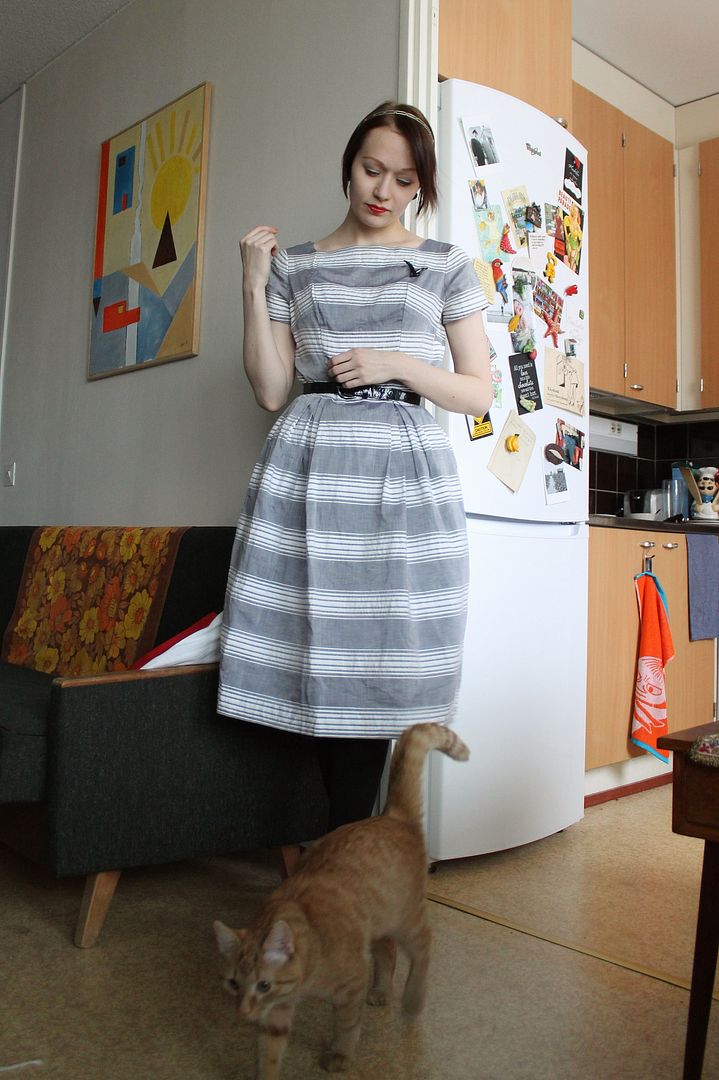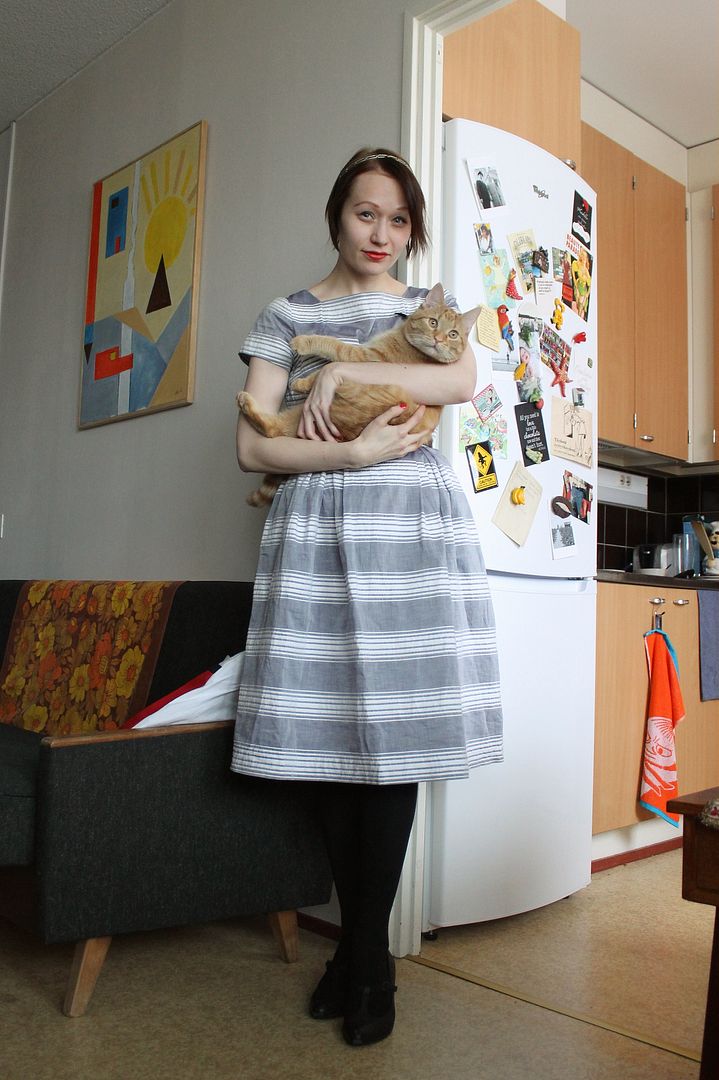 Lähden 5.2. viikonloppureissulle Ouluun ystävättären luokse. Odotan innoissani sinne pääsyä, vaikka seitsemän tuntia linja-autossa kuulostaakin tukalalta ajalta. Saas nähdä, mitä löytyy Oulun kirppareilta. Käydään silloin perjantaina illalla kuuntelemassa Eva & Manua! Duolla on muutama huippuhyvä biisi, jonka takia sitä menee mielellään kuuntelemaan livenä. Heh, ja nyt jo vaatekriiseilen, vaikka onhan tässä vielä aikaa miettiä, mitä tarvitsee mukaan.
(On February 5th, I will travel to Oulu for the weekend to meet my friend. I am eagerly waiting for my trip, even though sitting 7 hours in a bus is really not my cup of tea. We'll see what treasures I will find from the thrift stores of Oulu. We are going to see Eva & Manu's gig on my first evening there. That duo has some great songs, and I bet they will be great to see live. I have already a crisis what to wear, but luckily I have time to think about it.)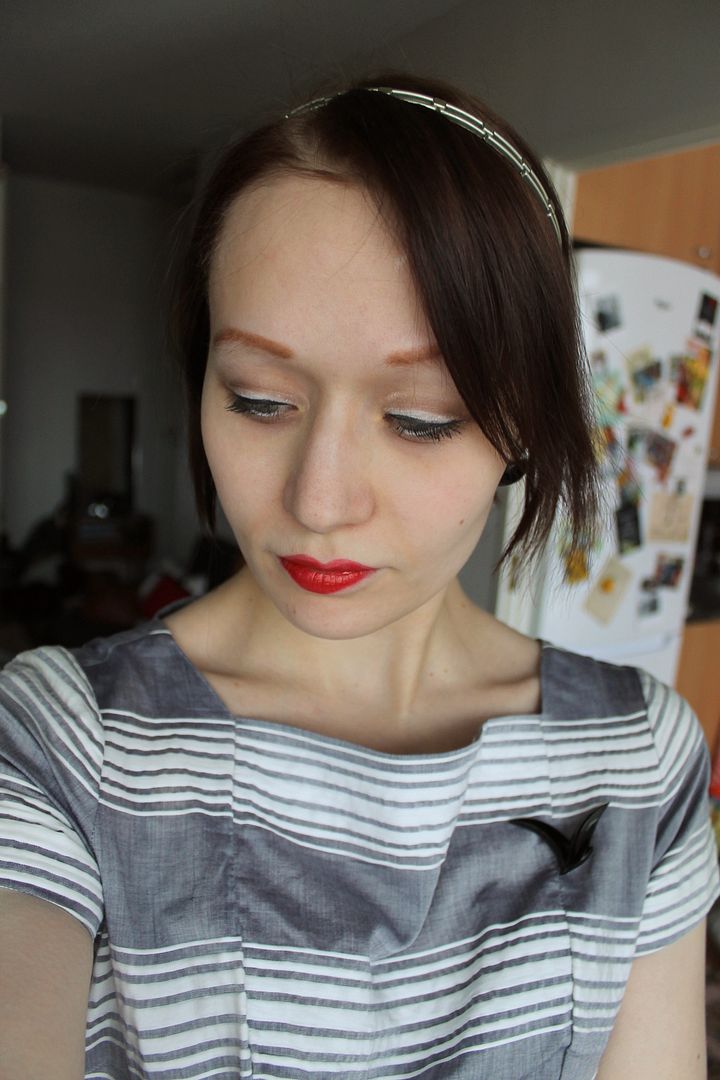 Kovat pakkaset hellittivät viikonlopun aikana. Kohti kevättä mennään jo toivon mukaan. -30ºc asteesta -5ºc asteeseen oli yhtäkkinen muutos, ja siihen totuttelu on vienyt aikaa. Edelleen pukee liikaa päälle ja tulee kuuma! Tuntui ihan oudolta, kun kasvoihin ei sattunut enää pakkasen kipristely ulkona pyörähtäessä, on kuin kesä lumen keskellä :D
PS: Photobucketin kanssa on ollut ongelmia kuvien lataamisessa. Onko teillä, jotka sitä käyttävät, toiminut moitteettomasti?
(Cold weather eased up during the weekend. I hope we are going now towards spring. Quickly going from -30ºc to -5ºc was a big change, and getting used to it has taken some time. I still wear too many layers and then it's too hot. It feels so weird that my face does not hurt anymore outdoors. It's like summer with snow :D
PS: I've had problems with Photobucket lately when downloading pictures. You guys who use it to add pictures to Blogger, has it been working properly or is it just me?)