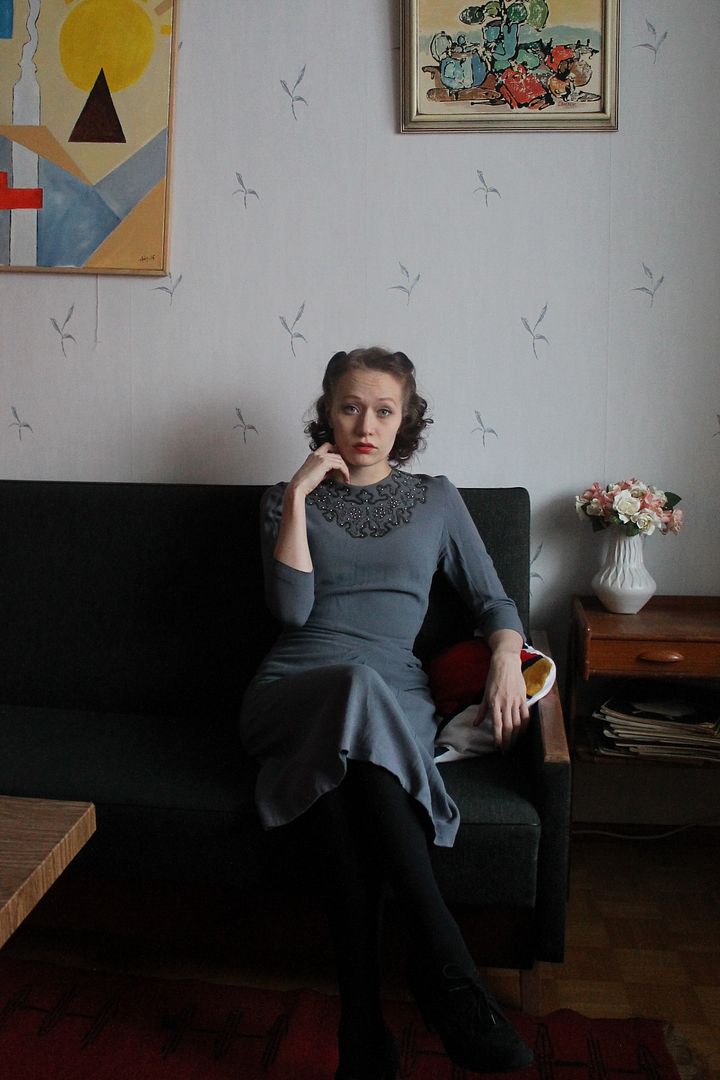 Toissapäivänä kävin postista hakemassa kaksi uutta mekkoa. Molemmat Facebookin vintagekirppiksen kautta, ja ostin nämä itselleni joululahjaksi. Tästä on jo tullu perinne, että joka joulu hankin hyvällä omallatunnolla jonkin uuden mekon. Ainakin tällä kertaa omatuntoni parani reippahasti, sillä siivosin vaatekaappini urakalla. Ainakin rekistä väheni kuusi mekkoa pois näiden kahden upeuden tieltä. Tämä toinen pukuni on 1940-luvulta, ja voin sanoa, kannatti olla jonossa! Ostajalle tämä ei ollutkaan tarpeellinen, joten hän möi tämän eteenpäin minulle. Yleensä en jaksa laittaa edes itseäni jonoon, mutta tämä oli sen verran helmi, että oli ihan pakko. Onneksi! Tässä on aivan upeat yksityiskohdat, myös vyötäröllä.
Toinen puku, jonka ostin, on kesäinen kellomekko 1950-luvulta, joten se todennäköisesti tulee blogin puolelle sitten keväämmällä :)
(On Tuesday I went to pick up two packages, including vintage dresses. Both of them are from Facebook's vintage selling group. I bought these dresses as a Christmas present for myself. This has became a tradition already! New vintage dresses on Christmas, with good conscience. I also emptied my wardrobe a little, and put aside six dresses from my dress rack to make space for my new finds. This smoky color dress is from 1940s, and I have to say that I am glad I queued for this! Original buyer didn't have use for it she sold it to me. Usually I don't queue anything in those Facebook selling groups, but this dress was such a beauty that I gave it a try. Luckily! This dress has so beautiful details, also on the waist.
Other dress that I bought is summery circledress from the 50s, so I will propably show it to you in Spring :)