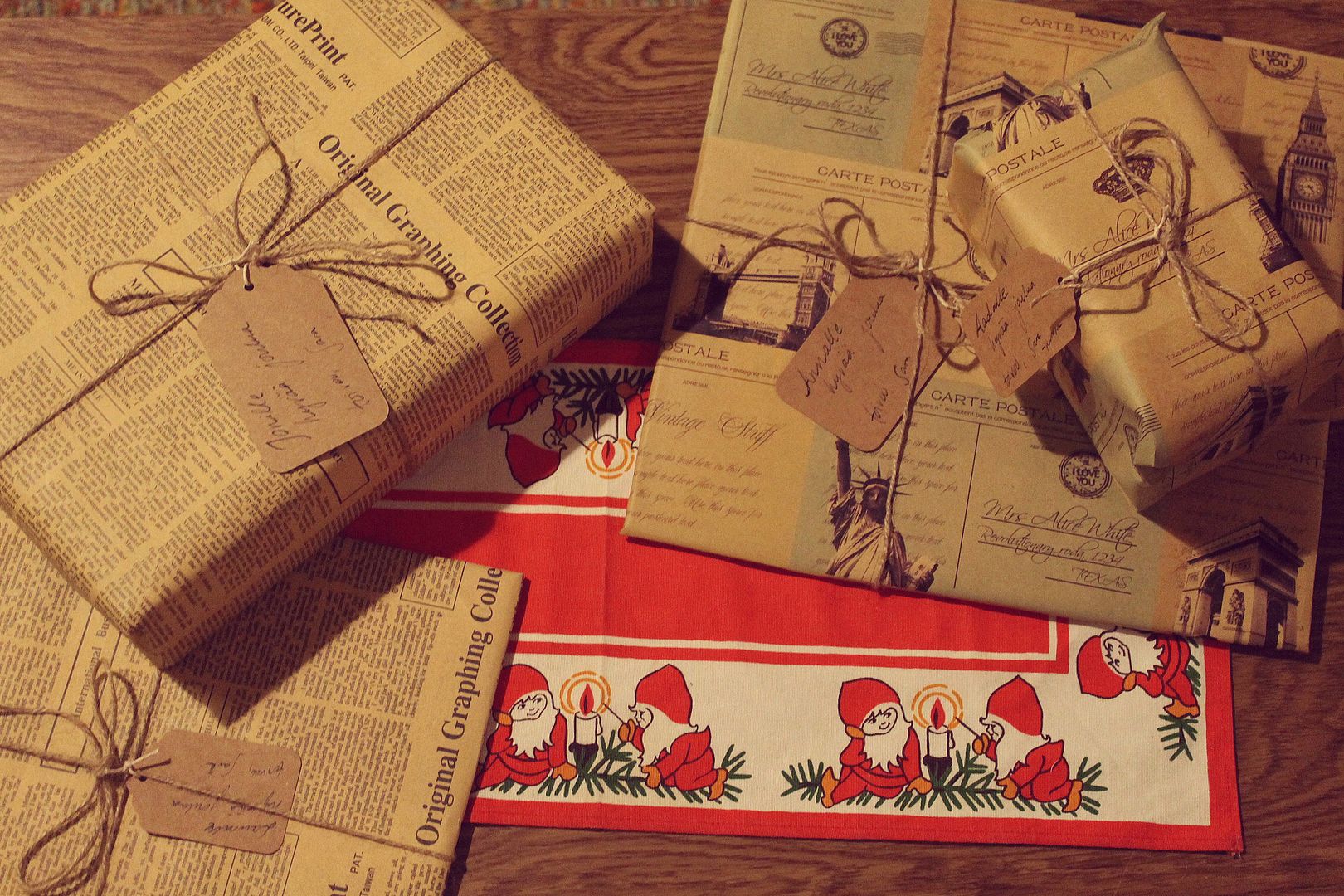 Tänä päivänä kävin etsimässä viimeiset joululahjat lopuille perheenjäsenille. Siskoille ja kummitytölle hankin lahjat eilen ja Artulle tilasin jo aikaisemmin. Toivottavasti Artun lahja ehtii tulla postissa ennen jouluaattoa! Se on niiiin hieno. Itselleni joululahjaksi tilasin tänään 1940-luvun laivastonsinisen mekon.
Kerrankin olin ajoissa jo miettinyt, mitä kenellekin hankin ja kysellyt mieltymyksiä, joten ei tarvitse stressata siitä enää. Joensuuhun on tullut askarteluliike Sinooperi, josta sai mielettömän hienoja pakkauspapereita. Oli ihan pakko saada sanomalehti- ja postikorttikuvioista paperia! Vanha karttakin olisi ollut hieno, mutta en olisi varmaan raaskinut käyttää sitä paketointiin. Tietysti tarvitsi myös juuttinarua kääröjen ympärille. Tosi kivat tuli paketeista!
(Translation: Today I bought the last Christmas presents to the rest of my family. Yesterday I bought gifts to my sisters and goddaughter, and few days ago I ordered a gift for Arttu via online. I hope his gift will arrive before Christmas eve! For myself I ordered a 1940s navy blue dress.
Finally I was an early bird thinking about what to buy for my family and asked what they would like or need. No stressing about that anymore. There's a new boutique selling crafting supplies here in Joensuu, and I found these awesome wrapping papers from there. I really had to get them in newspaper and post card prints! Old map would have been cool too, but I don't think I would have bear to use it for wrapping. And of course I needed some jute string around the presents. These packages are so cute!)