Tämä asukokonaisuus tuo jotenkin mieleeni joulun (johtuu varmaan tuosta punaisesta rusetista). Joulusta täytyy sen verran sanoa, etten välitä siitä juurikaan enää. Olin vielä muutama vuosi sitten hössöttäjä joulun perään ja odotin sitä aina kuin kuuta nousevaa ja oman kodin täytyi olla täydellinen koristuksineen kaikkineen, mutta nyt joulun lähestyminen saa vaan niskavillat pystyyn. Joulu on aika paha stressin aiheuttaja.
Jouluruuasta en pidä (kinkut ja laatikot ym. kierrän hyvin kaukaa), ja tunnelma ei koskaan ole niin rauhallinen kuin pitäisi olla. Ei ainakaan oman pääni sisällä. Joulusta on tullut niin kaupallista, enkä pidä sellaisesta. Ei minulla ole mitään toiveita lahjojenkaan suhteen, vaikka niiden antaminen on tietenkin mukavaa - kunhan vain keksii, mitä hankkii kenellekin. "Ajatus on tärkein", kuuluu sanonta, mutta kyllä sitä aikuisiällä haluaa perheelle oikeasti antaa jotain, jolla on merkitystä ja jolle on käyttöä. Itselläni tätä tavaraa alkaa ehkä olla liiaksikin. Ja mistä pidän eniten joulussa? Ehkä eniten joulunvietossa odotan lautapelien pelailua ja kuumaa glögiä. Ja siinä se.
(Translation: This outfit reminds me of Christmas (probably because of that red bow). I must say, that I don't care about Christmas anymore. I used to be fussing about Christmas already in September and I couldn't wait it, and my home had to be decorated with Christmas junk. Nowadays it just gives me chills. It is one big cause of stress.
I can't stand Christmas food (I really avoid ham and casseroles etc.), and the atmosphere is never as peaceful as it should be. It is so commercial fest and I don't like that. I really don't have any hopes for gifts either, but I do enjoy giving them - if I just figure out what I get and whom. "The idea is the most important", they say, but nowadays as an adult I don't want to give my family something they don't need or doesn't have any meaning. And what I like about Christmas? What I wait most is just to play board games with my siblings and drink mulled wine. And that's about it.)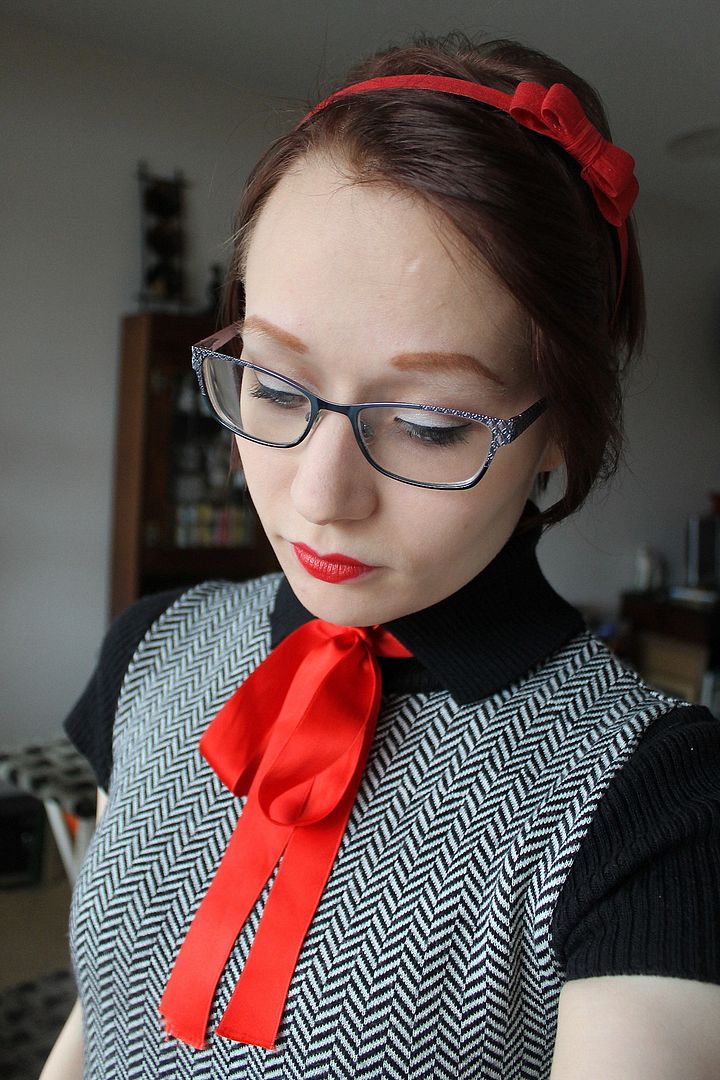 Minä, Arttu ja kisuni Nelson vietetään tämä joulu minun vanhempien luona. Saa nähdä, miten hermot kestää, koska veikkaan kissan ainakin viihtyvän joulukuusen kimpussa. Onneksi Ara tulee mukaani Nurmekseen, niin joulu on astetta miellyttävämmän tuntuinen juhla. Mukava olisi tosin joskus viettää oikeasti perinteistä joulua meidän sukutilalla maaseudulla.
Jollain tapaa en malta odottaa sitä, että pääsisin järjestämään joulunvieton omaan tapaani. Tietenkin jälkikasvulle suon joulun juhlinnan. Ei minun negatiivinen asenteeni joulua kohtaan ole mikään este viedä lapsilta iloa ja lahjoja, joita he odottavat varmasti eniten. Ainakin itse odotin lapsuudessa, ja joulu tuntui olevan ohi heti, kun lahjat oli avattu :D Joulu ei vain ole itselleni enää tärkeä. Voihan olla, että mielipiteeni muuttuu taas vanhetessa, saa nähdä.
(Me, Arttu and my cat Nelson are spending this Christmas at my parents home. We'll see how my nerves will manage, because I believe that my cat will be crazy about Christmas tree.. I am glad that Arttu is coming with me, so Christmas is just a bit more enjoyable than usual. Even though I have this negativity towards commercial Christmas, I'd love to spend Christmas at our old family estate in the countryside. Traditional and idyllic.


Somehow I can't wait when I have a chance to celebrate Christmas in my own way, but of course giving my future children the joy of Christmas and presents, which they will probably wait the most. At least I did as a child! It felt like the Christmas was over immediately after I had opened all the presents. I just don't want to fuss about it anymore. My attitude might change when I get more older, but right now... It is not important to me.)