Lumi taisi tämän talven osalta tulla jäädäkseen, kun pakkanenkin kiristyy päivä päivältä ja joka päivä sataa lunta. Nelson kävi parvekkeella ihmettelemässä lumentuloa, ja miukuu nyt usein parvekkeen ovella. Annan kissan olla siellä päivittäin vähän aikaa, niin kauan kuin ovea kestää auki pitää.
Nelsonista on myös sen kasvaessa tullut esiin hassuja piirteitä. Se esimerkiksi uittaa leluhiirensä vesikipossa ja kantaa ne sitten litimärkinä sänkyyn. Itsepäinenkin se on, ja on pakko päästävä juuri sinne, minne ei saisi mennä. Tiskipöydältä kun kisun nostaa alas, se on heti sinne pyrkimässä vauhdilla uudestaan. Onneksi se on nyt ruvennut yöt nukkumaan nätisti vieressä. Vauvani on kasvanut niin paljon!
(Translation: I believe that recently fallen snow is permanent for this winter. Nights get chillier and it falls snow every day. My cat Nelson got his first sight of snow few days ago, when I let him explore my balcony. His eyes were like plates when he tried to catch every single snowflake through the window. I let him be in the balcony every day for a while, as long time as the door can be left open.
He has also developed some funny traits. He for example gives his toy mice a nice bath in his own water bowl, and then he carries them to my bed. He is also very stubborn. I don't like him exploring my dining table or draining board. I lift him back on the floor every time he jumps on them, but it does not stop him. He just gets more and more excited and jumps there constantly afterwards. But I am glad Nelson has been sleeping well during night time. My baby has grown so much!)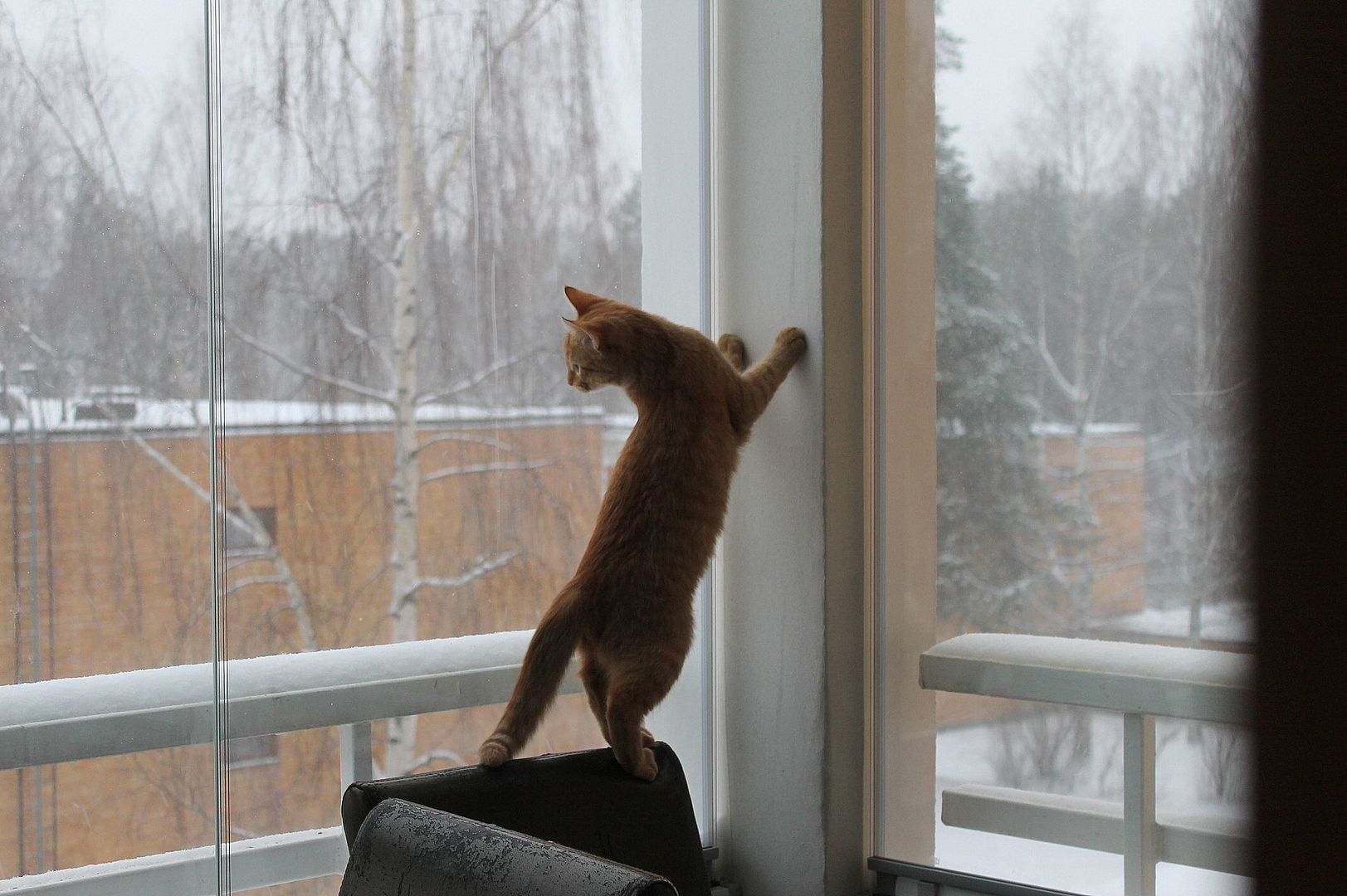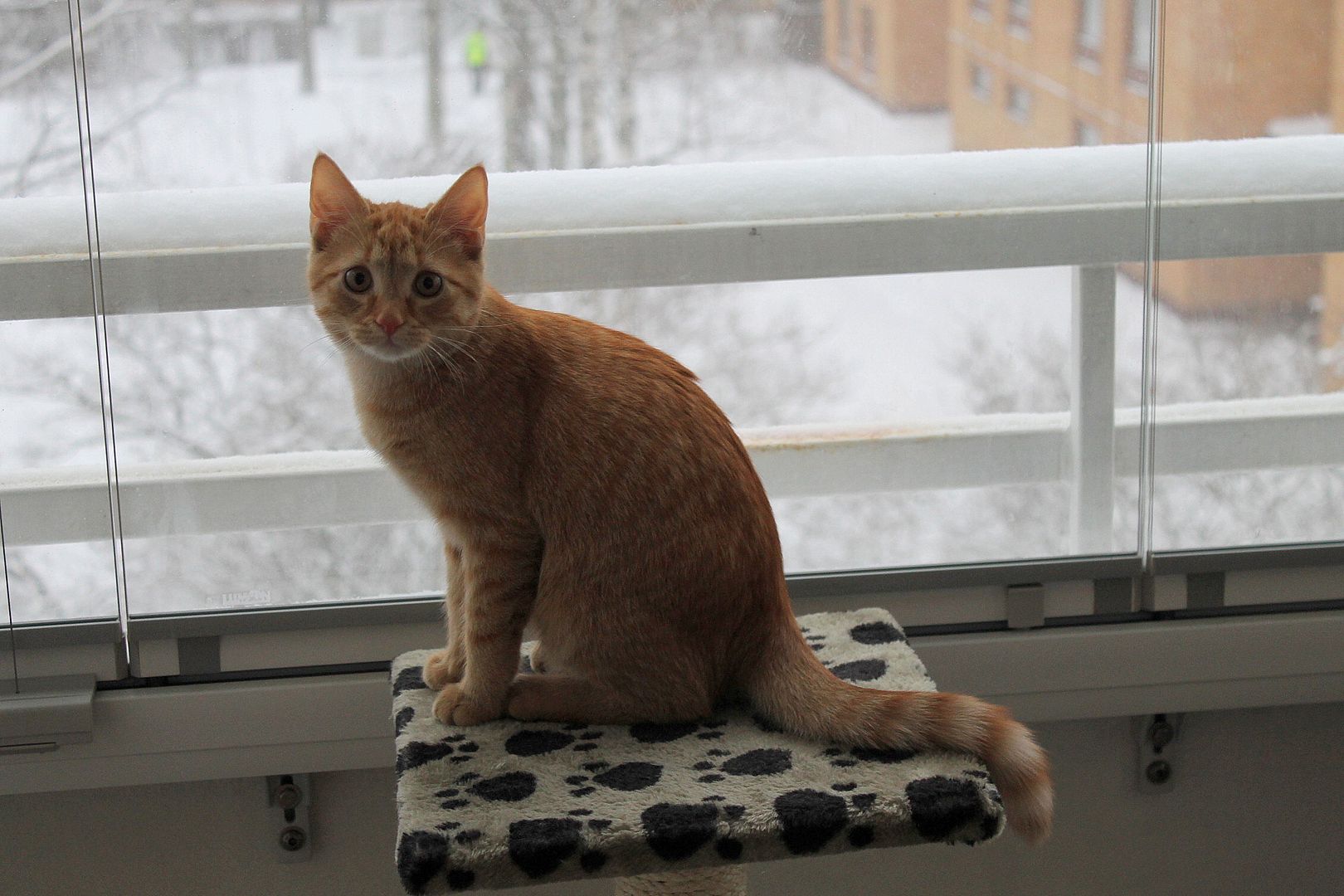 Sain vihdoinkin aikaiseksi ostaa muuten talvikengät. Edellisen talven kuljin välikaudelle sopivissa herrainkengissä, ja kylmä oli tietenkin. Ostin nyt tällaiset vähän lämpimämmät nilkkurit kunnon pohjilla. Mielestäni nämä ovat ihan kelpuutettavat, eivät liian jykevät ja sopivat ihan hyvin vintagetyylini kanssa. Korosta en tietenkään suostu tinkimään, mutta saatan vielä hankkia tasapohjaiset talvikengät työmatkoille. Aamuisin kun on yleensä niin paljon kylmempi.
(Finally I bought myself a pair of winter shoes. Last winter I walked with ankle boots that were not suitable for colder season.. Boy was I freezed! These boots are better for winter and has proper bottoms. I like these shoes, they are not too sturdy and suit well with my vintage style. I will hardly ever bargain when it comes to heels, but I might get flat-bottomed winter shoes for my commutes. It is so cold in the morning that I might do an exception.)