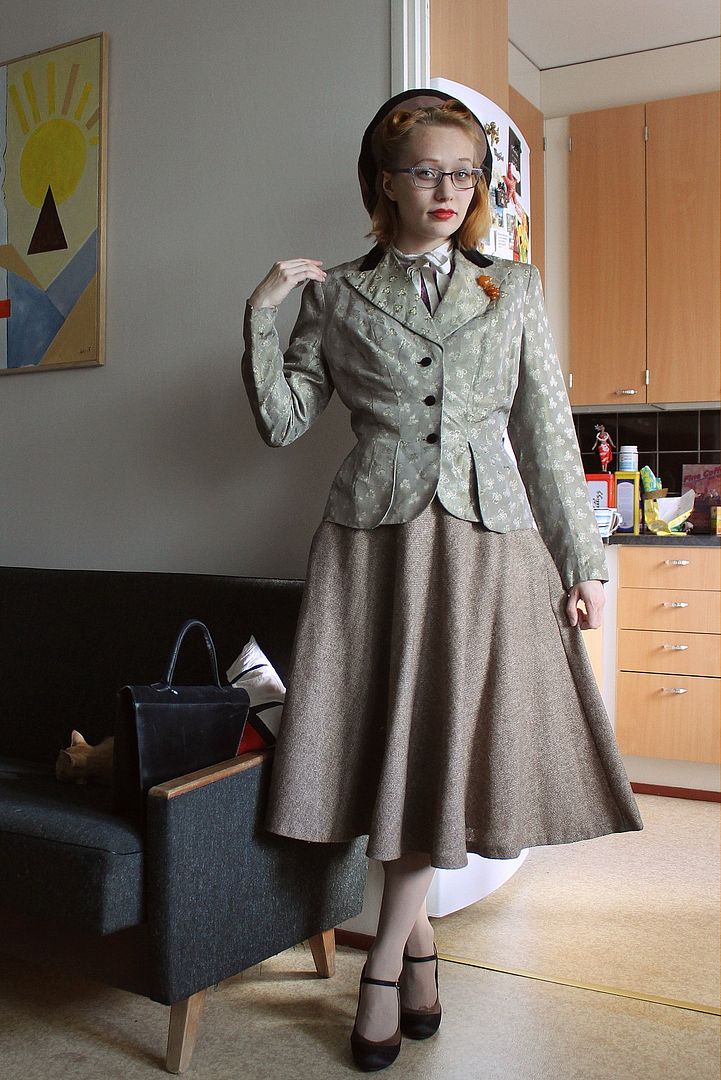 Toissapäiväinen asuni ammensi inspiraationsa 1940-luvulta. Jakku on 40-luvulta, hame jostain 70-luvulta. Tuohon jakkuun kuuluu oma hamekin, mutta halusin kokeilla yhdistää sen johonkin toiseen hameeseen välillä.
Kävin tämä asukonaisus päällä kiertämässä kierrätyskeskukset ja kakkukahveilla yksin. Oli aika hauska huomata, miten sain halveksuvia tuhahduksia ja nenänvartta pitkin meneviä katseita enemmän kuin yleensä. Miksi? Eikö enää ole sallittua tässä kaupungissa pukeutua hienoimpaan kävelypukuunsa ja lähteä julkiselle paikalle ilman, että on karannut teatterista tai on menossa juhliin? Omasta mielestäni tämä asuni ei nyt poikennut paljoa aiemmista asuistani, mutta ilmeisesti jokin ei kanssaihmisiä miellyttänyt :D Onneksi en ole niin herkkä enää näille negatiivisille reaktioille, että muuttaisin tyyliäni. Enemmänkin tuollaisten reaktioiden kohdalla ryhtini korjaantuu entisestään ;)
(Translation: My outfit from Tuesday is inspired by the 1940s. That jacket is from the 40s, the skirt is probably 70s. That jacket has a matching skirt but I needed variety and used that wool skirt instead.
I wore this look when I went to thrift shopping and cafeteria. It was quite amusing to notice how many despising looks I got that day, more than usual. Why? Is it not acceptable anymore to wear your finest suit in a public place unless you've run away from the theater or going to a party? I don't think this outfit was very different than what I usually wear, but obviously people weren't pleased :D Luckily I am not that sensitive about negative reactions that I'd change the way I dress. I usually just fix my posture and smile even more when I get a disapproving glance ;)