Viime viikon perjantaina kävin Artun kanssa
Surakan baarin
swingi-illassa. Surakan talo on 1850-luvulta ja sillä on aivan upeat puitteet tällaisiin tapahtumiin. Baari talon tiloihin tuli kaksi vuotta sitten ja sitä juhlistettiin 20-luvun salakapakka -teemalla. Suurin osa oli pukeutunut teeman mukaisesti, ja oli todella mukavaa pienessä seurueessamme kuunnella livemusiikkia, pelata korttia ja nauttia punaviiniä kynttilöiden loisteessa.
Harmi, ettei kuvia tullut otettua paljoakaan. Ja nekin mitä otin, epäonnistuivat. Pari kuvaa otettiin Artun kanssa ennen lähtöä. Minulla oli yllä sama asu mikä on ennenkin blogin puolella näkynyt, ulkona laitoin ylle vielä kettupuuhkan. En ole uskaltautunut paljoakaan kettupuuhkaani käyttää, mutta tähän asukokonaisuuteen se kuului ehdottomasti! Arttukin innostui pukeutumaan teemaan sopivasti; olkihattu päähän, rusetti kaulaan ja henkselit ylle (puvuntakki jäi nyt laittamatta). Ja tietysti prässätyt suorat housut, joita ei Dressmannin naismyyjien mukaan osta muut kuin vanhat papat :D Minusta ne oli todella hienot ja tyylikkäät!
(Translation: Last Friday Arttu and I joined a 1920s themed evening in a local bar Surakan baari. Surakka house was built in 1850s and it has perfect milieu for this kind of events. The bar turned 2 years old on Friday and it was celebrated with a speakeasy theme party. Most of the visitors wore 1920s looks, and it was so nice to listen live music, play cards and drink wine in a candle light.
Too bad I didn't take much photos and those few photos I took failed. We took couple of pictures before we left our home. I wore the same outfit that has been seen in my blog before, and outside I wore a fox stole. I have not had the courage to wear it much but it definitely belonged to this outfit and evening! Arttu was quite excited to wear something different for a change; a boater, a bowtie and suspenders. And of course some creased straight trousers! Dressmann's saleswomen told us that only grandpas buy those nowadays.. :D But I think they are great and stylish even for a younger fella!)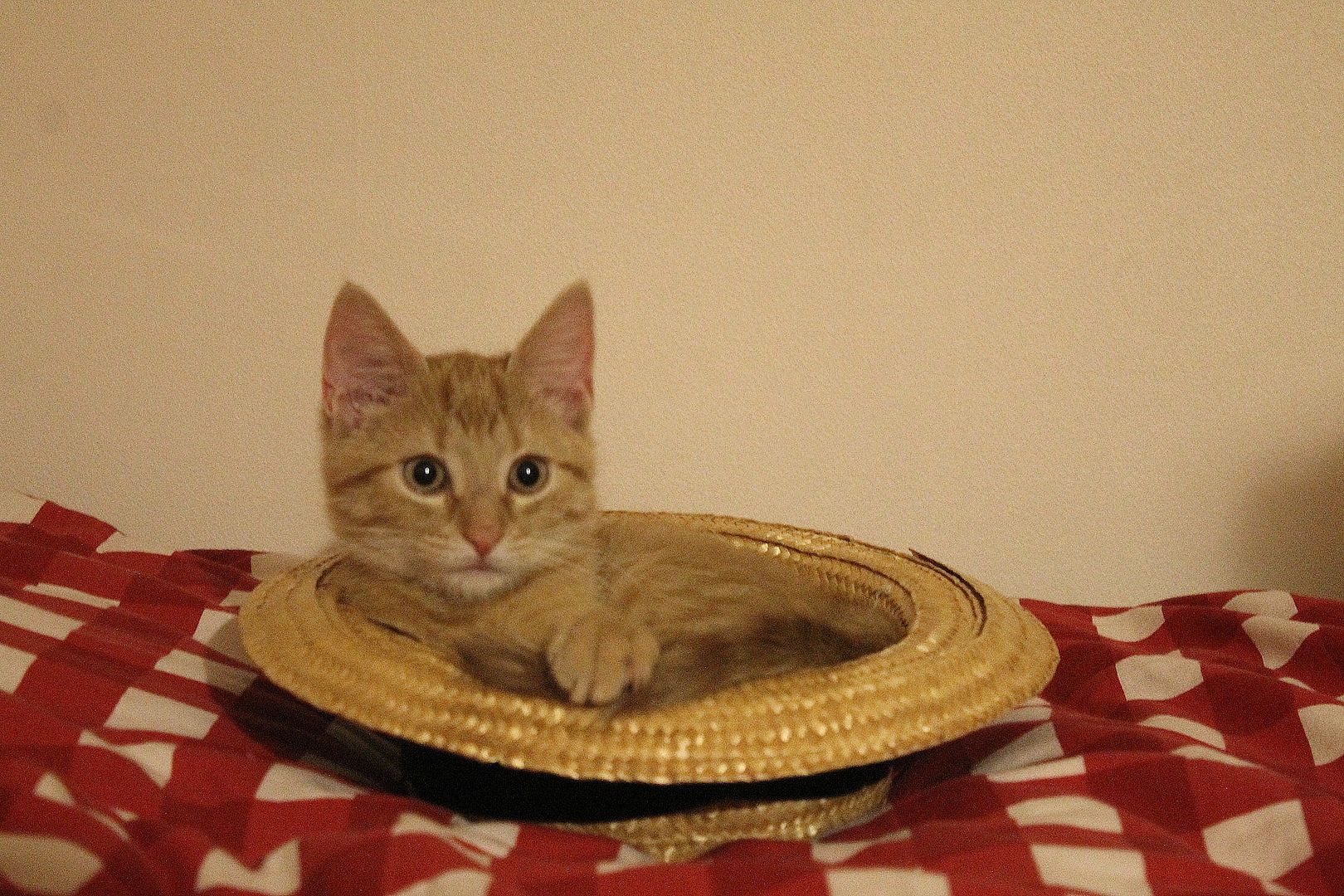 Kisumme Nelson löysi hyvän makoilupaikan Artun olkihatusta juhlien jälkeen :)
(Our cat Nelson found the perfect spot from Arttu's boater after we arrived back home from the party:)
Olen muuten ehdolla Indiedaysin Blog Awardsin kategoriassa LIFIE, eli lifestyleblogit. Jos pidätte blogistani ja saatte siitä inspiraatiota, käy ihmeessä antamassa äänesi Ladylike Delicacy-blogille. Äänestämään pääsee painamalla allaolevaa kuvaa ja blogit ovat aakkosjärjestyksessä :)
(I am nominated in Indiedays Blog Awards, in Lifestyle blogs category. If you enjoy my blog and get inspiration, please do go and vote for Ladylike Delicacy :) Link is in the picture, and voting happens when pressing the words "Äänestä")