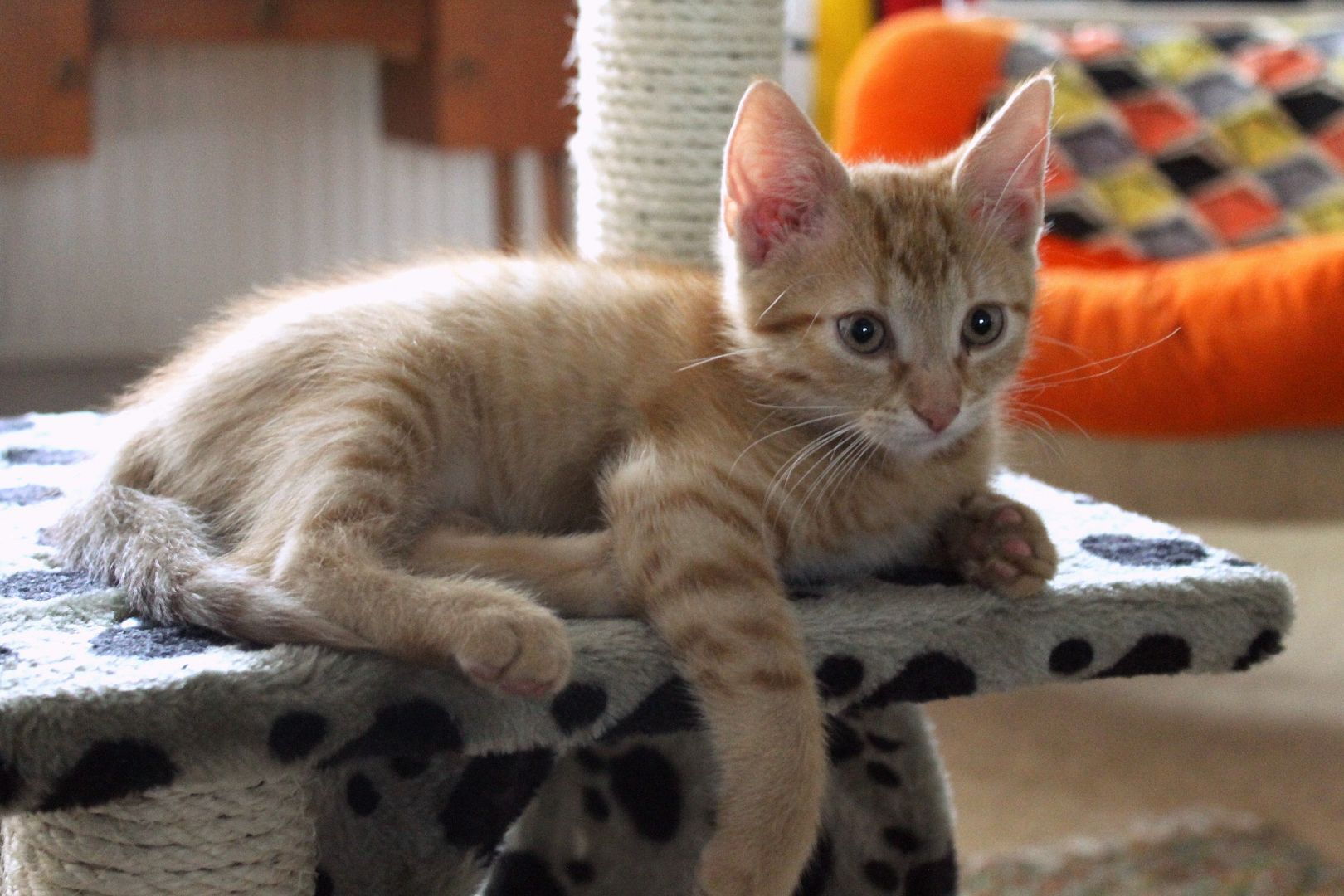 Eilen koitti se kauan odotettu päivä. Kävin Artun kanssa hakemassa kissanpennun! Automatkalla maukui paljon ja jätti "haisevat yllätykset" kantolaukun pohjalle, mutta minulla tuli pari onnen kyyneltä kun olin niin iloinen - onhan Nelson ensimmäinen kisuni! Annettiin rauhassa tutkiskella uutta kotia ja se intoutui uteliaan tutkintaretken jälkeen jo hurjasti leikkimään ja kehräämään. Hiekkalaatikon käyttö sujuu täydellisesti, ja ruoka maistuu. Vauveli tuli nukkumaan viime yönä meidän keskelle ja yö meni suht rauhallisesti, mutta yritin kyllä saada sen ensin omaan koppaan nukkumaan. Olihan se kiva kuitenkin huomata, että viekku kisulle kelpasi näinkin nopeasti! Tänä aamuna leikittiin paljon kun töistä tulin, ja nyt pienoinen jo simahti. Saa nähdä, miten pitkään unta riittää ja taas leikitään!
(Translation: Yesterday was a big day for me. Arttu and I went to pick up my kitten! When driving home with this 3 months old kitten, which meowed a lot and left "a smelly surprise" on the transport bag, I teared a little from happiness - after all Nelson's my first cat ever! We let him explore his new home in peace and after checking out the place, he got excited about his new toys and purred a lot. He can use the litter box perfectly and luckily isn't that picky about food. Not yet anyways. Baby came to sleep right next to us last night and he stayed very calm, but I did try to get him to sleep in his own sleeping box. It was nice to see though that Nelson wasn't afraid to be near us! This morning we played a lot after I came back from work, and now he's asleep. We'll see how long he will be napping, and then we'll play again!)
Ja tässä bonuskuva;
Hellyin niin mahdottomasti kun Nelson ensimmäistä kertaa nukahti Artun kylkeen kiinni
♥
Mahdottoman suloinen tapaus. Ei ole ihan arkajalka.
(And here's a bonus picture;
I was so smitten about seeing how Nelson fell asleep right next to Arttu on his very first evening ♥ This kitty is such a sweetheart. Not afraid of us anymore.)