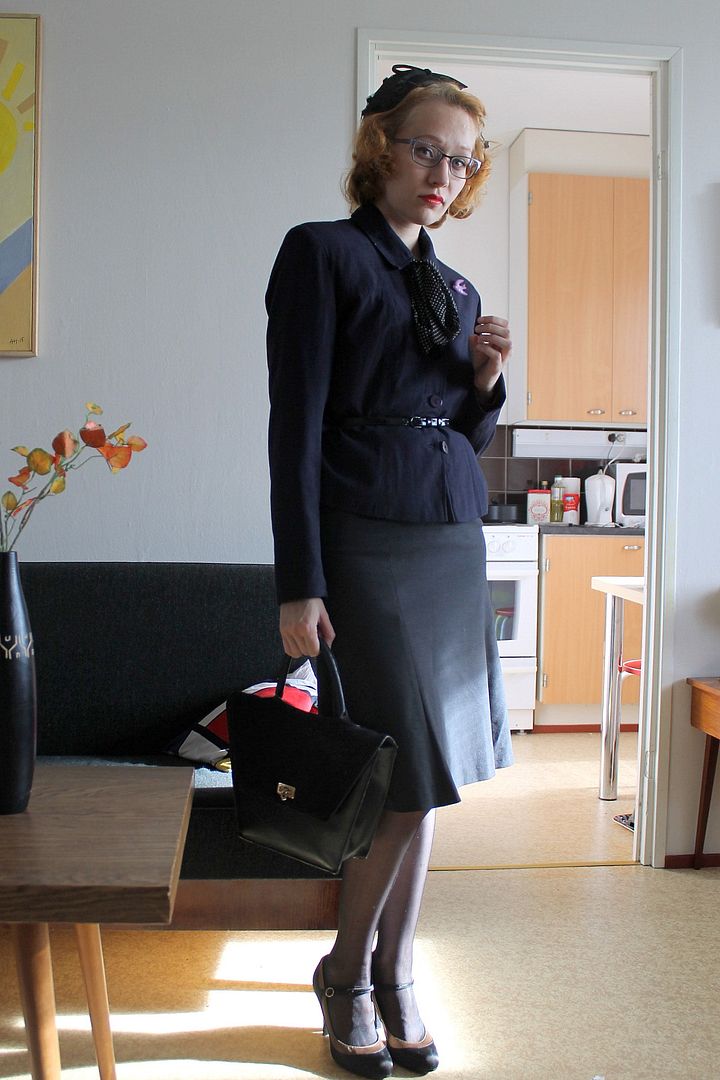 Kävin eilen katsomassa elokuvateatterissa "
Tohtori Zhivagon
", vuodelta 1965. Elokuva oli juhlanäytös, osana Joensuun arkistosarjan 40-vuotisjuhlaa ja elokuvateatterikeskus Tapion 10-vuotisjuhlaa. Vanhoja elokuvia näytetään tänä syksynä maanantaisin joulukuulle saakka, ja mielestäni nyt on enemmän hyviä elokuvia kuin mitä oli kevätkaudella. Aion käydä miltei jokaisen katsomassa. Ensi viikolla näkyy Casablanca! :)
"Tohtori Zhivagosta" tykkäsin kyllä paljon, vaikka vähän siinä lopussa alkoikin naurattamaan. En tiedä johtuiko väsymyksestä, vieressä hihittelevästä siskostani vai siitä tarinasta. Ei kuitenkaan lainkaan tullut tylsää hetkeä elokuvan aikana, joskin alkoi tuntumaan että olen tuon elokuvan joskus jo nähnytkin. Elokuvan Siperian kohtauksia on muuten kuvattu Joensuussa :D Ja Laran hahmosta en pitänyt..

Elokuviin ylleni laitoin tämän 50-lukua henkivän asun. Tuon 40-50-luvun hatun siskoni löysi minulle kirpputorilta. Se on vähän pieni, mutta onneksi on pinnit keksitty.
(Translation: Yesterday I went to the cinema, to see "Doctor Zhivago" from 1965. The movie was a celebration display for Joensuu movie archives' 40th anniversary and our local cinema Tapio's 10-year anniversary. They will show old movies every monday until December, and I think there are more great movies than there were in the spring season. I am going to see almost every single one of them. Next week there's "Casablanca"! :)
I did like "Doctor Zhivago" a lot, but at the end of the movie I started laughing a little. It may have been due to my tiredness, my sister giggling right next to me or the story itself. But there wasn't any boring moments in the film, though I started to feel like I'd seen it before. By the way, Siberian scenes in the movie are mostly filmed here in Joensuu :D And Lara's character I didn't like at all..
I wore this outfit to the movies, inspired by the 50s. My sister found that 40s or 50s hat for me from the flea market. It's a bit small but luckily someone invented bobby pins.)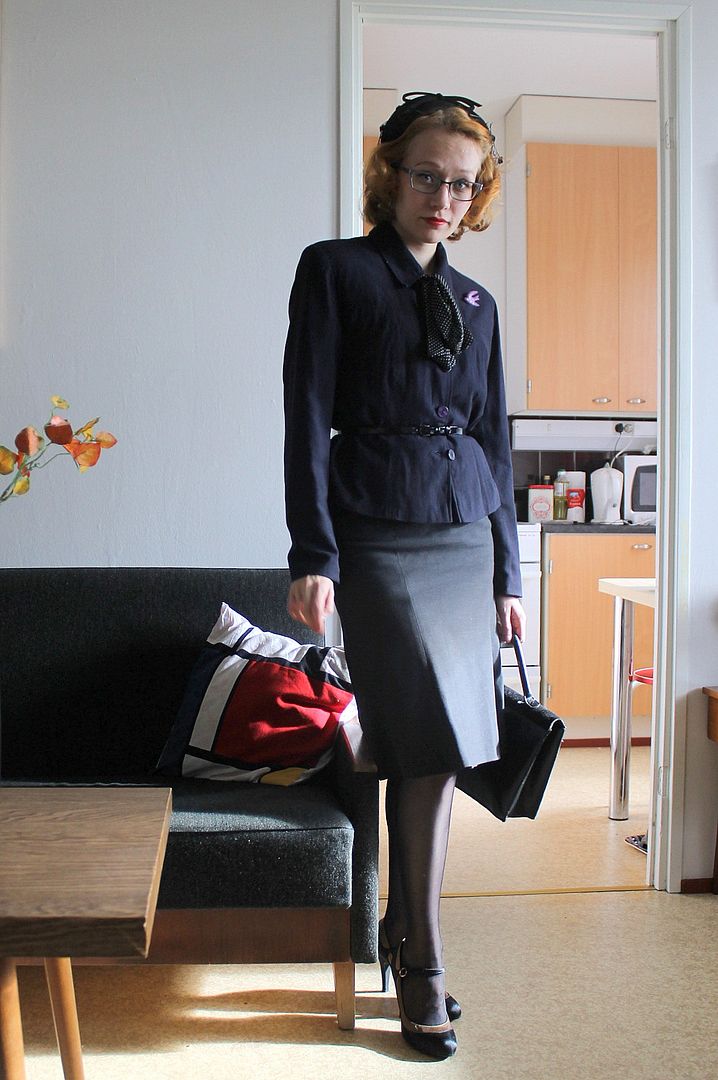 Eilen saavuttuani kotiin elokuvateatterista, Arttu toi minulle punaisia terttuneilikoita ja suklaata. Olin ihan häkeltynyt! Vietettiin ihana ilta valkoviinin ja hyvin "romanttisen" elokuvan parissa, nimittäin kyseessä oli "
Hercules and the Amazon Women
"! :D Olen ihan hulluna 90-luvun kulttimaisiin TV-sarjoihin, "Hercules: the Legendary Journeysiin" ja "Xena: Warror Princessiin", jotka aloitimme katsomaan Artun kanssa alusta saakka. Tietenkin sarja täytyy aloittaa Hercules-elokuvilla, jotka ilmestyivät ennen TV-sarjaa vuonna 1994.
(After I arrived back home from the movie theater, Arttu surprised me with flowers and chocolate. I was so happy! We spent a lovely evening drinking wine and watching a very "romantic" movie: "Hercules and the Amazon Women" :D I am so crazy about 90s cult TV-series "Hercules the Legendary Journeys" and "Xena: Warrior Princess", so we started to watch them from the beginning. And you gotta start with Hercules -movies which were released in 1994, a year before season one of the TV-series.)