Tänään illalla menen poikaystäväni kanssa kuuntelemaan Francinen keikkaa. En ole Francinea niin aktiivisesti itse kuunnellut, mutta kivahan se on tsekata livenä. Ylleni laitan uuden leopardikuvioisen kellomekkoni, jonka löysin kirpputorilta. En tykkää tosin mekon yläosasta (aika mainstream), joten laitoin päälle samaa kuviota olevan edestä solmittavan kauluspaidan. Näin mekko on oikein söpö! Ja musta bolero tietysti. Ulos lähtiessä laitan ylleni mekkoon sopivan jakun, sillä syksy on saapunut ja ulkona on viileää.
(Translation: Today my boyfriend and I are going to listen a rock n' roll band Francine. I have not listened Francine so actively, but I bet it will be great to see live. I will be wearing this leopard print circle dress I found from the flea market. I didn't like the bodice of the dress (so mainstream), so I put on that blouse instead. It has the same print as the dress! I think the dress looks cute this way. And of course better with black bolero. When going out, I wear that black jacket with leopard print details, because Autumn has arrived and it is chilly outside.)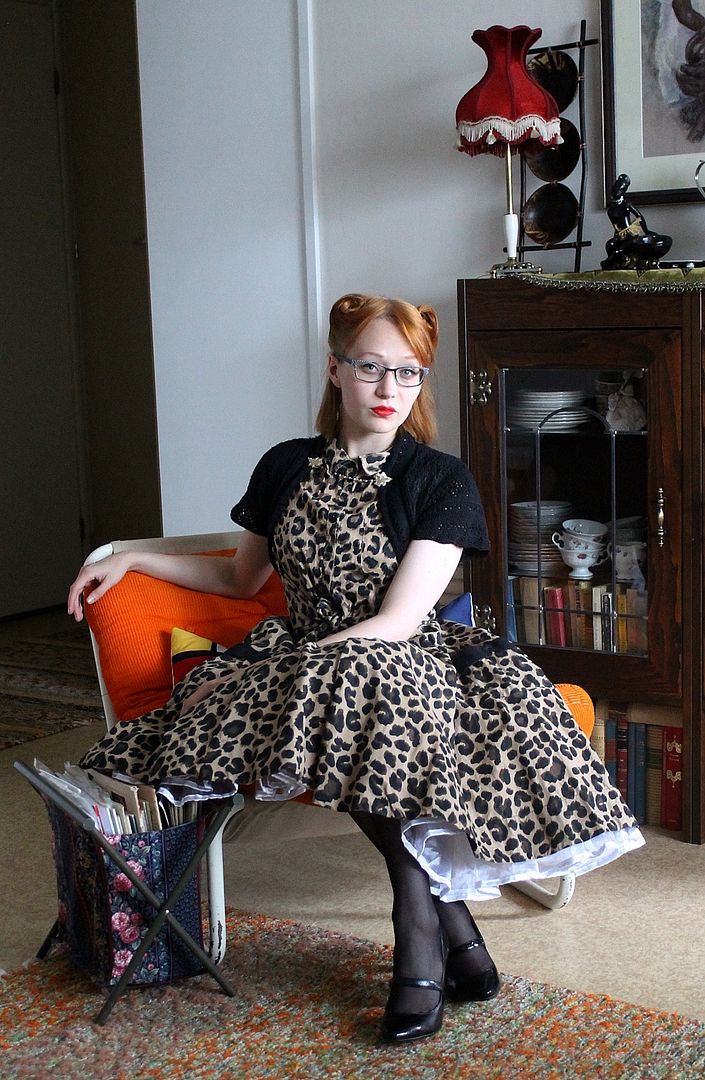 Ps: Is it better if these pictures are bigger than usual?