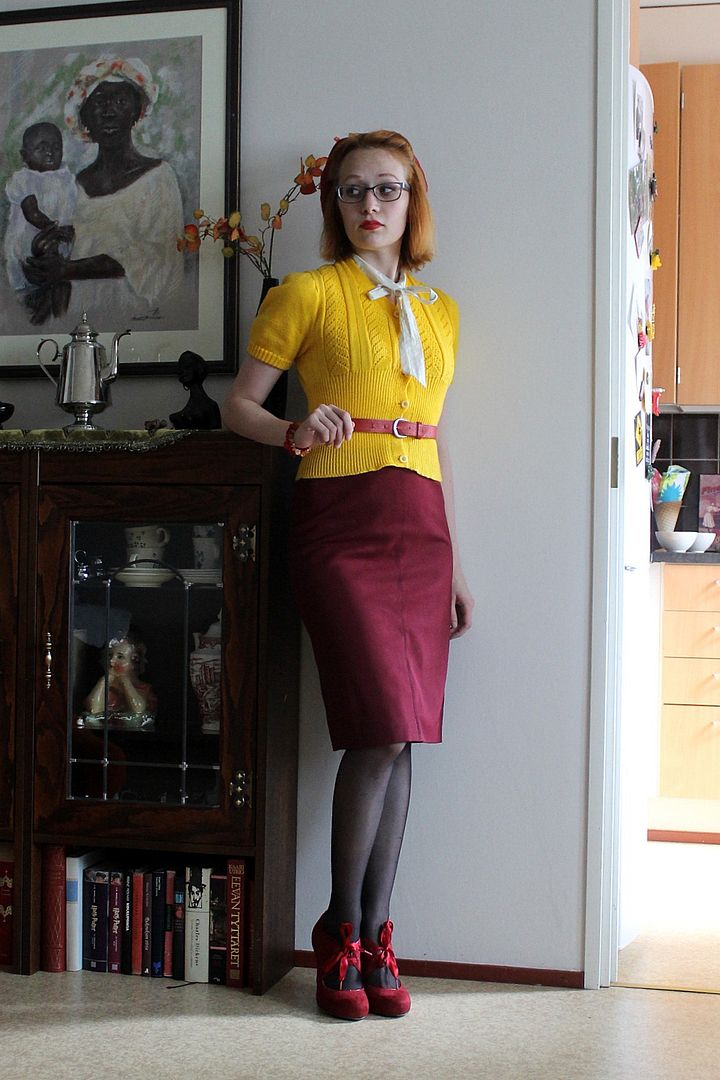 En voi sanoa, etteikö Miss Liida Inezin ihana blogipostaus
syksyn iloista
olisi inspiroinut tätä perjantain asuani! Luovuuteni on huipussaan syksyisin, koska sitä yleensä vain pysyy kotona. Ulos ei tarvitse enää mennä istumaan puistoon tai rannalle, toisin kuin kesällä, kun ei kehdannut sanoa jokaiseen kutsuun "ei". Joten, syksyn sadepäivinä tulee tehtyä enemmän itseäni miellyttäviä asioita ja minä niin nautin kotonaolosta. Lukeminen, kirjoittaminen, inspiraation hakeminen ja muutenkin se oma aika kuuluvat jokaisena vuonna omaan syksyyni. Mielestäni syksy on heti kevään jälkeen ihanin vuodenaika. Kevät on tällä hetkellä ykkössijalla, se tuntuu piristävän mieltä eniten, saapuessaan inhottavan talven jälkeen.
Nytkin nautin olostani blogia kirjoittaen, operetteja kuunnellen ja minttuteetä juoden. On tämä niin ihanaa.
(Translation: I can't say, that Miss Liida Inez's lovely blog post about joys of Autumn didn't inspire me to this outfit! My creativity is in its highest in Autumn, because usually I tend to stay at home. I don't have to go outside anymore, to hang around at the park or the beach, unlike in Summer, when I didn't have guts to say "no" to every invitation. So, on rainy autumnal days, I get to do more things that I really like doing and I enjoy staying at home. Reading, writing, searching for inspiration and just the time for myself are part of my Autumn days. I think that Autumn is the greatest season, right after Spring. I like Spring the most, because it gives me most joy to see its arrival after miserable and chilly winter.
Now I am enjoying myself writing my blog, listening to operettas and drinking mint tee. I love this so much.)