Sukutilan aitassa oli jo kauan ollut hyväkuntoinen 60-luvun sohvaryhmä käyttämättömänä. Tiesin tarvitsevani sohvaa uuden asunnon saadessani ja halusin ehdottomasti 50-60-lukulaista. Pyysin äidiltä, josko saisin aitassa olevan sohvaryhmän itselleni ja maanantaina vanhemmat sitten toivat huonekalut minulle, myös 70-luvulta peräisin olevan jalkalampun ja äidin maalauksen, joka riippuu nyt sohvan yläpuolella. Äiti pesi ensin sohvat kunnolla, olivathan ne olleet aitassa pitkään. Olisihan sisällä saattanut hiirulaisiakin asustaa, mutta onneksi ei asunut, ja reikiäkään ei kankaassa ollut. Vielä tulen saamaan samaisessa aitassa säilytetyn 60-luvun sohvapöydän, joka pitää päällystää ensin sisustusmuovilla. Pinta on niin huonokuntoinen.
Tämä asunto on vähän ahdas ottaen huomioon tavaroideni määrän, mutta tämä alkaa näyttää minunnäköiseltäni. Kaapit ja lipastot aion vielä saada samaan aikakauteen sopiviksi, mutta kaikki aikanaan.
(Translation: For a long time, there was this 1960s sofagroup unused in our family estate's barn. I knew I needed a sofa when finding a new apartment and I definitely wanted something 50s or 60s. I asked my mother if I could have that sofagroup which was held in that barn, so on Monday my parents brought it to me. They also brought me a 1970s floor lamp and my mother's painting that hangs now above the sofa. My mother had to wash these sofas well, after all they had been kept in a barn for years. There might have been mice living inside, but luckily there wasn't any, and no holes or tears. I am also going to get a 60s coffee table, but first it needs covering with furniture contact paper. The surface of the table is damaged.)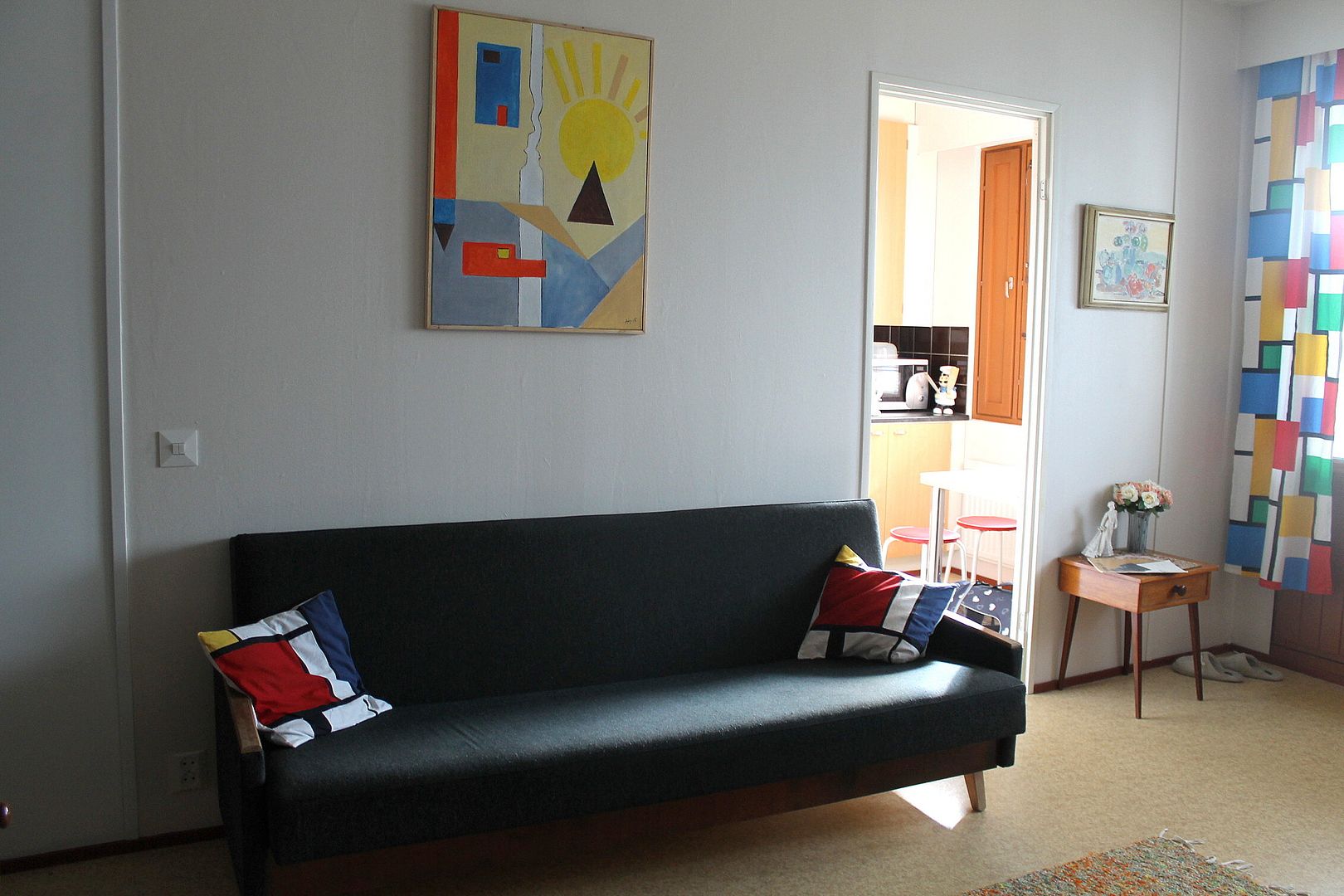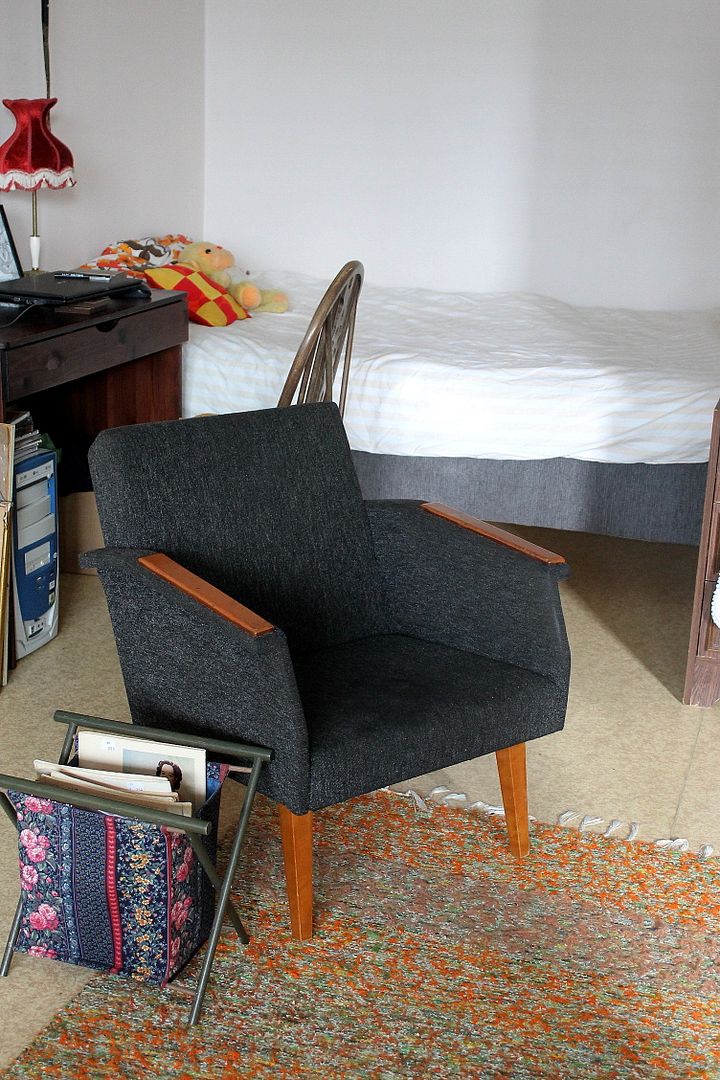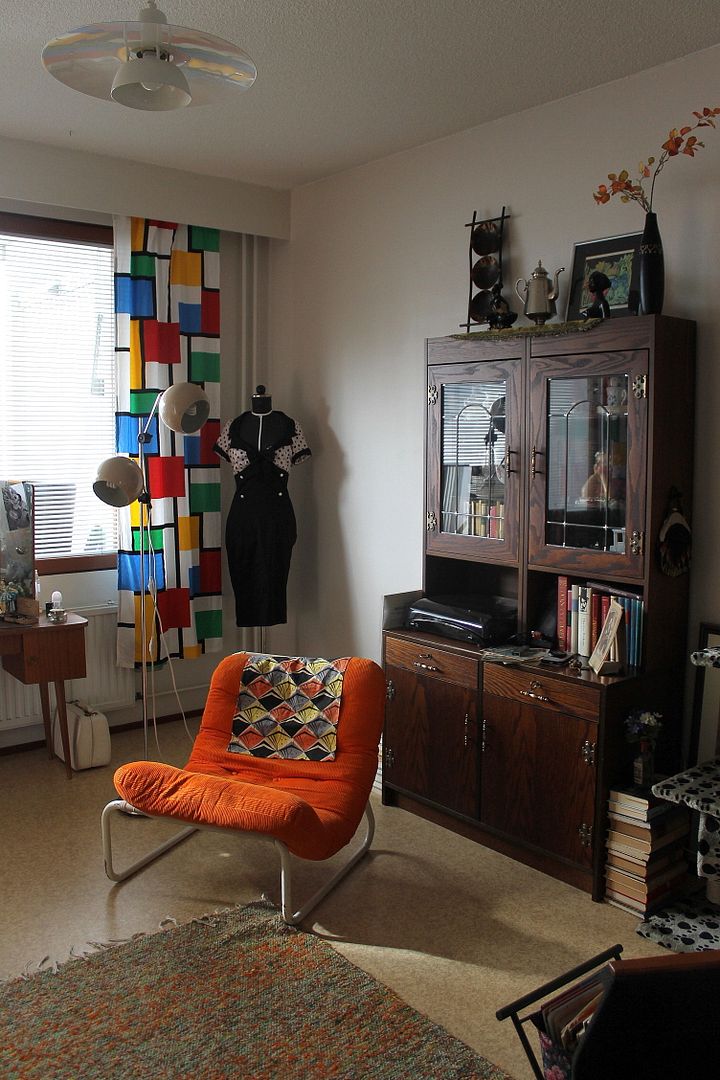 Käymme hakemassa kissanpennun sunnuntaina! Nämä kolme kuukautta on mennyt aika nopsaan. Tiistaina tuli hankittua kaikki viimeisimmät tarvittavat. Nyt on raapimispuuta, hiekkalaatikkoa ja leluja... En malta odottaa Nelsonin kotiutumista !
(On sunday, I am going to pick up my new kitten! These three months have passed fast. On tuesday I bought the last necessities for the kitty. Now I have a cat tree, a sandbox, lots of toys... I can't wait to get Nelson to its new home!)