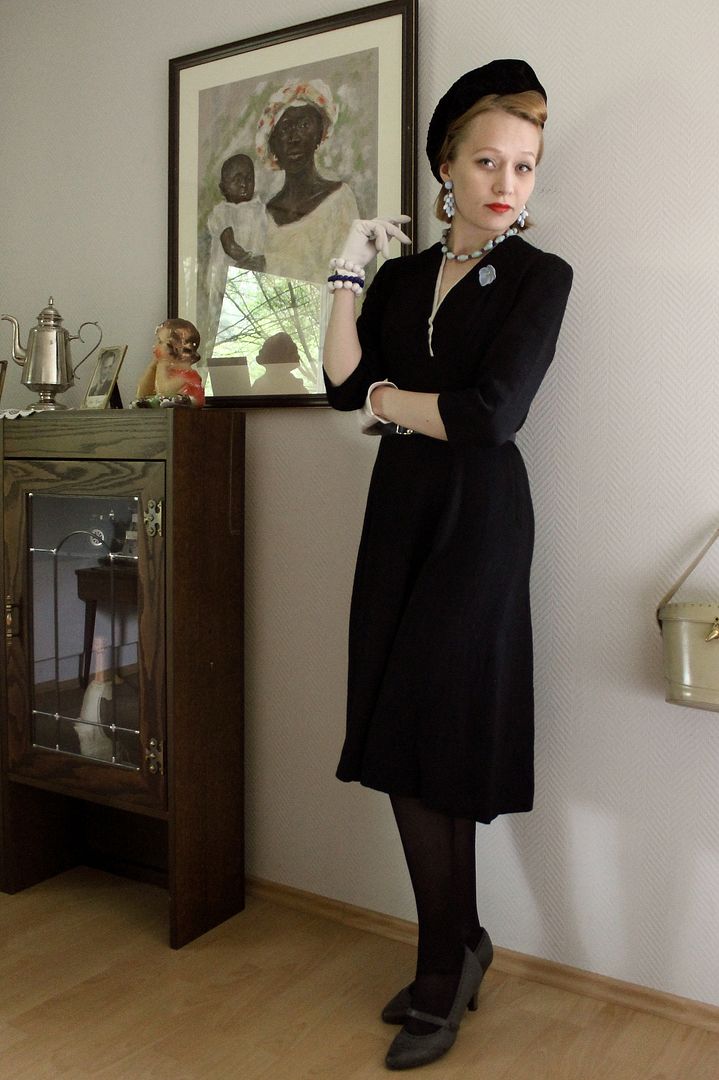 Tänään oli ensimmäinen työpäivä (tai no, aamu). Onhan nuo siivoustyöt fyysisesti raskasta etenkin, kun omaan aika huonon peruskunnon, mutta töitä tehdessä varmasti kuntokin paranee. Ensimmäinen aamuni oli oikein mukava vaikka muistettavaa onkin paljon.
Heti kun kotiin pääsin kello kymmenen aamulla neljän tunnin työskentelyn jälkeen, otin kolmen tunnin päiväunet. Kyllä muuten väsytti! Kyllä tähän varmasti rutinoituu, en vaan ole yhdeksään kuukauteen kuitenkaan töissä ollut niin.. :D
Lähden kohta käymään kaupungille, joten sain syyn pukea jotain parempaa ylle. Mekko on autenttista 40-lukua ja hattu 50-lukua.
(Translation: Today I had the first day at my new job. Cleaning is physically harsh, especially with my poor shape, but I think I'll get better while doing this work. My first morning was very nice even though there is so much I need to remember.
After I came back home from work at 10am, I had to take 3 hours nap. I was so tired! I think I will get used to this kind of routine, but it will take time. After all, I was unembloyed for 9 months.
I'll soon go to town, so it was a good reason to dress up. I got inspired by the 1940s because it is chilly outside. My dress is original 1940s dress and the hat is 1950s.)