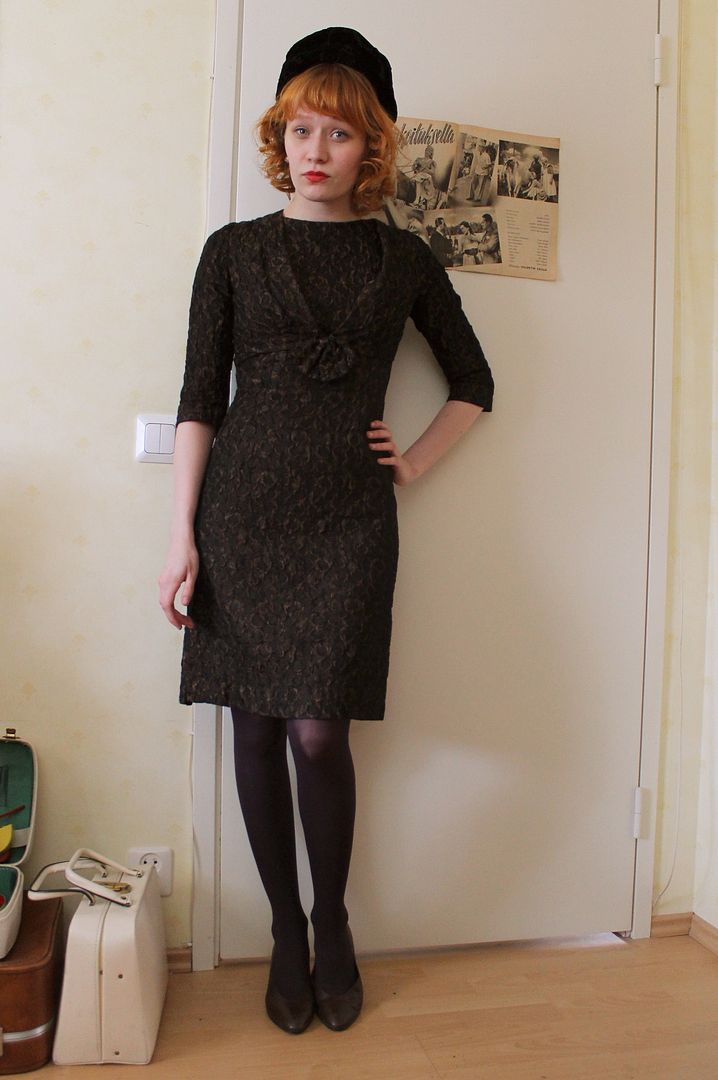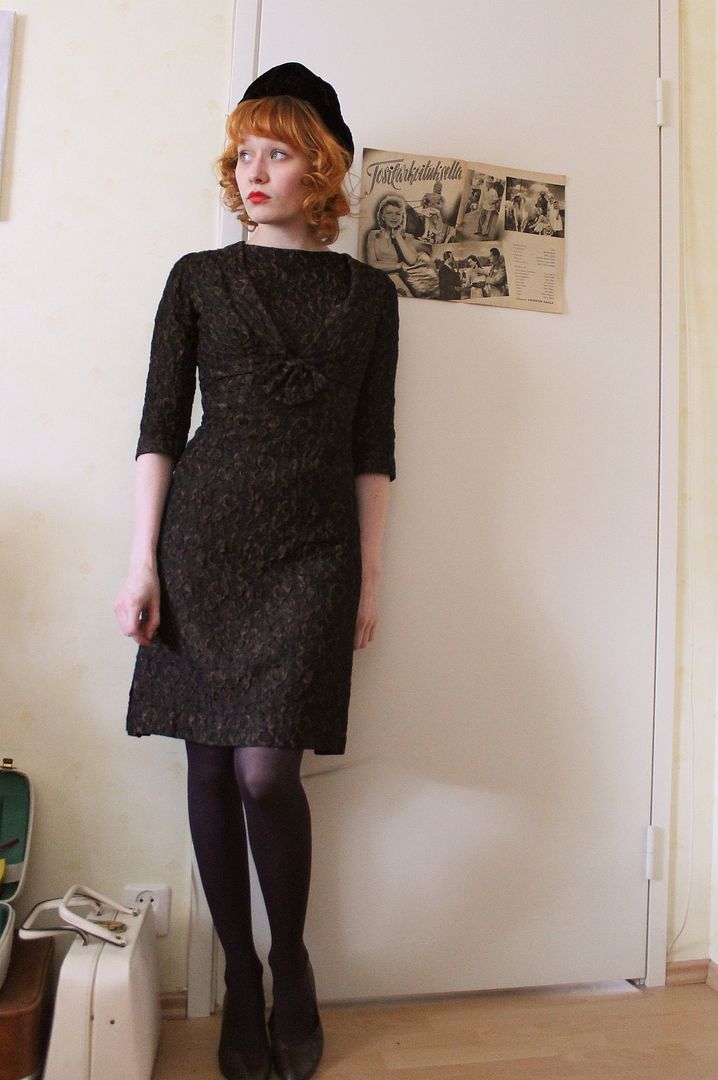 Tässä uusin kaksiosainen asuni, 50-60-luvun taitteesta, mekko ja bolero. Oon niin rakastunut tähän! Istuu kuin täydellinen käsine. Tämä on ostos facebookin vintagekirppikseltä. Saapui juuri sopivasti ystävän syntymäpäiviä varten, jotka on huomenna.
Toivottavasti vain en liho tästä liian nopeasti ulos, mutta onneksi on sukkanauhaliivit ja muut korseletit keksitty. Ekan kerran kun sovitin tätä, hölmöyksissäni puin boleron ylösalaisin ylleni. Oli siinä ihmettelemistä miksi ei istunut olkapäistä... Tajusinpa sitten kääntää boleron oikeinpäin, niin johan sopi täydellisesti. Hahah.
Minulta on muuten kysytty, miksi en juuri koskaan hymyile kunnolla kuvissa. No, en pidä hymystäni enkä osaa tekohymyillä näyttämättä idiootilta, ja koska en ole blogissani juurikaan edes hymykuvia näyttänyt, niin se ei enää sopisi tähän blogini tyyliin :D Olen ehkä vähän dramaattinen ja melankolinen persoona.
(Translation: Here's the newest addition to my vintage collection. Two-pieced outfit (dress and bolero) from late 50s to early 60s. I am so in love with it! Fits like a perfect glove. I bought this from facebook's Finnish vintage trading group. Arrived just in time, because I am going to wear this tomorrow at my friend's birthday party.
I hope I don't gain more kilos too fast, because now it fits perfectly. Luckily there's always girdles and corsets! When I first time tried this on, I wore the bolero upside-down and I was so confused that it did not fit me right! Oh how stupid I felt when I realised it.. Haha
I have been asked that why I hardly ever smile in my blog's photos. Well, I do not like my smile, and I don't know how to put on a fakesmile without looking like an idiot. Also, during these 6 years of blogging, smiling photos just don't suit for my blog anymore. I am a bit dramatic and melancholic person. Hard to explain.)