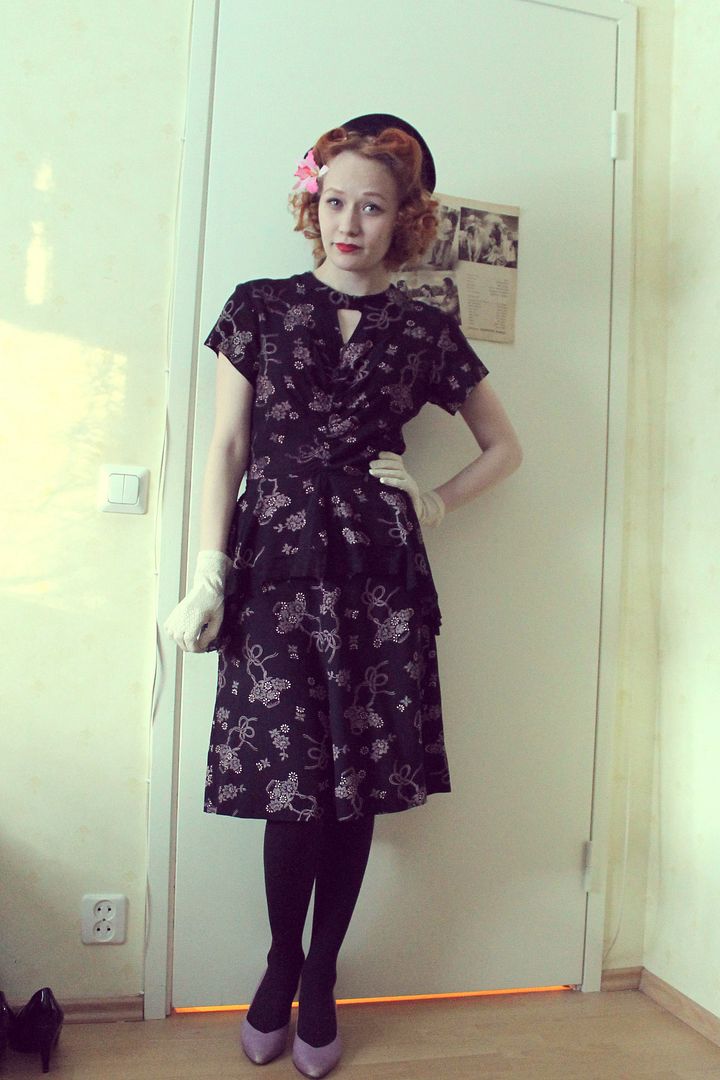 1940-luku on tällä hetkellä noussut ylivoimaiseksi suosikikseni muodin historian osalta. Sen ajan siluetit sopivat minulle, ja rakastan pukujen laatua ja yksityiskohtia. Kokoelmaani en ole saanut vielä kovin montaa autenttista 40-luvun vaatetta, mutta todellisia aarteita kaikki tyynni.
Tämä viimeisin käsiinsaamani leninki on miltei täydellisessä kunnossa. Sen yksityiskohdat ovat sanoinkuvaamattoman sieviä. En malttanut olla ostamatta sitä ystävältäni Bellalta, joka ehdotti minulle tätä pukua henkilökohtaisesti. Ihana Bella ylläpitää
blogia
ja Etsy-kauppaa, "
The Citizen Rosebud
", jonka ehkä saatat tietääkin jo! Mitat osuivat aivan täydellisesti omiini, ja hassua on se, että olin jo päivätolkulla aiemmin selaillut Etsyä ja yrittänyt etsiä täydellistä 40-luvun leninkiä itselleni vailla tulosta. Tämä puku on juuri sitä, mitä olin kaivannutkin, joten Bellan ehdotus osui juuri sopivaan ajankohtaan. Tietää, että puku ei voisi parempaa uutta kotia saada ;)
(Translation: The 1940s has become my favourite era when it comes to history of fashion. Silhouettes of the decade suit my body, and I love quality and details of the 40s garments. I do not have many authentic 1940s clothes in my collection, but those few that I own I cherish all the way.
My recent addition to my 40s collection is in perfect condition. Its details are incredibly cute. I did not hesitate to buy this beautiful frock from my friend Bella, when she personally suggested it to me. Lovely Bella has a blog and she runs a shop called "

The Citizen Rosebud

", which you already might know! The measurements match perfectly with mine, it fits like a glove. And the funny part is, that I had been searching earlier for days a perfect, classic 1940s dress without any decent result. This dress was exactly what I was looking for, so Bella's suggestion was definitely in right moment! She knew this frock was going to get the best home which it deserves!)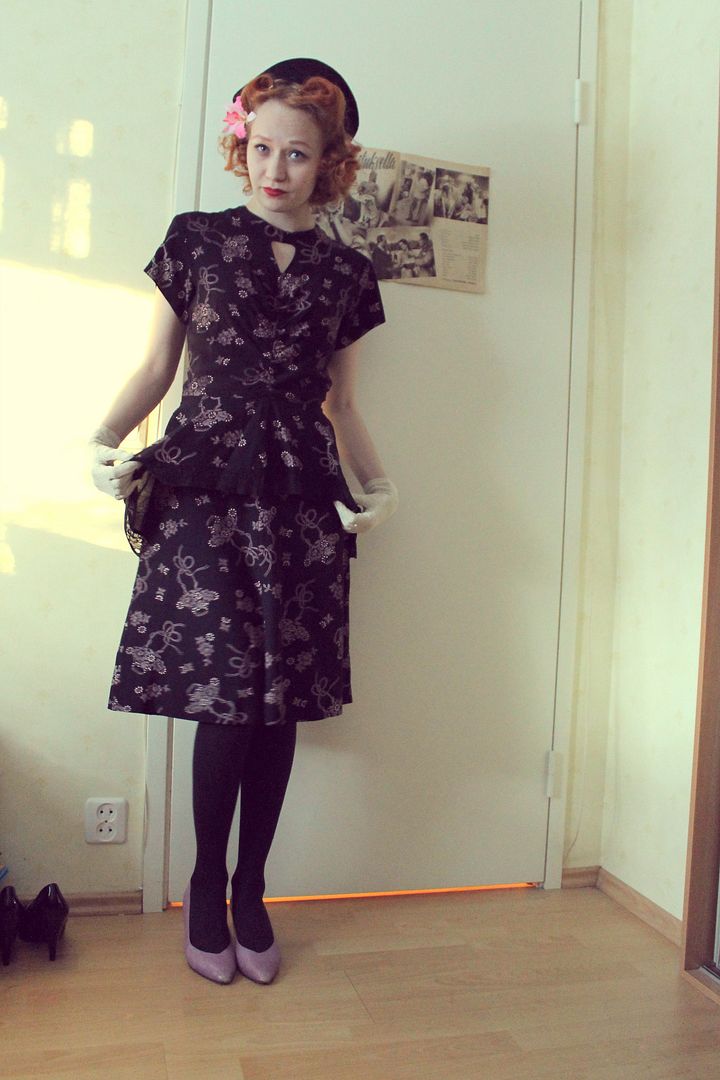 Tästä voinenkin siirtyä siihen aiheeseen, että tämä on sitä todellista asiantuntevuutta ja mahtavaa asiakaspalvelua. Voinen suositella tutustumaan
the Citizen Rosebudin
tarjontaan, joka koostuu laadukkaista ja klassisista vintage/second hand vaatteista ja asusteista. The Citizen Rosebud painottaa nimenomaan kierrätystä, mitä itsekin pyrin julistamaan täydellä sydämellä. Valitsemalla vaikka 40-luvun leningin sen henkkamaukan mekon sijaan säästää omalta osaltaan ympäristöä, eikä ainakaan klassisten vintagevaatteiden viehätys varmasti lakkaa koskaan.
Teille lukijoilleni Citizen Rosebud tarjoaa Etsy-kaupastaan myös jotain;
ostaessasi tästä kaupasta tuotteen, ostotilanteessa koodilla LADYLIKE saat 15% alennuksen yli 15 dollarin ostoksesta!
(And in my opinion, this is some real-deal expertise and customer service everyone will get, when transacting with Bella. I can highly recommend you to explore the wonders of the Citizen Rosebud, which sells high quality and classic vintage/second hand garments and accessories. The Citizen Rosebud always underlines being sustainable, buy pre-loved items, which is what I am announcing aswell with all my heart. By investing into a high quality 1940s dress instead of some H&M piece from the mall, you are saving the environment for your part, and fortunately that classic 40s dress's charm will never cease, I can count on it.
And for you my dear readers, Citizen Rosebud offers you a discount code LADYLIKE to use in their shop. When using
this code at check-out you will get 15% off your order of $15 or more

!)
Tämä ihana leninki oli ylläni viikko sitten Scandinavian music groupin keikalla, ja se sai paljon kehuja. Mikä ei ole yllätys. Se on niin täydellinen istuvuudeltaan ja näyttävyydeltään!
(I wore this lovely dress a week ago when I went to see Scandinavian Music Group, and it got lots of compliments. No surprise there! It fits perfectly and is one of the most prettiest dresses I've ever seen.)