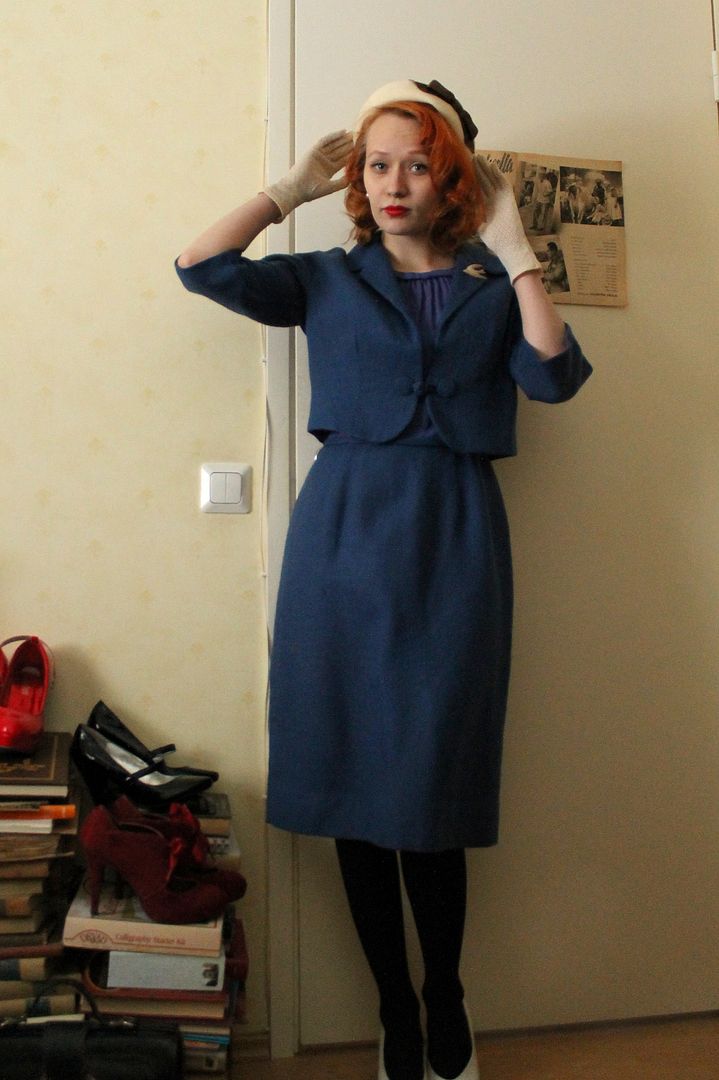 Tämän kaksiosaisen (kotelomekko ja jakku) 60-luvun puvun ostin Etsystä joskus viime vuonna. Se vaati todella paljon korjausta, ja sen jaksoin hoitaa pois alta vasta tänään. Näytän niin viralliselta, haha.
Yrittänyttä ei muuten laiteta. Aion hakea tänä keväänä luokanopettajan koulutukseen. Mahdollisuuteni päästä sinne ovat realistisesti ajateltuna vähäiset, mutta miksi en yrittäisi edes? Ensi vuonna olen vähän selvillä, millaiset pääsykokeet yleensä on ja voin kokeilla uudemman kerran, joko opettajaksi tai sitten sitä historiaa. Olisihan tässä aikaa lukea hissaakin vuosi ja päntätä kokonaisuuksia päähän. Työttömyys ottaa niin kovasti päähän, enkä välttämättä halua tehdä työkseni ompelijan hommia - ainakaan näillä taidoillani. Saa nähdä!
(Translation: This two pieced (wiggle dress and a jacket) 60s suit I bought via Etsy last year. It was in a bad condition and needed repairing, which I did today. I look so professional, haha.
Well, nothing ventured, nothing gained. This spring, I will try to make one of my dreams come true, and apply to teacher studies. Realistically, my chances of getting in to university are minimal, but I can always try. I would regret if I don't. If I don't get in, I will try again next year, teacher studies or history. I have time over a year now to read for the entrance examination of history. I am so sick of being unembloyed, and I really don't want to do work in clothing business - especially with my low skills. We'll see!)