Osallistun nyt ensimmäistä kertaa Share in Styleen.
Sewingadicta
-blogin Rosy pyysi minut parikseni tämän maanantain teemaan, joka on "joulu". Olin hyvin innoissani!
Minulle tuli ensimmäiseksi mieleen
punainen
väri tästä teemasta, ja olin jo valkannutkin itselleni punaisen hivenen jouluisan mekon. Sitten muistinkin, että minulla sattuu olemaan tämä sininen 50-luvun kynämekko, joka ei ole blogissani vielä näyttäytynyt. Tämä puku on mielestäni sinisestä väristä johtuen joulun teemaan sopiva, sen kuosista tulee mieleen jäänpinta ja se on hyvin juhlava. Laitoin vielä koruiksi nämä kaksi vintage rintakorua, jotka ovat kuin lumihiutaleet. Erittäin hyvänä ympäristönä kuville toimi meidän upea, luminen pihamme. Eilen värjäsin hiukseni uudelleen punertavaksi, luo hauskan kontrastin sinisen kanssa.
(Translation: This is my first time ever to join Share in Style. Rosy of Sewingadicta asked me to be her partner in this monday's theme "Christmas". I was so excited and honoured!
When I thought about

Christmas

, the first colour that popped into my mind was red. I chose one of my red dresses already to wear in this, but then I remembered that I have this blue 50s wiggle dress which I have not shown you before. I think this dress is very suitable for christmas despite it's colour blue. Its fabric reminds me of ice and it is glamorous. Those two vintage brooches I added to this dress because they look like snow flakes. Perfect! We took these photos in our frontyard, snowy wonderland! And I dyed my hair red again, it brings a nice touch to these pics.)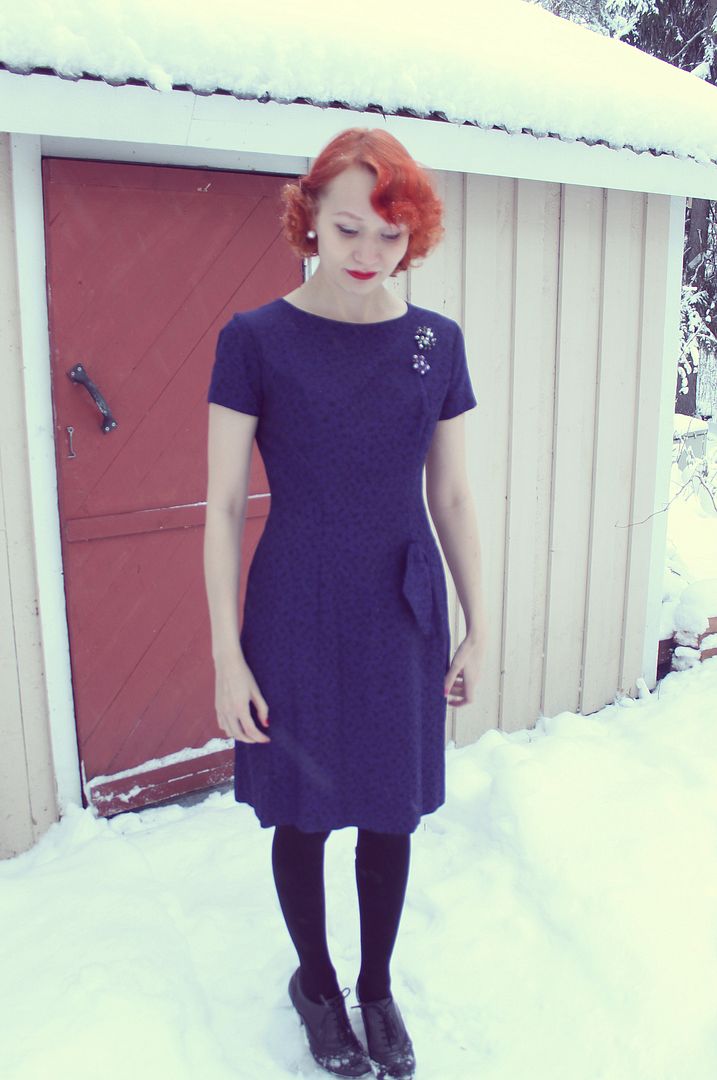 Ja oih, niin lahjakas
Rosy
..! Hän valitsi jouluisaan teemaan vihreää - ja asuun erittäin hyvin sopivan ympäristön! Hameen hän oli ommellut tietenkin itse, ja ompelee muutenkin paljon. Suosittelen katsomaan hänen luomuksiaan ja ihanaa naisellista tyylitajuaan! Saan paljon inspiraatiota hänen tyylistään, hän kun pitää 50-luvusta niin kuin minäkin.
Mielestäni on muutenkin aika hauska kontrasti, kun minun asukuvissani on hyvin talvinen ja jäinen ympäristö ja Rosyn kuvissa paistaa aurinko ja lämpöä riittää. Hassua!
(And oh, so talented Rosy..! She chose the colour green to this monday's theme - and a very suitable milieu to her outfit shots! Of course she sewed that skirt herself recently, it has so pretty print! She sews a lot and is so professional. I highly recommend you to check our her vintage inspired creations and to get inspired by her lovely style! I get lot of influence from her looks, as she loves the 50s like I do.
I think there's a cool contrast in this post; my photos are very snowy and wintery, and her photos are filled with warm sunlight and green nature. Christmas looks so different in other parts of the globe!)

Thank you Rosy! And I want to wish you all happy Christmas!! :)

Next Share in Style will be on 5th January and the topic is "Masculine look".